I wrote about the Ryobi 18V Evercharge Brushless Stick Vacuum when it came out in 2017 and now it gets a new model number P7181K with new rapid charger as part of its kit.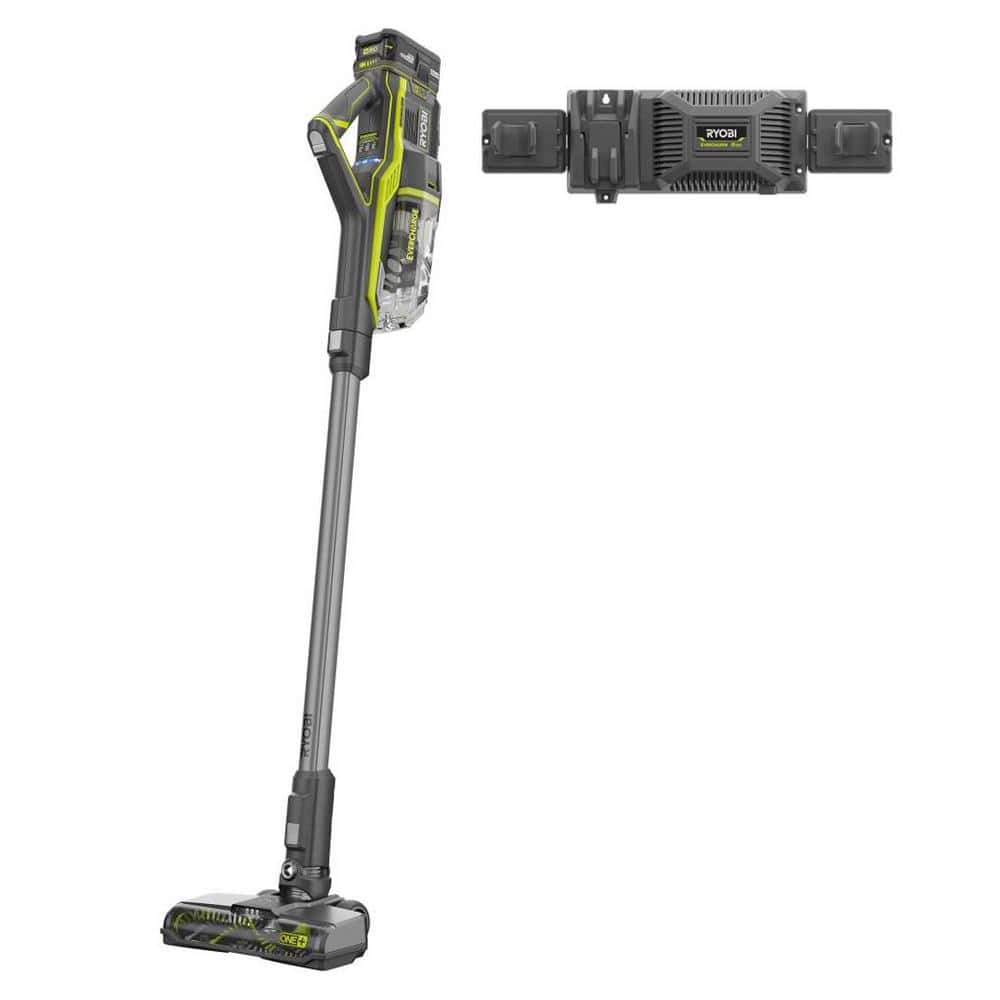 The "old" Ryobi Evercharge brushless stick vac is still available and for the same price as the new one for $229 which makes more sense to get the new "updated" model. I say updated with quotation marks because overall it appears to be the same vacuum as the original with a few slight cosmetic tweaks that are very hard to spot but they are there trust me, and it gets a new model number by adding an extra 1 to the model number. So it went from P718K to P7181K.
As mentioned in the outset, the new P7181K kit gets an updated rapid charger for faster charging which is always good although no mention of how fast it charges the included battery or how much faster it is over the original brushless Evercharge stick vac. The battery it comes with is still a 4ah battery but a newer model number of P197 and is black. The new P197 doesn't show the + sign after where it says lithium, whereas the original P108 mentions it as lithium+. I've always thought that the black Ryobi batteries were their budget batteries without a fuel gauge however the P197 has a fuel gauge. Ryobi says "the P197 is a special edition to support a promotion. It has a gauge on the front and runtime is the same for both batteries."
As DrewBHAM who spotted this new model number for the Evercharge brushless Vacuum, he mentioned the floor roller attachment is different. It appears to be similar to the original with a few cosmetic tweaks to it so it is new in that sense.
Keep in mind that Ryobi Evercharge products do not come with regular chargers that charge the battery directly, but instead is a special charger where you mount the tool directly to the charger. This means that you can pick up the tool from the charger and use it rather than having to remove the battery from the charger and installing on the tool. You can still remove and install any Ryobi 18V battery onto this Evercharge vacuum.
A big thanks to DrewBHAM for spotting!
Cordless convenience and charges when mounted on fast EVERCHARGE Wall Mount
Two power modes for a variety of surface
Roller bar on/off option for carpet or hard surfaces
Quick emptying dust cup
Intelligent Brushless motor for powerful suction and longer runtime
Tool-free roller bar release for quick hair removal
2 types of bristles for a variety of messes
Part of the RYOBI ONE+ System of over 125 Cordless Tools*
3-year manufacturer's warranty
INCLUDES: (1) P7181 Brushless Stick Vacuum, P726 Roller Bar, P187 2 Amp Fast EVERCHARGE Bracket, (1) P197 4 Ah Lithium-Ion Battery, Extension Wand, (1) Filter Assembly, Crevice Tool, Dust Brush, Accessory Wall Mount, and operator's manuals


DISCLOSURE:
We are a participant in The Home Depot Affiliate Program, an affiliate advertising program designed to provide a means for us to earn fees by linking to homedepot.com. Tool Craze does not sell this product or any product on the Tool Craze website. Tool Craze does not handle the sale of any item in any way. If you purchase something through a post on the Tool Craze site, Tool Craze may get a small share of the sale. Please refer to the About section for more info.