Ryobi has released a new cordless fan with the Ryobi 18V Hybrid Floor Dryer Fan P3330.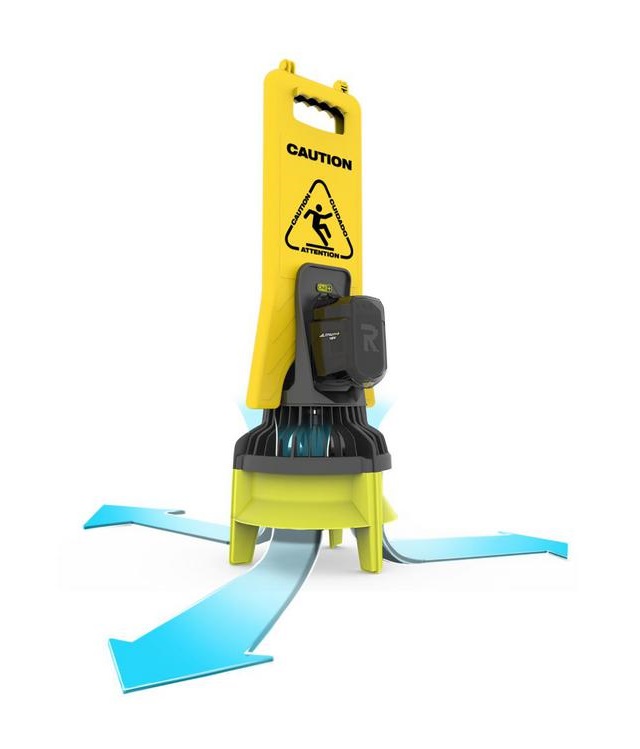 Unlike most Ryobi tools, this one seems to be designed for retail and grocery stores and similar establishments with plenty of public traffic. The new floor fan is designed to do just what it's name suggests, which is to dry floors much quicker than air drying after they've been mopped. Ryobi states this fan can dry a floor up to 18x faster than air drying. A wet floor in a grocery store or other retail outlet is a huge safety concern and thanks to Ryobi, they've added a built in rubber strap to the top of the floor fan to hold and lock common sized wet floor signs to alert passersby of the hazard. Even if a wet sign isn't used, Ryobi's got your back with an onboard caution sticker built in although nowhere near as big and noticeable as a regular sign but at least it's there rather than not.
As far as features go, the fan itself is designed so the airflow is directed straight down into the floor and the unit has short legs that fold out so the fan itself has enough clearance to do it's job. Based on the images they've used, it appears the directed air at the floor spreads out so essentially the fan should be able to cover a 360 degree area around the fan itself. The runs on 18 volt batteries unit has a sealed battery compartment and is said to be able to have a run time of up to 7.5 hours or more with a 6.0 ah battery. And since it's a hybrid fan, it can also be plugged into an extension cord for unlimited runtime. It also has a carry handle grip on top for easy transport.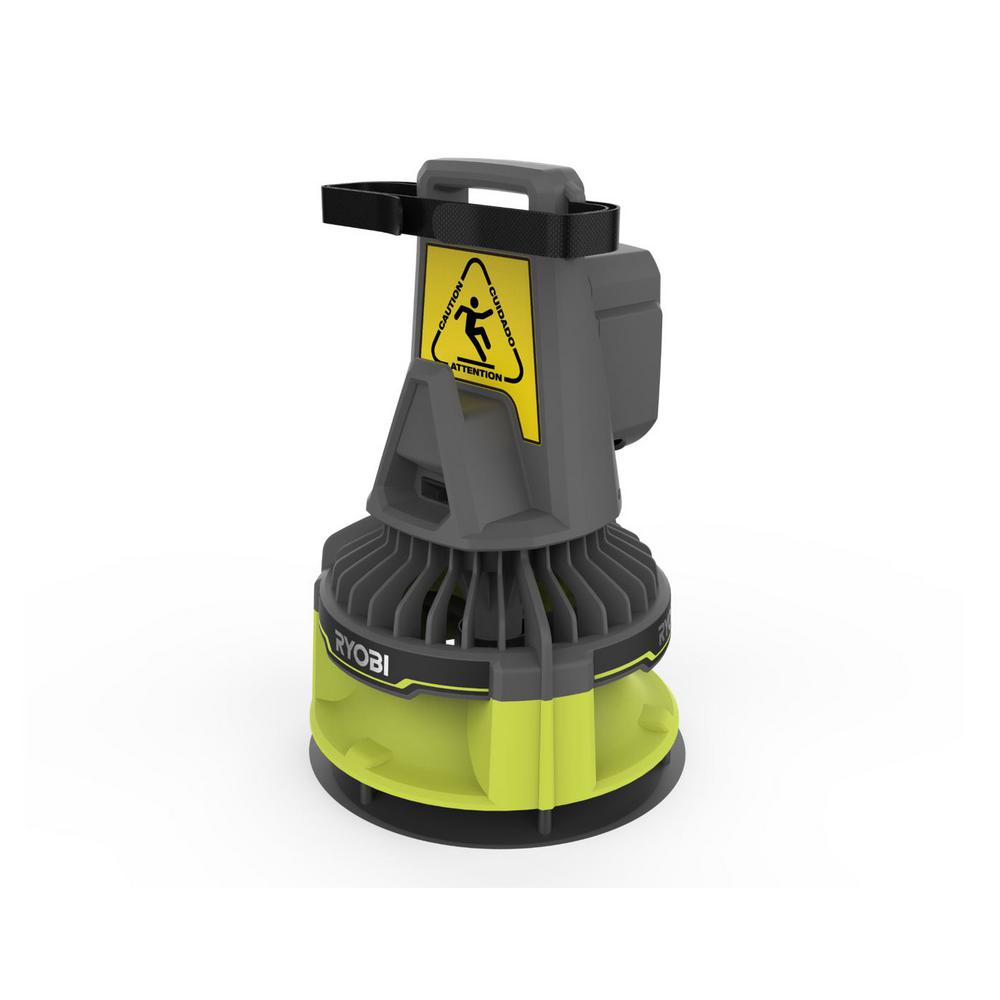 The new Ryobi 18V Hybrid Floor Dryer Fan P3330 should be out soon and is priced at $79.97 as a baretool.
A big thanks to DrewBHAM for spotting!
Air flows out through the bottom of the fan directly onto the floor minimizing dry time
Rubber strap locks the most common wet floor signs into place
On-board caution verbiage allows for use without an additional wet floor sign
Over 7.5 hours of runtime when paired with a 6.0 Ah battery
Hybrid Technology extends runtime by allowing use with a battery or an extension cord
Convenient carrying handle for easy transport
Foldable legs for better storage
3-year manufacturer's warranty
Includes: (1) P3330 18-Volt ONE+ Hybrid Floor Dryer Fan and operator's manual
Battery, charger, and extension cord sold separately


DISCLOSURE:
We are a participant in The Home Depot Affiliate Program, an affiliate advertising program designed to provide a means for us to earn fees by linking to homedepot.com. Tool Craze does not sell this product or any product on the Tool Craze website. Tool Craze does not handle the sale of any item in any way. If you purchase something through a post on the Tool Craze site, Tool Craze may get a small share of the sale. Please refer to the About section for more info.