A new version of the Ryobi 18V multitool was spotted, the Ryobi 18V Multitool Gen 3 model known as the P343 in the USA and the R18MT3-0 everywhere else.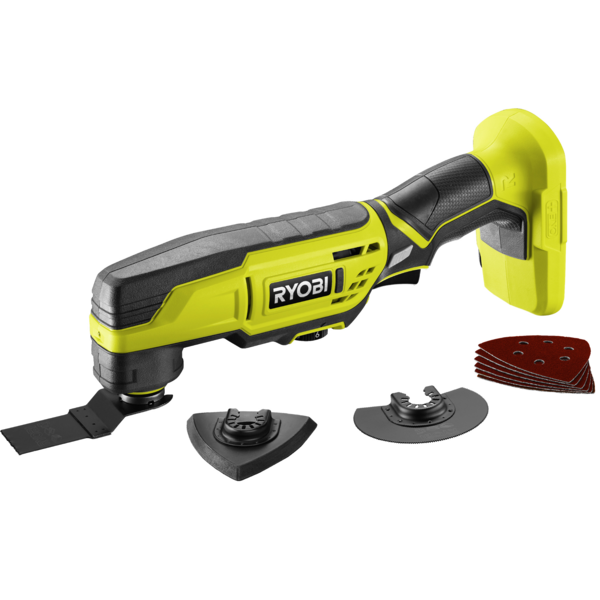 The first generation model was just a attachment Jobplus head to the power base while the second model was a standalone 18V unit with a pivoting head. This third model is still a standalone unit like the Gen 2 model however it ditches the pivoting head feature.
As far as oscillating multitools go, this is a very basic model as it requires a hex key and bolt to change blades and doesn't have an LED light but luckily it has storage for the required hex key. It uses a trigger to operate and has a variable speed knob underneath. I'm not a big fan of multitools with triggers as I've used Ridgid's Jobmax model before and hated the experience since it tires your arm with extended use but some people seem to be ok with it and actually like the triggered approach to a multitool. It's just not for me, I'll continue to stick to and prefer using a traditional slide power switch and variable speed dial for my multitools.
The Ryobi 18V Multitool P343 / R18MT3-0 Gen 3 comes as a baretool but at least it comes with 3 accessories – a regular blade, simi-circle blade and sanding pad with several sheets of sand paper.
A big thanks to DrewBHAM for spotting!
10,000-20,000 OPM
3 degrees oscillating angle
on/off trigger
variable speed dial underneath
ancient hex key and bolt blade change system
no LED light
stand alone multitool (not part of Jobplus/Jobmax system)


DISCLOSURE:
We are a participant in The Home Depot Affiliate Program, an affiliate advertising program designed to provide a means for us to earn fees by linking to homedepot.com. Tool Craze does not sell this product or any product on the Tool Craze website. Tool Craze does not handle the sale of any item in any way. If you purchase something through a post on the Tool Craze site, Tool Craze may get a small share of the sale. Please refer to the About section for more info.