Recently Ryobi has introduced a new line of compact brushless cordless power tools known as their One+ HP Compact Series which include a drill, impact driver, right angle drill, 3/8″ impact wrench, 3″ cutoff tool, and recip saw. Ryobi was also kind enough to send them all over (at no cost) for me to try out and review and in this particular review, I will go over my thoughts on the new Ryobi 18V One+ HP Compact Brushless 1/4″ Impact driver PSBID01K PSBID01CN . As always, Tool Craze is never paid or swayed to give a positive review and as always are my unbiased thoughts and opinions.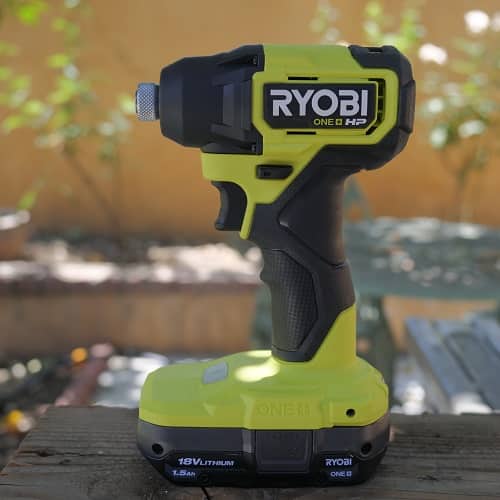 All of the new Ryobi 18V One+ HP compact power tools are all brushless and are all compact models and this is true of all in the group and true to an extent on the impact driver, however compared to the leading 18 volt impact drivers, this Ryobi impact driver is relatively short at 5-3/8″ inches tested front to back length, however nowhere class leading in terms of compact size. Sister companies Ridgid's latest sub-compact impact driver is ridiculously smaller at 4.67 inches in length making the Ryobi look "normal" in size. However the newest brushless impact driver from Ryobi does appear to be smaller and more compact that most of Ryobi's previous models so this is a plus for the new model.
As far as features go, it's got a brushless motor which helps it achieve a very respectable 1,700 in-lbs of torque and according to Ryobi it has a capable runtime figure of up to 211 2-1/2″ deck screws driven per charge with the included 1.5ah battery pack that comes with it as a kit, so very respectable runtime with a compact battery pack.
It doesn't have all the latest bells and whistles and as such only has a single speed with variable speed trigger instead of 3 speeds and a single LED light at the base of the tool instead of a ring of light behind the chuck. I do like that they gave it a completely one handed hex chuck which rivals Dewalt's premium impact driver chucks which are truly one handed to insert and remove bits. Although Ryobi's operates a little bit differently. It operates much in the same way as the hex chuck found on the Milwaukee M12 hex chuck in that the sleeve locks forward and is ready to accept bits. You can insert a bit one handed without having to pull on the chuck and pulling on the chuck then spits the bit out. Because it's a locking sleeve, sometimes the sleeve can lock in the "bit inserted" position when there's no bit installed which requires the chuck to be pulled first before inserting bits. You'll find no such issues on Dewalt's premium impact driver chucks. Although not as nice as Dewalt's, I do like that Ryobi made it a true one handed chuck to insert and remove bits and even though it's similar to the M12 screwdrivers chuck in operation, I like that they made it very compact on the Ryobi as the M12 can stick out quite a bit.
The build quality is great and you'll find Ryobi's very slimmed down ergonomic handle with nice rubber overmolding and not just on the handle but it extends upwards to the back of the tool and with two side bumpers which give it protection to the sides and back of tool from impact. While the build quality is great, keep in mind the front impact driver casing is plastic instead of metal. As we know metal is more robust than plastic and as such plastic won't be able to withstand the kind of abuse a metal casing has as you'll find on the pro brands.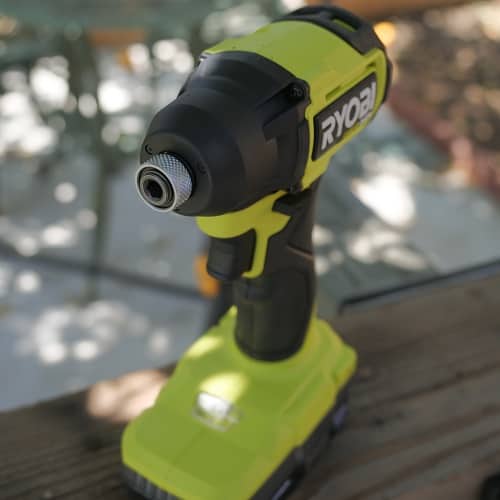 Going back to the LED light, even though it's not a nice LED light ring, I do like that they placed it on the base rather than above the trigger since putting it on the base gives better visibility with less intrusive shadows than above the trigger. The light also has a 10 second afterglow which is a nice touch. A couple of Ryobi signature features are not present on this model which are their Magtray's which is essentially a magnetic tray on the base of the tool to hold bits and small fasteners. You also won't find a belt clip on this bad boy either which is strange as belt clips come in very handy when working with tools such as drills and impacts. I did use this impact driver to hang a TV wall mount and I missed not having the belt clip as that would have helped a bunch when going up and down the step ladder during installation. The tool does offer screw holes for placing a belt clip on either side but none is included, bummer!
Along with the new Ryobi 18V One+ HP compact brushless power tools, Ryobi also introduced new more "compact" compact 1.5 ah batteries. These are the new more compact batteries you can expect to receive if you purchase this impact driver as a kit.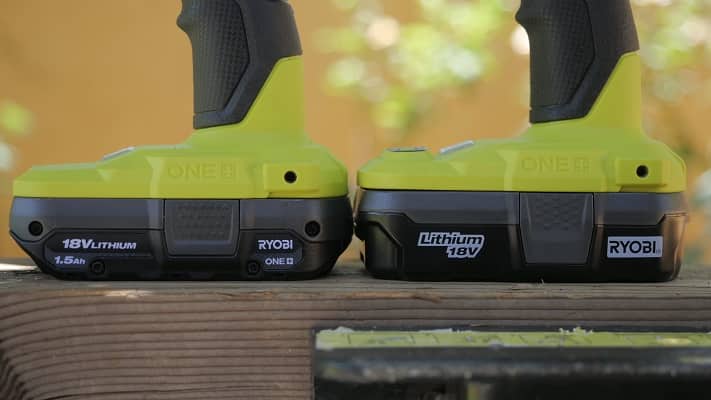 As you can see in the above image, you'll see the new slimmed down more compact battery on the left and a standard compact battery on the right.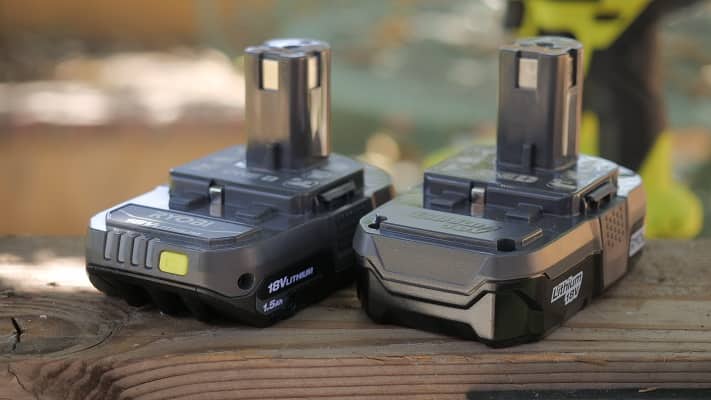 They are a little bit shorter in height and while the front to back length is about the same, the bottom front and back of the battery has been tapered for an even more compact appearance. Although as seen in the first above image, the difference isn't that big but I do commend Ryobi for making it as compact as possible even if only by a little bit. The new compact 1.5 ah battery also features a battery fuel gauge, and while fuel gauges are new to Ryobi batteries, they did make it larger for better visibility.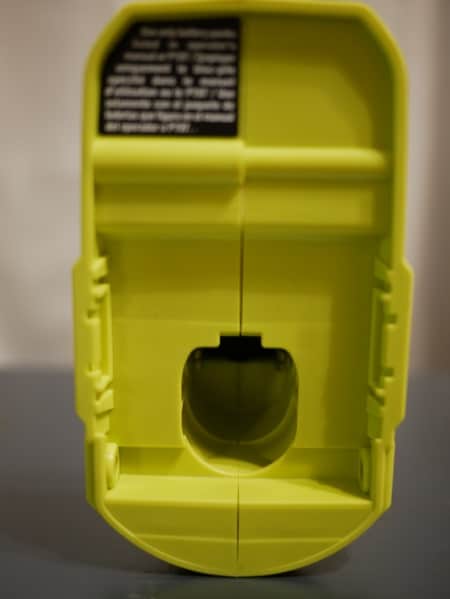 And since where talking about the battery, I took a look at the battery holder slot to see if there were any extra pin connections since Ryobi's brushless tools are said to take advantage of their Lithium+HP batteries. However when looking at the pin connections, we can see that this impact driver even though a brushless tool, only has the standard battery pins so no special connections for added communication with their top of the line batteries. This doesn't surprise me since if you buy this impact with a kit, it comes with the new 1.5ah compact batteries that are NOT Lithium+ HP, their just standard Lithium labeled batteries. If this new brushless impact driver had the proper connections for the Lithium+ HP batteries, then it would be bundled with them in a kit but they are not.
Performance
As far as performance goes, it has average performance. I put it head to head against other 18V impact drivers such as the Ridgid 18V Stealth Force, Milwaukee M18 Fuel Surge and M18 Fuel Gen 3 impact driver, and even Ryobi's own 18V Quietstrike and in a series of driving and drilling tests, the New Ryobi 18V One+ HP compact brushless model was just behind the others. The only test it was faster than it's competition was in the 3 inch screw test where it was slightly faster than the Ryobi 18V Quietstrike although very similar but still slower than the rest. The other tests involved drilling with a 3/4″ and 1-1/4″ speedbor max bit and the new Ryobi One+ HP model was behind all the others but luckily it was only trailing behind the other slowest models but nowhere near as fast as Ridgid's Stealth Force or Milwaukee's M18 Fuel Gen 3 impacts as those are some of the fastest on the market. But in the real world, the Ryobi did just fine when I installed a TV wall mount and did not appear to be slow at all but felt confident and powerful, and it's not until you compare it to the competition that you can see where other models are quicker but still, the Ryobi 18V One+ HP is not the slowest on the market either, it's somewhere in the middle with average performance.
While not class leading in any category, the new Ryobi 18V One+ HP compact brushless impact driver is a good option for those in the Ryobi system that doesn't need all the latest features like 3 speeds and a LED ring of light but wants a brushless motor in a package that's smaller than most in the Ryobi ecosystem with respectable performance and don't mind not having a belt clip. It is available for purchase now for $129 as a kit with two compact 1.5ah batteries, charger and tool bag.
26% more compact, 23% lighter according to Ryobi
brushless motor
5.3″ length
3800 IPM
LED worklight located at bottom
variable speed trigger
single one handed bit chuck collet
LED on bottom, no LED light ring on head
1,700 in-lbs torque
2,900 RPM
211 2-1/2″ deck screws runtime per charge 422 with two battery packs
$129 PSBID01K 2 battery kit


DISCLOSURE:
We are a participant in The Home Depot Affiliate Program, an affiliate advertising program designed to provide a means for us to earn fees by linking to homedepot.com. Tool Craze does not sell this product or any product on the Tool Craze website. Tool Craze does not handle the sale of any item in any way. If you purchase something through a post on the Tool Craze site, Tool Craze may get a small share of the sale. Please refer to the About section for more info.