Recently we learned that Ryobi had a new cordless pressure washer with the Ryobi 18V Cordless Power Cleaner RY120350 which was a small light duty model. Wouldn't it be nice if they created a cordless unit that was as powerful as a full size corded unit? Rejoice because that's exactly what Ryobi has done with a new 40V model, the Ryobi RY40PW01DG9 40V 1500 PSI 1.2 GPM Cordless Pressure Washer.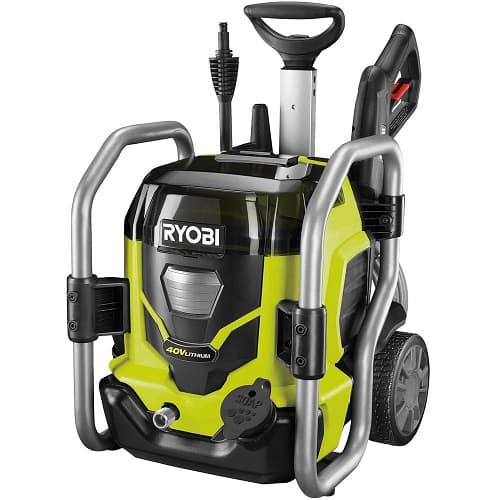 This isn't the first cordless 40V model on the market as SunJoe was the first to come out with one however the SunJoe maxes out at a respectable 1160 PSI while the new Ryobi RY40PW01DG9 model maxes out at 1500 PSI for the performance similar to a small electric plug in model. It has two performance modes, #1 the default setting produces 1000 psi. to extend run time for less demanding tasks or #2 switch to boost mode for 1500 psi.
What's neat about the Ryobi 40V 1500 PSI 1.2 GPM Cordless Pressure Washer RY40PW01DG9 is that it has a roll cage design with built in storage for the all included accessories such as the hose, spray gun, nozzles and even includes a built in detergent tank like most plug in models do. It also has a set of rear wheels and telescoping handle for easy transport to your next clean up. The manufacturers description also mentions it has an external water tank. A manual was not included in the listing so I don't have any more details on that but I believe the external water tank is built in to the top portion of the pressure washer for truly water supply hose free use just about anywhere. You can hook up a hose as well for use at home.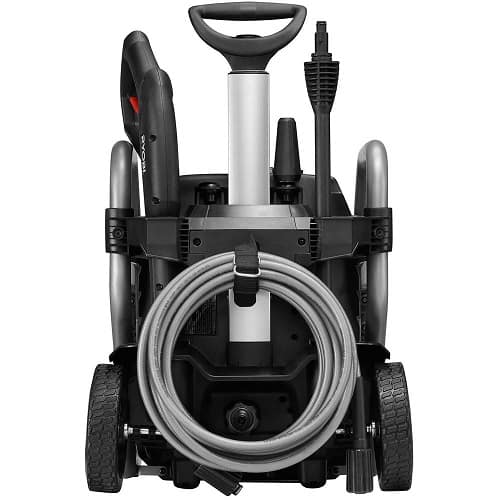 It's powered by a single Ryobi 40V battery and interestingly, it has two battery ports. You can plug two batteries to extend runtime only as using two batteries does not improve performance, only runtime.
Right now it comes as a kit with a pair of 5.0 ah batteries and charger for $499 making it considerably more expensive than similar corded models. For example you can get similar corded units from Ryobi for $131-150 with slightly more PSI making this 40V model about over 3x more expensive. But the cordless model offers the convenience of battery power to use anywhere without the need of plugging in or gas. Battery powered tools are usually more expensive than plugin or gas models. I suspect that Ryobi might offer a kit with one battery as a lower priced kit option and even a baretool option to save even more for those that already have Ryobi 40V batteries.
A big thanks to DrewBHAM for spotting!
1500 psi and 1.2 GPM
Portable, easy-to-start and low maintenance
Includes two 5.0 Ah batteries
Water resistant battery enclosure for added protection
Included accessories: 25 ft. hose, 15° nozzle, soap nozzle, turbo nozzle and external water tank
Turbo nozzle for up to 50% more cleaning power
Durable frame with wheels and telescoping handle
Detergent tank for easy soap application
5-year limited tool warranty
3-year limited battery warranty


DISCLOSURE:
We are a participant in The Home Depot Affiliate Program, an affiliate advertising program designed to provide a means for us to earn fees by linking to homedepot.com. Tool Craze does not sell this product or any product on the Tool Craze website. Tool Craze does not handle the sale of any item in any way. If you purchase something through a post on the Tool Craze site, Tool Craze may get a small share of the sale. Please refer to the About section for more info.