Recently Ryobi has introduced a new line of compact brushless cordless power tools known as their One+ HP Compact Series which include a drill, impact driver, right angle drill, 3/8″ impact wrench, 3″ cutoff tool, and recip saw. Ryobi was also kind enough to send them all over (at no cost) for me to try out and review and in this particular review, I will go over my thoughts on the new Ryobi One+ HP 18V Recip Saw PSBRS01B . As always, Tool Craze is never paid or swayed to give a positive review and as always are my unbiased thoughts and opinions.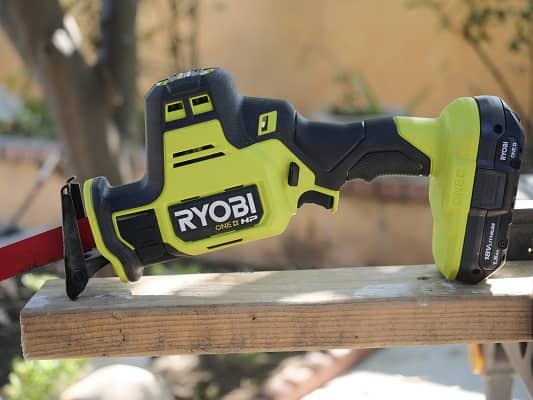 All of the new Ryobi 18V One+ HP brushless power tools are designed to be small and compact yet offer "high" performance for their size. Looking at the design and shape of the new Ryobi 18V One+ HP  brushless recip saw, it certainly looks a lot more compact than traditional recip saws. And that's thanks to the fact that they ditched the inline design and went with a form factor similar to the Milwaukee Hackzall design which is essentially a one handed reciprocating saw and this new Ryobi 18V model mimmicks the design of it's sister company. Just like the Hackzall, the Ryobi is also a one handed recip saw and has a hump on the front where you can place your other hand for better support and downward pressure when cutting. This design makes it much more compact than regular reciprocating saws and as such this Ryobi can fit in a small and medium sized tool bag when the battery is not installed as the battery does add length to it. In fact, the body of the Ryobi is about the same size as a Milwaukee M12 Fuel Hackzall with the addition of additional bulk of the Ryobi 18V battery holder slot which adds to it's size, but body alone, it's roughly similar in size to the M12.
I find the Ryobi One+ HP 18V Recip Saw PSBRS01B to be a well featured one handed reciprocating saw. It has an LED light with 10 second afterglow to illuminate the cutting area, a pivoting shoe – although the pivot point is rather stiff – much more than it should be but it is a plus over the Milwaukee Hackzall models as they have fixed shoes that don't pivot at all, and the Ryobi also has a nice blade lever on the side for easy blade replacement. This is a great feature that I find to be a premium feature as you don't need to stick your fingers behind a cramped shoe like you'll find on the Hackzalls.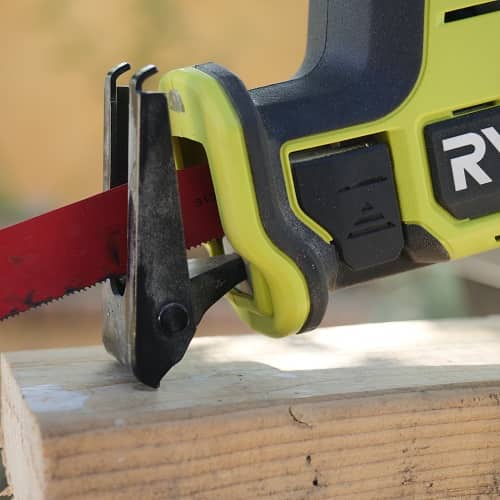 It also appears that the shoe seems to be able to extend which is a feature found on more expensive recip saws however there's no mention of this in the manual. I found a hex screw on the side that accepts a hex key (allen wrench not included) and untightened the screw and it does allow the shoe to extend and be removed. However before you get your hopes up, there's hardly any amount of travel which makes this feature not useful in my opinion. Extending the shoe is a good feature that helps save blades by moving away from the starting point of a blade and extending away from it to use the less used portion, basically extending the life of your blades. However there's hardly any travel on the shoe before it falls out so it appears it's only good for replacing the shoe if ever needed, but not to adjust and extend it.
Performance
When these new Ryobi One+ HP compact brushless series power tools were launched, they also were launched alongside the new more "compact" compact 1.5 ah battery. I even was invited to watch Ryobi's video launch event, now public, and in the video they demonstrated using this Recip saw with the new compact battery. It performed great from what I could see at the event and when they sent me over all the new tools, they sent them with the new batteries as well so I tested all tools with the  new compact batteries including this recip saw.
The first test I did was the standard 2×4 cutting test and this guy chugged along. I've tested a few other recip saws in my day and this model chugged along at a decent pace. Not the fastest, not the worst but on the slower end. I did the standard 5 cuts in a row into the 2×4 and I started with 3 out of 4 bars of battery and after the 5 cuts were finished, the battery was very warm and had 1 bar left. Clearly this saw was not intended for use with the compact batteries as it was simply too much for the poor little 5 cells inside the battery. I then moved over to a 3.0 ah Lithium+ HP battery to see if it would do any better. I did 5 cuts and it still chugged along at the same rate and it dropped the battery from full to 3 bars after 3 cuts but this time the battery was not warm like the compact battery. That's because there are 10 cells in a 3.0 ah battery meaning the heavy load is distributed to twice as many cells and that old adage applies – more hands make light work or as I like to say it, more hands lightens the load. I noticed that it didn't feel any faster with the larger battery but at least the battery wasn't taxed to the max.
I did do a side by side comparison with the compact and fatpack battery which you can see in the above video, the performance between the two packs is very similar but slightly faster with the larger 3.0 ah battery. This is because the smaller battery has less cells and thus is getting exhausted quicker – less hands makes for a heavier load for each cell. Lesson of the day, don't use this recip saw with compact batteries, use it with fatpack batteries which are 3.0 ah and higher with 10 cells as it puts too much of a strain on smaller compact packs.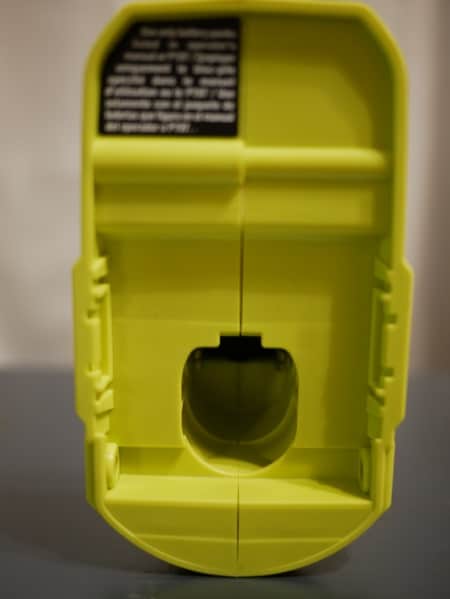 With this being a brushless Ryobi power tool, Ryobi had earlier mentioned that their brushless tools perform better with their Lithium+ HP batteries however to do so they need the extra pins to take advantage of those batteries. However a look at this recip saws battery connections, it's missing the extra pins to take advantage of those lithium+HP batteries as it only has the standard 2 battery connectors, so don't expect better performance when used with lithium+HP batteries. The above mentioned "slight" performance advantage with the 3.0 battery was not due to it added circuitry since the tool doesn't have the special connections to communicate with the batter for better performance, but the "slight" performance increase was because this saw is a high power draw tool and as mentioned earlier, is too much for a small compact 5 celled battery pack which can easily get exhausted on high power draw tools.
I then proceeded to do metal cutting with a large and thickwalled metal pipe and though the cut was slow, this was a very difficult cut for any recip saw and even higher performance models would still be pushed to their limits so the little Ryobi did pretty well in my opinion considering what a tough cut that was. Then I proceeded to cut PVC pipe and it tore it up quickly and easily.
I also did a side by side comparison of this saw compared to two others. I put it up against the Bosch 18V GSA18V-125 18V EC Brushless reciprocating saw which is a high performance 18 volt model and the Milwaukee M12 Fuel Hackzall which is a brushless 12 volt model that's about the same size as the Ryobi. In the test the obvious winner was the Bosch and no surprise there as it's a high performance model that runs laps against the other two with the Ryobi coming in second place. A distant second place but it did noticeably beat the similar sized M12 12 volt Milwaukee model. I always thought the M12 had great performance considering it's size however the Ryobi made me realize how slow the Milwaukee actually was.
So overall performance is on the slower side for the Ryobi but that's when compared to other saws. In the real world the Ryobi 18V compact brushless recip saw offers capable performance to cut a variety of tasks and offers a good punch of performance for it's small size. That's where this saw shines as it's a lot smaller than traditional reciprocating saws and lighter too and not just that, with it's unique shape, it can easily be operated one handed for better versatility.
This saw is available now and at the time of writing can only be bought as a baretool for $99 but Ryobi says that it will also be available in multiple combo kits. Just make sure that those combo kits don't come with the compact batteries otherwise make sure to get some larger 3.0 ah or bigger battery packs to get the most out of this saw.
brushless motor
31% more compact, 24″ lighter
100+ cuts per charge
3000 SPM
cut 2×4 fast
easy release blade lever on the outside of the body
single handed design or two hand use
5/8″ stroke length
pivoting shoe, doesn't extend
LED light
variable speed trigger
baretool only $99 PSBRS01B and various combo kits


DISCLOSURE:
We are a participant in The Home Depot Affiliate Program, an affiliate advertising program designed to provide a means for us to earn fees by linking to homedepot.com. Tool Craze does not sell this product or any product on the Tool Craze website. Tool Craze does not handle the sale of any item in any way. If you purchase something through a post on the Tool Craze site, Tool Craze may get a small share of the sale. Please refer to the About section for more info.