How many times have you worked outside and needed to clamp something securely? I've been in this situation before and ended up having to work in less than ideal conditions, but wouldn't it be nice if you could have the functionality of your bench vise with you at all times? Wilton thought so and came out with the ATV vise. ATV stands for "All Terrain Vise" and what they did is offer a vise with portability in mind that attaches to your vehicles 2″ tow hitch securely.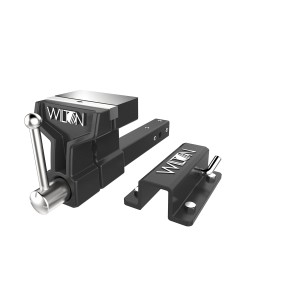 Although it's portable it doesn't lack on features with 6" wide jaws that can open to 5-3/4" and a hearty 5″ throat depth. When attached to the hitch, 4 screws hold it down securely to your vehicle to so it doesn't rattle around while driving and keep it sturdy when in use. The patented 360 degree locking handle can be locked into place so you don't have to worry about the jaws opening and rattling when driving. The ATV vise can also be mounted to any workbench using the auxiliary mounting bracket for use from the outdoors to the shop.
Specifications:
Jaw Width 6″
Jaw Depth 5-3/4′
Throat Depth 5″
Pipe Jaw 3/4 – 3″
1 ton clamping force
33 lbs weight
lead-screw is precision-ground carbon steel with acme threads for long life and durability
equipped with two sets of jaws (straight and v-groove)
Powder-coated steel rated to 60,000 psi
Dimensions: 19-1/4"L x 6"W x 7-1/4"H

The Wilton ATV (#10010, $199.99) includes the vise, hitch pin and cotter pin; a bench mount bracket; plus instructions and parts manual.  The Wilton ATV with hard shell carrying case (#10015, $249.99) also is available.  Optional accessories include an additional bench mount bracket (#10300, $24.99) and the hard shell carrying case for transport and storage (#10350, $59.99). The ATV carries a lifetime warranty on manufacturer's defects.