In this article we'll be taking a look at the Milwaukee M18 Fuel impact Driver model 2853-20 and this will be my honest review of the new impact. This is the Gen 3 version of this power tool introduced earlier this year 2018.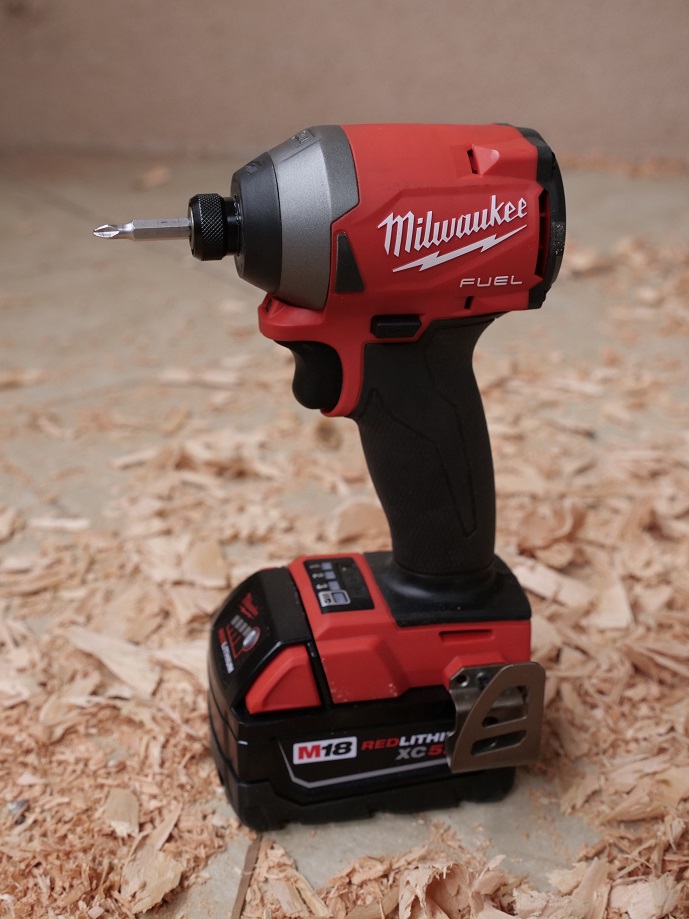 Ethic's Disclosure:
Milwaukee was kind enough to provide the Milwaukee M18 Fuel impact Driver model 2853-20 at no cost for review. However as with all my reviews, I am not paid, sponsored, or obligated to give a positive review. This review is my opinion of the product based on my usage and knowledge and my review will reflect what I like and dislike about the product. I will do my best to provide you with an unbiased review.
Manufacturer Features and Specs:
Volts: 18V
Torque: 2,000in-lbs
RPM: 0-3,600 RPM
IPM: 0-4,300 IPM
4-Mode DRIVE CONTROL™ with Self-Tapping Screw Mode
Single Hand Bit Insertion
Tool Length: 4.59":
Tool Weight (w/ XC5.0 battery): 3.8lb

My Thoughts on features and build quality:
Milwaukee's M18 Fuel power tools have always been their flagship models with the all the latest and greatest features and performance with their powerful brushless motors. The original M18 Fuel impact driver was both powerful and feature packed with 1,600 in-lbs torque and 3 speeds in a compact for the time package. The Gen 2 model added more torque at 1,800 in-lbs torque and while still having 3 speeds they added a fourth self tapping screw mode. The improvements didn't end there as they also made it more compact than before at 5.25″ in length. The Gen 3 model receives similar upgrades in the form of now 2,000 in-lbs torque with more RPM and BPM at 3,600 and 4,300 respectively. While they didn't add anything new in the way of features as it's still a 3 speed impact with a fourth self tapping screw mode, it does get a massive overhaul in terms of size. It's now a puny 4.59 inches in length making it one of the most compact cordless impact drivers to date! So not only did they make it more powerful but they shrank it quite drastically too. It's really quite amazing how puny the tool head length is not just from a technical standpoint but in terms of how many more tight spaces the tool will fit into due to is decreased size.
Milwaukee M18 Fuel power tools always portrayed the latest and greatest bells and whistles however while the competition's best impact driver models feature things such as triple LED light rings and hex chucks that are one handed to not just insert bits but remove them, Milwaukee has stayed true to the original M18 Fuel impact driver model by sticking to a single LED light below the hex chuck which leads to a harsh shadow and the hex chuck while still being a one handed chuck to insert bits, still requires two hands to remove bits. Neither are big deals in my book as a single LED light is still plenty effective in low light and while I'd much prefer the chuck being single handed to remove bits, I can live with it. I still wish Milwaukee would upgrade both features to match what the Fuel brand represents.
The build quality is excellent as you would expect from Milwaukee products. You find nice rubber overmolding around the entire grip surface with an anti-slip texture. The handle is very comfortable to grip and use all day however not as nice and compact as my favorite handle, the Bosch IDH182 which feels perfect in the hands. The impact head is metal with a rubber bumper in front to protect surfaces when working inside corners. There are bumpers on the side and back of the tool to protect from scratching delicate finished surfaces. On the bottom of the handle you'll find a belt clip pre-installed on the left side and a bit holder on the right side. You can unscrew each and place on either side for left handers but as is, it's placed for right handed convenience.
Performance:
Going back to the original M18 Fuel impact driver, it was a heavy hitter with solid torque performance and was fast at both driving and drilling. Fast forward to the Gen 2 model and while it got only a 200 in-lbs torque upgrade, it wasn't a huge upgrade in real world performance. Sure, technically it was stronger and faster than the original but the performance felt the same unless you put the two side by side and that's when you would see slightly better performance between the two. The Gen 3 model again only gets 200 in-lbs more torque than the previous gen however this time around the difference in performance is pretty substantial. I've been testing out several cordless impact drivers from the competition and so far the one to beat has been the Ridgid 18V Stealth force hydraulic pulse driver. It's funny how hydraulic oil pulse drivers were originally made for quieter impact driver applications but not really designed to compete head to head with high performance impact drivers. Yet the Ridgid model has beat the competition's high torque impact drivers left and right.
Initially I expected the Milwaukee M18 Fuel Gen 3 impact to get closer to the Steal Force's solid performance but after comparing them all side by side, it's safe to say that Milwaukee has not only kept up with the Steal Force, it has surpassed it's performance in nearly all tests! That's an impressive feat considering how badly the Stealth Force whooped the competition in the past.
The M18 Fuel Gen 3's performance gets a big performance upgrade in everything across the board, from driving small screws to lags, and drilling small and medium sized holes, this bad boy performs big and is about 2x faster at everything compared to the Gen 2 M18 Fuel model. It also beats out the Stealth Force in driving small screws and all the drilling tests with the Stealth Force just slightly behind the Gen 2 Milwaukee. There was only one test where the Stealth Force beat the Milwaukee, which was the lag screw test but even then the Milwaukee Gen 3 was nearly tied with the ridgid.
This says a lot about the Milwaukee M18 Fuel Gen 3's performance. I'm still confused as to why it's performance leap is so big compared to the Gen 2 model but I'm guessing that it has more to do with the higher RPM's and IPM's along with the slight increase in torque versus previous models. Whatever it is, I'm not complaining.
As for it's self tapping screw mode, it's similar to the Gen 2 model's as it starts the RPM's slow at start and then slowly revs up all while you hold the trigger down all the way. Full speed at this setting never reaches the max RPM as you'd find in 3rd speed but this is more for better control when setting self tapping screws. Personally I wasn't a fan of this mode as it's not fully automatic and doesn't do all the work for you as you still have to stop the trigger when the screw is fully seated as to not strip it. It's also a bit finicky to use and many times will stop before the screw is set due to some sort of torque limiting feature I'm guessing. It won't work if the gauge metal you're trying to set a self tapping screw is too thick and will stop before the work is done. It sometimes stops with thin gauge materials and requires some practice to get right. Either way, I'd rather much put the tool in 3rd speed and throttle and stop the trigger at will.
As far as noise is concerned, it's about as loud as regular impacts get. I just used this bad boy the other day installing a TV wallmount and the noise was still loud when used indoors. Really, no different than other regular impacts. If noise is an issue for you there are plenty of quieter hydraulic oil pulse driver alternatives on the market.
Final thoughts:
Not only did the Milwaukee M18 Fuel impact driver Gen 3 get a massive overhaul shrinking this tool to a crazy 4.59 inches in length, Milwaukee also gave it a huge performance upgrade about two times faster at both driving and drilling than the Gen 2 model and now dethrowns the mighty Ridgid Stealth Force as a top performing impact driver. I wish they added a triple LED light ring and true one handed chuck for both inserting and removing bits to make it perfect, but still, the new Gen 3 Milwaukee M18 Fuel stands as a heavy hitter and ultra compact model. I easily give it two big thumbs up for it's performance and small size.

DISCLOSURE:
Tool Craze does not sell this product or any product on the Tool Craze website. Tool Craze does not handle the sale of any item in any way. If you purchase something through a post on the Tool Craze site, Tool Craze may get a small share of the sale. Please refer to the About section for more info.