Many years ago, Rockwell came out with their RK3441K 4-1/2 inch compact circular which was a smaller, lighter circular saw that could be used one handed if needed. In 2017 I noticed Porter Cable came out with one of their own as well with the PCE381K 4-1/2 inch Compact Circular Saw. It wasn't just similar in everyway, it was basically the same saw but rebranded and with slight cosmetic surgery to give it that signature Porter Cable look, but they weren't fooling anybody. Now Harbor Freight has launched a "copy" of the original Rockwell RK3441K model and their's is under the Bauer branding. It's known as the Bauer 4-1/2″ 5.8 Amp Compact Circular Saw.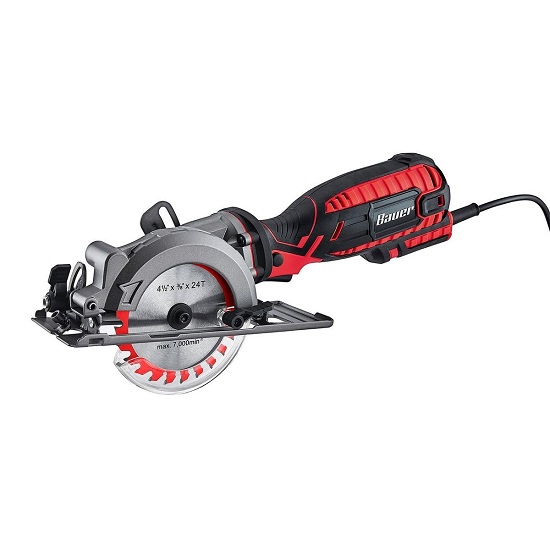 At first glance, there's no doubt it's based on the same design as the original however a closer look reveals that the Bauer model is actually a direct clone of the Porter Cable PCE381K 4-1/2 inch Compact Circular Saw as the blade guards and shoe are identical in shape and even materials. For example, the lower blade guard is a clear plastic guard as seen in the Porter Cable (The lower blade guard on the Rockwell is either metal or solid plastic). The body is also almost identical however Bauer does have a slight cosmetic update so that it doesn't have the signature Porter Cable look but the basic body shape is still the same.
Bauer's compact circular saw does however come up on top in a couple of areas compared to the brands it's copying as it offers slightly more power at 5.8 amps vs 5.5 on the PC or 5 on the Rockwell. It also beats the other two in price as the Bauer is priced at $69.99 which is $10 cheaper than PC's over $40 cheaper than Rockwell's model (prices at time of writing).
I've tried the Rockwell before and the benefits of such a small saw are that it's said to be able to cut as fast as a full size circular saw even though they have less power because the blade is smaller in diameter and has a thinner kerf. So crosscuts are about similar in cut speed as a full size circ saw, just trailing behind by a bit and nowhere near the same power and speed as top performers. Also, rip cuts struggle with these little saws so keep that in mind. The positive is that the saw is smaller, and lighter making it easier to handle and can even be used one handed if needed.
Also as I was looking at Amazon, I also noticed that there's all sorts of Rockwell compact circular saw clones. You can find them from TackLife and Wen as well as all sorts of other new popup generic Chinese brands so it doesn't surprise me Harbor Freight would want to cash in on the bandwagon. Some are the same price point as Bauer's with extras like extra blades and laser sights and some are even cheaper than Bauer's.
5.8 Amp 3500 RPM motor delivers powerful performance
Easy bevel adjustment up to 45° in 15° increments
Maximum cutting depth of 1.7 in. at 90° to easily cut through 2 in. dimensional lumber
Reinforced shoe with integrated dust port and ruler guide to provide clean and accurate cuts
4-1/2 in. 24 tooth blade included provides improved cut capacity and versatility


Free 2 day shipping – Try Amazon Prime 30-Day Free Trial

DISCLOSURE:
Tool Craze does not sell this product or any product on the Tool Craze website. Tool Craze does not handle the sale of any item in any way. If you purchase something through a post on the Tool Craze site, Tool Craze may get a small share of the sale. Please refer to the About section for more info.