I was looking over my Harbor Freight coupon magazine this week and noticed a new tape measure from their in house Bauer brand, and what's interesting about the new tape measures are that they are self locking models.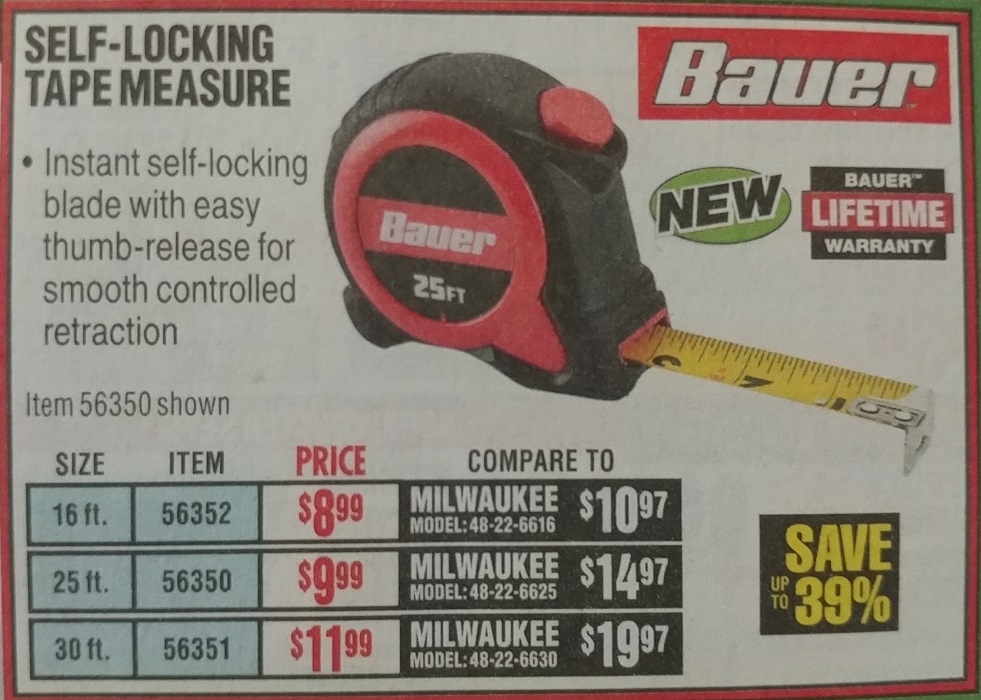 They have three models in 16 ft, 25 ft and 30 foot lengths for a nice variety out of the gate. They are priced at $8.99, $9.99 and $11.99 respectively which makes them fairly inexpensive and all offer a lifetime warranty. Self locking tapes are my favorites because they lock the tape automatically after extending and a simple press of the top botton retracts the tape.
Harbor Freight's newest tools including their Bauer brands show improved quality over previous offerings and many times they appear to copy other brands designs. Here we once again see Harbor Freight's lack of originality in their designs as the "new" Bauer self locking tapes look very similar and that's because they appear to be rebranded Komelon self locking tapes. In fact I have the same exact green one in my tool box and these Bauer's are an exact replica but in red. If they are exact rebranded copies of Komelon tapes, that's not a bad thing at all as Komelon makes very good tapes.
This particular model doesn't have any other standout features other than the self locking design and lowish price point. The blade doesn't look particularly wide and the hook is nothing special and smallish. If it's the same exact tape as a Komelon, expect midrange features and performance out of the tape.


Free 2 day shipping – Try Amazon Prime 30-Day Free Trial

DISCLOSURE:
Tool Craze does not sell this product or any product on the Tool Craze website. Tool Craze does not handle the sale of any item in any way. If you purchase something through a post on the Tool Craze site, Tool Craze may get a small share of the sale. Please refer to the About section for more info.