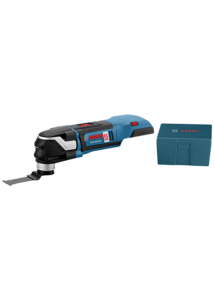 Earlier we found out Bosch was bringing their UK Starlock 12V multitool to the USA as a USA spec model and now I learned that we will also be getting the 18V Starlock multitool as well. It's model name is GOP18V-28 or GOP18V-28N as a baretool and it's an EC Brushless 18V model.
When I first heard about the new Starlock mount it sounded nice in theory but it wasn't until I tried it out myself that I was blown away with it's snap on and snap off blade changing quickness. So that's why I'm excited about Bosch coming out with cordless multitools with the Starlock mount. If you read my article on the Bosch USA 12V Starlock multitool, you would know that I was disappointed to say the least that even though it has a Starlock mount, it was crippled by the fact that blade changes required a hex key and bolt and are not snap on, snap off quick. But the 18V version does have a proper Starlock mount with instant blade changes.
The brushless motor is said to offer performance similar to their GOP40-30 model which should be impressive if true as the GOP40-30 model is a solid performer. Overall the new 18V GOP18V-28 looks very similar to the previous 18V EC brushless model but gets the front end of the corded GOP40-30 and even inherits the GOP40-30's LED light. This is a great addition as many times I've used multitools have been in poor light so a built in light should help out in this regard.
As far as other features are concerned you get the usual variable speed dial that offers control for the 8000-20,000 OPM's, has an oscillating angle of 2.8 degrees combined, 12.6 inches in length, and weighs in at 2.7 lbs.
As with most cordless power tools, you do pay a premium for cutting the cord and that's no different with the GOP18V-28N 18V Starlock model as it will run you $199 for only the bare tool. That makes it more expensive than the GOP40-30B which comes with a bag and several accessories, or the same price as the GOP40-30C with a case and several accessories. You do get extra's with the 18V Starlock model such as a small Bosch Multitool accessory box (these are very handy by the way) and one plunge blade. You'll still need a battery to operate and a charger to charge the battery when it runs out of charge which equals to more $$$.


Free 2 day shipping – Try Amazon Prime 30-Day Free Trial


DISCLOSURE:
Tool Craze does not sell this product or any product on the Tool Craze website. Tool Craze does not handle the sale of any item in any way. If you purchase something through a post on the Tool Craze site, Tool Craze may get a small share of the sale. Please refer to the About section for more info.
Specifications