Bosch announced a new 17 gallon GAS20-17AH wet dry dust extractor offering a whopping 300 CFM extraction performance! This dust extractor features a high-performance 17.5-amp motor to maintain the maximum 300 CFM capacity. This is powerful dust extraction performance for heavy-duty applications, including concrete cutting and surface grinding with larger 7″ and 9″ grinders and up to 12" cut-off tools.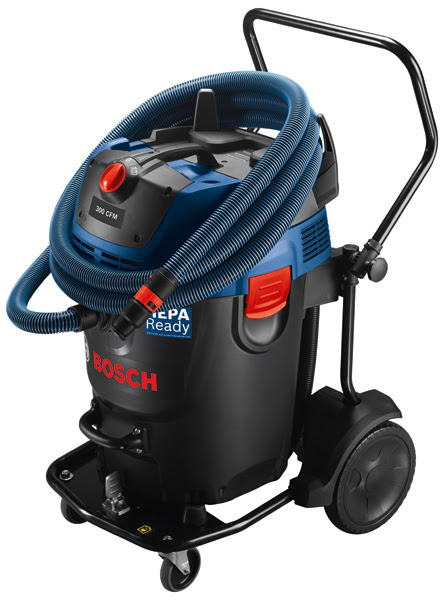 This bad boy is so powerful that you can run suction to two tools at the same time when used with the optional Bosch Y-Connect hose adapter (sold separately). Being a wet dry dust extractor it can handle suction of wet messes and utilizes a water level sensor that knows when the unit is full. It also lives up to it's dust extractor name by having an automatic filter cleaning system that auto-cleans every 15 seconds so you don't worry about the filter but at the work at hand.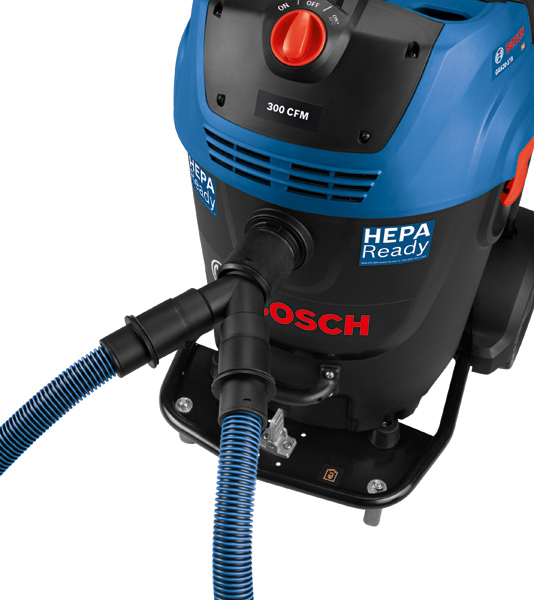 The Bosch GAS20-17AH Wet/Dry Dust Extractor comes with a HEPA filter, a three-layer heavy-duty filter bag that helps protect the filter from abrasive materials and a 16 Ft. anti-static hose. Part of the Bosch PRO+GUARD™ system, the GAS20-17AH with HEPA filter helps users move toward compliance with the OSHA silica dust regulation. With its maximum 300 CFM, it is designed to handle concrete cutting and surfacing with large angle grinders.
It has a tube frame surrounding the dust extractor and includes two 360 degree castors in front with large wheels in the back and a built in handle for easy transport. What's interesting about the tube frame is that the tank is fixed on hinges so that the user can easily tilt the tank to the back to empty contents while the frame holds most of the weight of the tank as you empty.
Everything about this machine's stats looks impressive from it's suction, to it's 17 gallon tank and it's 16 foot hose length and 27 foot power cord, seriously it's that long! It's weight is also impressive at 68 lbs (when empty) which means it won't be light and it's price tag is also impressive at a hefty at a whopping $1,499 USD or $1,949 Canadian.
Bosch GAS20-17AH Wet/Dry Dust Extractor Fact Box
Product

Voltage

What's in the Box

Capacity

Weight

Height

Price

GAS20-17AH Wet/Dry Dust Extractor

120V

Bosch GAS20-17A 17-Gallon 300-CFM Dust Extractor Kit includes a VF430H HEPA filter, a three-layer heavy-duty filter bag, a 16 Ft. 35mm anti-static hose, a bend nozzle, a power tool adapter nozzle, two extension tubes and a floor nozzle.

17 gallons

63 Lbs.

36 In.

US: $1,499

Canada: $1,949




Free 2 day shipping – Try Amazon Prime 30-Day Free Trial

DISCLOSURE:
Tool Craze does not sell this product or any product on the Tool Craze website. Tool Craze does not handle the sale of any item in any way. If you purchase something through a post on the Tool Craze site, Tool Craze may get a small share of the sale. Please refer to the About section for more info.