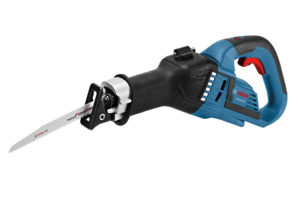 The Bosch GSA18V-125 18V EC Brushless Reciprocating Saw was announced in the Las Vegas World of Concrete trade show and what impressed me about it is that it has serious specs.
First off it's a brushless motor cordless 18v power tool. Brushless motors on cordless power tools usually give us a nice boost in runtime because they're more efficient. Also as can be seen in the lastest cordless power tools featuring brushless motors are added performance compared to their non brushed counterparts.
It also gets a 1-1/4″ stroke length that's longer than the competitors offerings which top out at 1-1/8″ (Except for Makita XRJ05Z which also features a 1-1/4″ stroke). And if that weren't enough it also gets 3 orbital action settings. It's rare if a cordless reciprocating saw has orbital settings at all. This is a great feature to have because orbital settings can aggressively cut faster than inline strokes when cutting lumber. A great feature to have for demo work. It's also lightest in it's class at 7.7 lbs.
It does feature an interesting shape that's a mash between an inline recip saw and somewhat of the drop down design of Dewalt's compact reciprocating saw. And it also features a rafter hook on the top of the unit. Basically the only thing this saw is missing is a two speed gearbox like what is seen on Makita's XRJ05Z for low and high speed sawing action.
It should be out soon with pricing at $299 as a baretool. The price makes it considerably higher than competitors 18V brushless recip saws by over $100. You do get more features with the Bosch GSA18V-125 for sure but I'll let you guys decide if the added price is worth it.

Specs:
18V
brushless motor
1-1/4″ stroke length
0-2500 no load SPM
3 orbital settings
19″ length
7.7 lbs
Product

Voltage

Weight

Tool Length

Stroke

Stroke Speed

Price

Bosch GSA18V-125N 18V EC Brushless 1-1/4″-Stroke Reciprocating Saw (bare tool)

18V

7.7 lbs. (bare tool)

19 in.

1-1/4"

0-2,500 strokes per minute

US: $299

Canada: $409