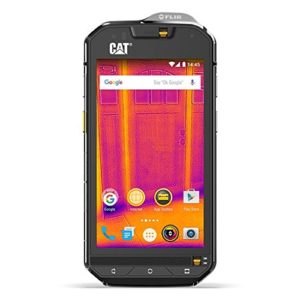 The CAT PHONES S60 is a very interesting phone, not only because it's rugged built to withstand harsh use and fully waterproof, but because it has those features and has an integrated Flir thermal imaging camera.
The integrated Flir camera is equipped with their MSX technology that overlays the thermal image over an actual photo to give the thermal image a greater sense of what your looking at. In other words, you won't just see blobs of colors, but be able to see a bit more clearly what the image was taken from. The CAT Phones S60 also allows you to save pictures and even take and save video, which is interesting because the Flir C2 that I reviewed was able to take and save pictures but didn't do video.
Going back to it's rugged features, the CAT phones S60 can withstand drops up to 1.8 meters which is thanks to it's strengthened die cast frame and even exceeds even military specifications! As a waterproof smartphone, it can survive depths of up to 5 meters for 60 minutes using a unique Lockdown Switch. The S60 can also take underwater photographs and video, as well as boasting a glove and wet-finger compatible Corning Gorilla Glass 4 touchscreen.
It's a feature rich phone for it's extra features but at it's core, the phone is very behind when compared to today's high end technologically advanced smartphones. I say this because you wont find the highest resolution screen or largest display as it has an average 4.7 inch with a decent 1280×720 resolution. The cameras aren't so bad with a 13mp rear camera plus the Flir Thermal Camera, and a 5mp front facing camera for selfies. It does video but it won't do 4k like high end modern phones, the best you get is 1080p at 30fps. But it does have some solid mid range specs such as a Snapdragon 617 octa-core processor with 32gb of memory and 3gb of RAM.
The Cat S60 is an unlocked GSM phone meaning you can use it with carriers that use sim cards such as T-Mobile, At&t and the like but it won't work CDMA carriers such as Verizon or Sprint. It's available now and is priced around $550-600 USD for the USA variant.


Free 2 day shipping – Try Amazon Prime 30-Day Free Trial


DISCLOSURE:
Tool Craze does not sell this product or any product on the Tool Craze website. Tool Craze does not handle the sale of any item in any way. If you purchase something through a post on the Tool Craze site, Tool Craze may get a small share of the sale. Please refer to the About section for more info.