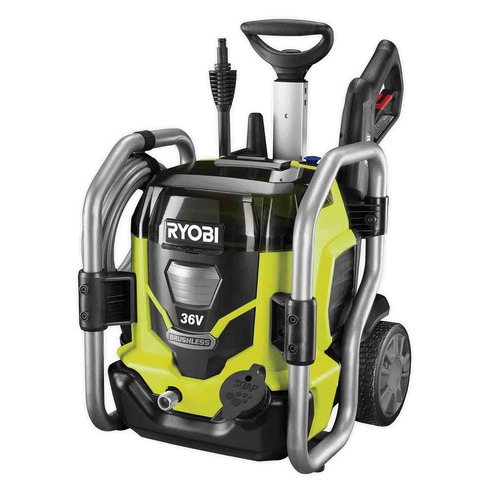 Over in Australia a new cordless Ryobi 36V brushless pressure washer was spotted. Pressure washers are normally run on either AC pluggin electric power or gasoline so it's very interesting to see a cordless model is coming out.
Full disclosure: This is not a review, this is tool news. Tool Craze cannot guarantee the accuracy of the information/specifications/features of any tool listed in this article. Manufacturer marketing claims may not always meet expectations. Tool Craze is not responsible if products do not live up to claimed expectations. Please do your full research before buying any products. Tool Craze is an Amazon Associate and places paid links including those from other retailers that Tool Craze is an affiliate partner with. If you purchase something through a link on the Tool Craze site, Tool Craze may get a small share of the sale.
Key features of this kit include:
36V brushless motor
Maximum pressure of 1800PSI
7.6m hose length
On-board water bladder for hoseless use if needed
Metal roll bars for added toughness.
Includes: 1x 5.0Ah Battery, Charger, 20L bladder
Strangely enough it sort of looks like Bosch's PB360 Power Box cordless radio and that's probably due to the similar roll cage design. I do want to mention though that this is a true 36V tool and uses a single 36V battery. At first I was thinking it probably took two 18V Ryobi batteries together to double volts to 36V but nope, it takes a single 36V battery. What's neat is that it comes with a large capacity 5.0 battery.
I want to repeat again that it was spotted over in Australia so no word on when or if it will ever show up in North America. If it does show up here in the States, it might be classified as a 40V power tool as Ryobi's current higher voltage line is a 40V line, which is actually a 36 volt line, they just market it as 40V.


DISCLOSURE:
We are a participant in The Home Depot Affiliate Program, an affiliate advertising program designed to provide a means for us to earn fees by linking to homedepot.com. Tool Craze does not sell this product or any product on the Tool Craze website. Tool Craze does not handle the sale of any item in any way. If you purchase something through a post on the Tool Craze site, Tool Craze may get a small share of the sale. Please refer to the About section for more info.