Dewalt has a introduced a new Dewalt 20V Brushless Universal Dust Extractor Kit DWH161 DWH161D1 and a new Dust Extraction Tube Kit W/ Hose DWH200D for use with SDS+ rotary hammers.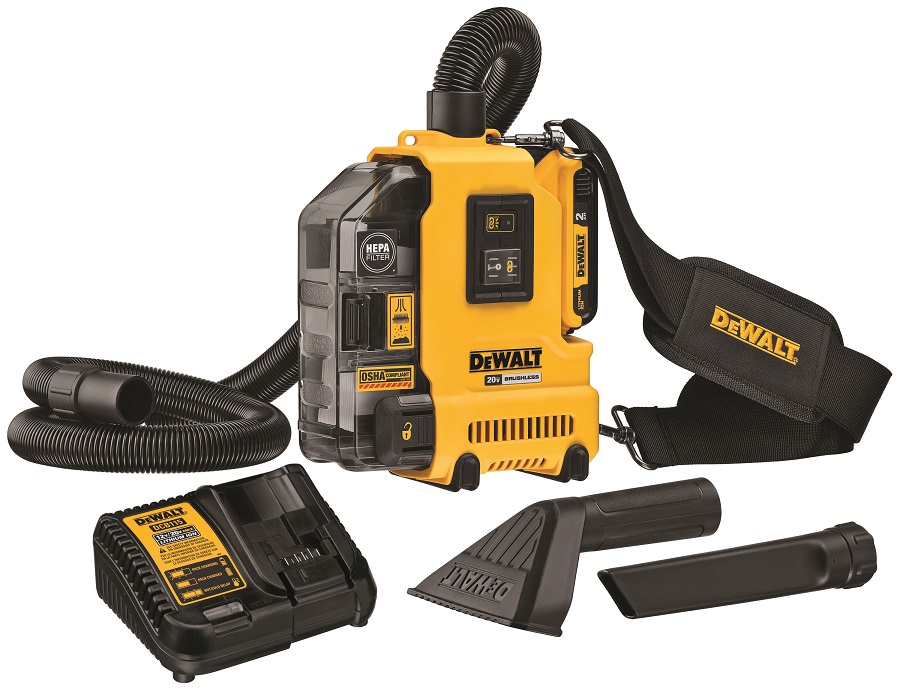 The Dewalt 20V Brushless Universal Dust Extractor Kit DWH161 DWH161D1 is a small portable dust extractor that's OSHA compliant that you can wear via shoulder strap to keep by your side as it helps keep you main tool as dust free as possible. I like that it's powered by 20V batteries meaning it can stay very compact as it's already pretty compact for a vac and paired with a compact 20V battery makes it very portable. It comes with a premium hose along with a couple of nozzles, a wide and crevice nozzle. A Hepa filter comes installed and has wireless tool control that allows users to link the extractor and tool for remote extractor activation although an option Key fob is required for wireless tool control and sold separately. It will be sold in summer 2019 as a kit for $249 and comes with a compact 2ah battery and charger.
CAPACITY 

210 CM³

FILTER CLEANING MECHANISM 

TRUE

HEPA FILTER (99.97% EFFICIENCY) 

TRUE

TOOL HEIGHT 

9.53 IN

TOOL LENGTH 

7.99 IN

TOOL WEIGHT 

3.64 LBS

WIRELESS TOOL CONTROL 

TRUE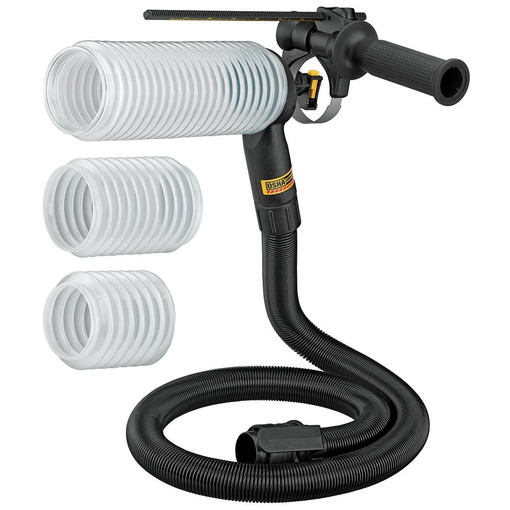 The Dust Extraction Tube Kit with hose DWH200D attaches to most Dewalt SDS+ rotary hammers and hammer drills for keeping dust to a minimum and pairs with a vacuum or dust extractor to do it's thing such as the above mentioned Dewalt 20V brushless dust extractor. It uses a tube to control and vacuum dust as it gets made and the tube is clear so you can see where you're drilling into for accuracy. It comes with 3 different tube sizes to fit your drilling needs and has a side handle with included depth rod to aid in hammer drilling as well as a 3 foot long anti static hose. According to Dewalt it is available now for $69.99 although I didn't see anyone selling it at the moment so expect it to come out soon.
OSHA Complaince with or without an extractor
Three percision tuned clear tubes allow users to work with Stop BIts, bits up to 6″, and bits up to 10″ in length
OSHA® Compliant Solution for SDS Plus Rotary Hammers, and corded/cordless hammers drills.
4′ long anti-static hose comes equiped with an Air-LOCK connection.
Clear tubes for visibility and accuracy.
Depth Rod included for precision hole depths.
Fits all DEWALT SDS Plus Rotary Hammers (excluding D25416K)
Fits all corded DEWALT Percusion Hammer drills (excluding DWE5010)
Fits all Cordless DEWALT premium Drill/Driver/Hammer Drills




Free 2 day shipping – Try Amazon Prime 30-Day Free Trial

DISCLOSURE:
Tool Craze does not sell this product or any product on the Tool Craze website. Tool Craze does not handle the sale of any item in any way. If you purchase something through a post on the Tool Craze site, Tool Craze may get a small share of the sale. Please refer to the About section for more info.