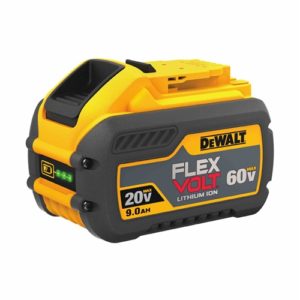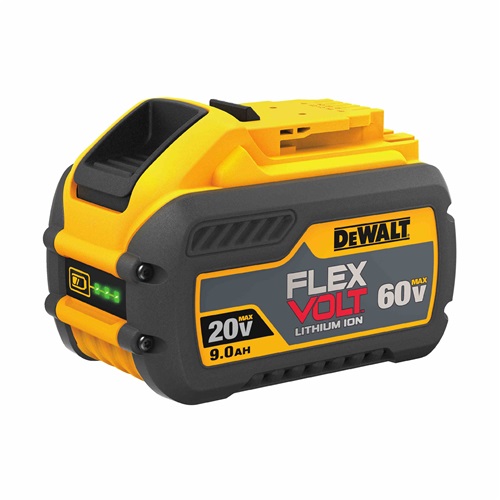 Here's some more Dewalt related battery news for you guys. Not completely new news if you've been following Tool Craze closely as you've already been aware that Dewalt had these in the works and were announced when the new Dewalt Flexvolt system came out.
The news about the new Flexvolt 9.0ah battery is that they  are now available as they weren't before. Only the 6.0 ah Flexvolt batteries have been available till now.
The new Flexvolt 9.0 ah is also the same shape as the original Flexvolt 6.0 ah battery but a little bit larger. This is because the Flexvolt 9.0 ah uses the newer larger size 20700 3.0 ah lithium cells that offer more capacity than the 18650 2.0 ah cells inside the Flexvolt 6.0ah battery. Another thing that changes on the Flexvolt 9.0 is the additional yellow plastic housing on the tops of the Flexvolt 9.0 battery. Dewalt usually colors their batteries yellow for the larger sizes.
The pricing is exactly the same as Milwaukee's M18 High Demand 9.0 ah at $199.



A little refresher for those of you that are new to Dewalt's Flexvolt batteries, the Flexvolt batteries are dual voltage batteries and can power both Dewalt 20V Max power tools and change their voltage to power the new Flexvolt 60V and 120V Dewalt power tools.
The Dewalt Flexvolt batteries actually share a lot in common to the Milwaukee M18 High Demand 9.0 ah batteries as they both use a total of 15 lithium ion battery cells. Except the original Dewalt Flexvolt battery was lower in capacity at 6.0 ah at 20V Max. The new Flexvolt 9.0 ah battery is the true match in runtime capacity to Milwaukee's M18 High Demand 9.0 battery although the Dewalt Flexvolt batteries have a trick up their sleeve, which is that they use newer better 20700 battery cells and have dual voltage. The Dewalt Flexvolt batteries are the only trans-voltage batteries at the moment.
For more info on the Flexvolt batteries, check out my original post on the matter here.
Another thing to remember about the Dewalt Flexvolt batteries is that the rated amp hour capacity is when used with a 20V max tool. For example these Flexvolt batteries say 9.0 ah but that's only true when paired with a Dewalt 20V Max. The rated capacity when paired with a Dewalt Flexvolt 60V power tool is only 3.0 ah.