There's definitely been a lot of innovation lately in the power tool industry within the past few years and things aren't slowing down anytime soon. Dewalt is definitely mixing things up with recent news of a dual voltage FlexVolt battery. This new Dewalt FLEXVOLT Dual Voltage battery can provide 60 volts max or 20 volts max and the voltage it puts out is determined by the power tool it's connected to. This seems great and all but you say there are no Dewalt 60 power tools at the moment, no worries as Dewalt has created new Flexvolt cordless power tools to take full advantage of the new 60 volt max battery.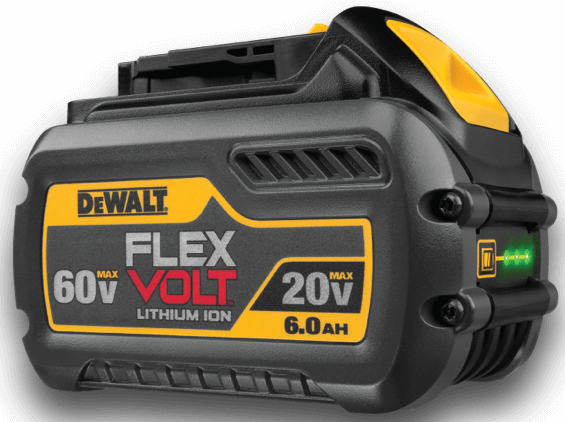 The heart of the new Flexvolt system is of course the Flexvolt battery that can put out a maximum 60 volts max, with a nominal voltage of 54 volts. It does this by packing 15 battery cells (3.6V each) into one battery to provide it's 60 volt max output (54V nominal voltage). But the great news is that it's also backwards compatible with current Dewalt 20V Max power tools and it can switch the voltage automatically. There are currently two Flexvolt batteries both around the same physical size, although with different capacity. The smaller one is rated for 6 ah (amp hours) when running at 20V max, and the larger capacity Flexvolt battery is rated at 9 ah at 20V max. Although the amp hour rating isn't listed on the pictures for 60 Volts max, if you do the math we can expect 2 amp hours at 60V max for the smaller capacity battery and 3 amp hours at 60V max for the slightly larger capacity battery. Amp hours is a measurement of battery capacity or runtime and not a measurement of power output.
As part of the new Flexvolt system are 6 new Dewalt 60V power tools to be paired with the new hybrid battery. There will be a new cordless reciprocating saw, 7-1/4″ circular saw, 1/2″ stud and joist drill, 4-1/2″-6″ angle grinder, cordless 12″ sliding miter saw, and a cordless 8-1/4″ table saw. Actually not all of the new Flexvolt cordless power tools are 60V, and to make things more interesting, the new 12″ sliding miter saw is a 120V cordless power tool. Yes you heard right, this is a 120 Volt max power tool with a nominal voltage of 108 volts. And yes it still operates on the new Dewalt 60V Max Flexvolt batteries but this cordless power tool uses two Flexvolt batteries paired together to double their voltage to 120V Max (108 nominal voltage). For more details on the 6 new Dewalt Flexvolt cordless 60V and 120V max power tools click here to check out the following article.