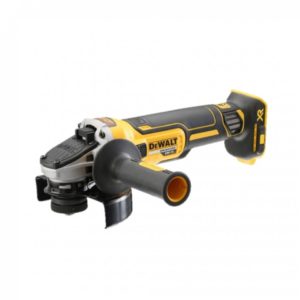 A couple of years ago, Dewalt was lagging when it came to brushless cordless tools. Sure they had the basics covered such as drills, hammer drills, impact drivers, and even a few outdoor power tools, but when it came to anything else brushless, you would have to look else where. Then last year they came out with the new Flexvolt line which filled in most of the brushless gaps and then some. The problem is that the new flexvolt tools required new Flexvolt 60V batteries to operate which meant that 20V users had to upgrade their batteries. This still left a gap in their 20V line in terms of brushless tools. Recently a brushless 20V 7-1/4″ circular saw was spotted, so was a brushless 20V chainsaw, and now another Dewalt brushless tool has been found, this time a 18V Dewalt brushless angle grinder DCG405N.
The new Dewalt DCG405N 18V brushless angle grinder has been spotted over in the UK hence the 18V wording. We all know that 20V is marketing ast 20V is a fancy way of describing 18 volt tools in a way that makes them look superior to existing 18V tools when in fact 20V equals 18 volts. That whole 20V marketing mumbo jumbo doesn't work in the UK and is why Dewalt 20V tools are sold as 18V tools in the UK.
Anyways the new Dewalt DCG405N 18V / 20V Brushless Angle Grinder appears to be a nicely featured angle grinder as it's a braking grinder which means it has an electric brake that stops the blade quickly after the motor stops. It includes an E-clutch that stops the motor if the disc binds to prevent harm to the user, and also includes a keyless protective guard. The only feature I can think of that it's missing are a tool less disc change system like the one found on the Milwaukee M18 Fuel grinders.
It's also labeled as a 125mm grinder which is 4.9 inches so it appears it should take up to 5 inch blades. No word on if or when we'll be receiving ours here in the USA.
No Load Speed: 9000 rpm Max.
Disc Diameter: 125 mm
Spindle Thread: M14
Weight: 2.5kg
2 position side handle
Keyless protective guard
Blade wrench
DISCLOSURE:
Tool Craze does not sell this product or any product on the Tool Craze website. Tool Craze does not handle the sale of any item in any way. If you purchase something through a post on the Tool Craze site, Tool Craze may get a small share of the sale. Please refer to the About section for more info.