A new Flexvolt tool from Dewalt has popped up and it's an interesting one, the Dewalt Flexvolt 60V Cordless 2.5 Gallon Air Compressor DCC2560T1. Yes you heard right it's a cordless air compressor.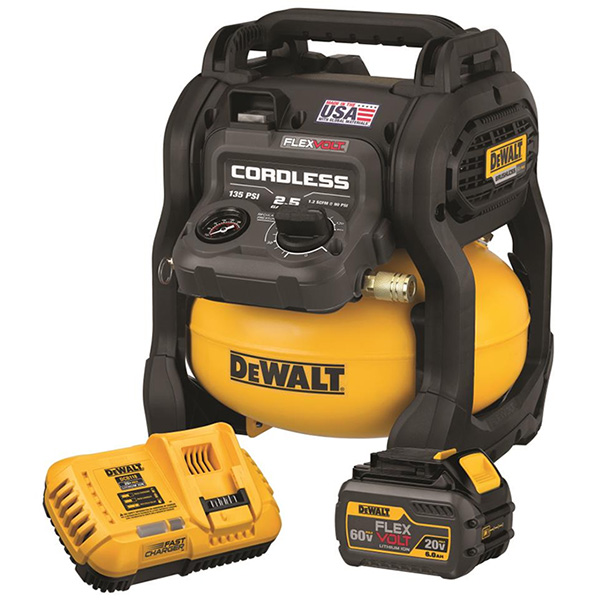 Quick Specs:
operates on Dewalt Flexvolt 60V (max) battery
2.5 gallon tank
135 psi
1.2 scfm @ 90 psi
Over 1220 nails per charge
Brushless motor and durable oil-free pump provide cordless convenience with the power of a corded tool
OneTurn™ regulator for fast and accurate pressure adjustment
Only 22 lbs for easy portability, with a heavy-duty roll cage for job site operation
Compressor made in the USA with global materials
3 year limited warranty/1 year free service contract/90 day money back guarantee
Retail: $299 kit with 6.0ah battery and charger
Technically it can be called a cordless air compressor as it runs on Flexvolt 60V battery power, however calling it a true cordless toolis untrue as any compressor still requires hoses to connect the tool to the compressor.
As interesting as a new "cordless" air compressor or the more appropriate term "battery powered" compressor is, this isn't the first of it's kind. Ridgid not too long ago released their own battery powered air compressor which runs on their 18V lithium batteries. Dewalts model is superior in the sense it has a larger 2.5 gallon tank versus the 1 gallon on the Ridgid and has slightly higher tank psi of 135 vs the 120 on the Ridgid model however keep in mind Ridgid's model runs on 18V batteries hence the slightly lower specs. Both models use brushless motors in case you missed it in the above specs bullet points list.
What I like about Dewalt's battery powered air compressor is the value as you pay $299 out the door for the kit which includes the compressor, a single Flexvolt 6.0ah battery, and charger. Not a bad price for the kit and is similar in pricing to other Flexvolt tools. Sure it may be more than a larger corded compressor but as with all cordless tools, the higher price is due to the cordless convenience and the price of lithium ion batteries and the inclusion of a charger.
My personal thoughts on a "cordless" battery powered air compressor are the same for either this Dewalt Flexvolt compressor and Ridgid's 18V compressor which is that to me personally I find it to fit in an awkward segment. I'm all for making corded tools cordless by the use of battery power, however making a compressor run on battery power doesn't make the entire experience cordless. This is because you still have to deal with hoses between the tool and compressor so it's still a corded tool either way you look at it. You're still tethered to the compressor at all times when operating air powered tools.
Also most tools you're going to use a compressor for anyway are battery powered standalone units. For example Dewalt themselves have a pretty comprehensive line up of cordless battery powered nailers from finish nailers all the way up to a framing nailer – all as part of their 20V Max system. Cordless nailers are truly cordless and you won't be fussing around with hoses and such and have true mobility and portability.
The only people I can see that would greatly benefit from a battery powered compressor would be users that have a ton of air powered tools such as nailers and it wouldn't be cost effective to swap every single nailer for a cordless model but yet don't want to plug a compressor into an outlet. But I can still argue that a better solution would be to keep your electric plug in compressor and run Dewalt's own Flexvolt Portable Power station which runs on 4 Dewalt batteries and powers corded tools. This will give your corded compressor and any other corded power tool the juice they need for jobsites that don't have power. This is a great piece of kit but it wouldn't be a bad idea having an industrial air compressor repair contact at hand if it breaks.
But that's just my opinion and I am biased more towards cordless tools.
DISCLOSURE:
Tool Craze does not sell this product or any product on the Tool Craze website. Tool Craze does not handle the sale of any item in any way. If you purchase something through a post on the Tool Craze site, Tool Craze may get a small share of the sale. Please refer to the About section for more info.