Evolution has a new single bevel multi material cutting miter saw with the Rage R255SMS 10″ TCT Multi Material Cutting Sliding Miter Saw. In this article, I will be taking a close look at it's features and performance and provide my honest review.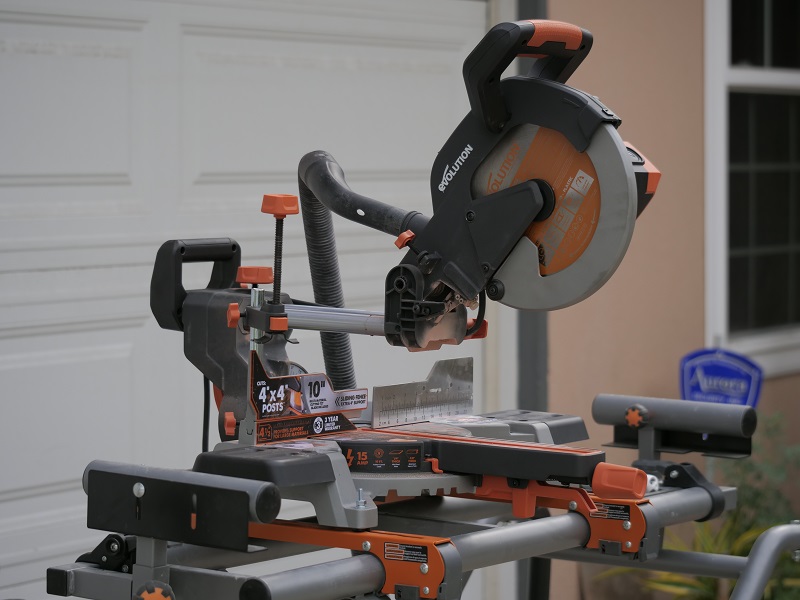 Ethics Disclosure:
Evolution was kind enough to provide the Evolution Rage R255SMS 10″ TCT Multi Material Cutting Sliding Miter Saw at no cost for review. As with all my reviews, I am not paid, sponsored, or obligated to give a positive review. This review is my opinion of the product based on my usage and knowledge and my review will reflect what I like and dislike about the product. I will do my best to provide you with an unbiased review.
Manufacturer Specs:
Multi-Material cutting technology. One saw, one blade, cuts all.*
Accurate cutting with 11-13/16 inch sliding functionality, adjustable depth of cut and laser precision guidance.
Smooth, square, reliable cutting every time in a variety of materials. Cut mild steel with no heat, no burrs & virtually no sparks.
Powerful 15A hi-torque, optimized gearbox and blade system increases motor and blade life to cut through a variety of materials with ease.
Perform accurate Cross cuts, Miter cuts, Bevel cuts and Compound cuts with adjustable precision settings.
Cut to within +/- 0.5˚ with 0° – 45° bevel tilt and 50˚ – 50˚ mitre angles with quick click miter stops at 0˚, 15, 22.5, 30, and 45˚ both left & right.
An impressive 11-13/16 x 3-9/16 inch max. cross cut capacity enables you to cut 4 x 4 inch posts.
Ambidextrous, ergonomic, horizontal trigger with comfortable grip combats repetitive strain.
Compatible with Evolution's Mitre Saw Stand, giving you full control to cut accurate repeated lengths on wide and long materials with ease.
The Evolution 10In. Diamond blade can also be fitted for cutting ceramic tiles and ornamental stone, (sold separately).
2500 rpm no load speed
cable length 10 ft
34 lbs weight
soft start

My thoughts on features: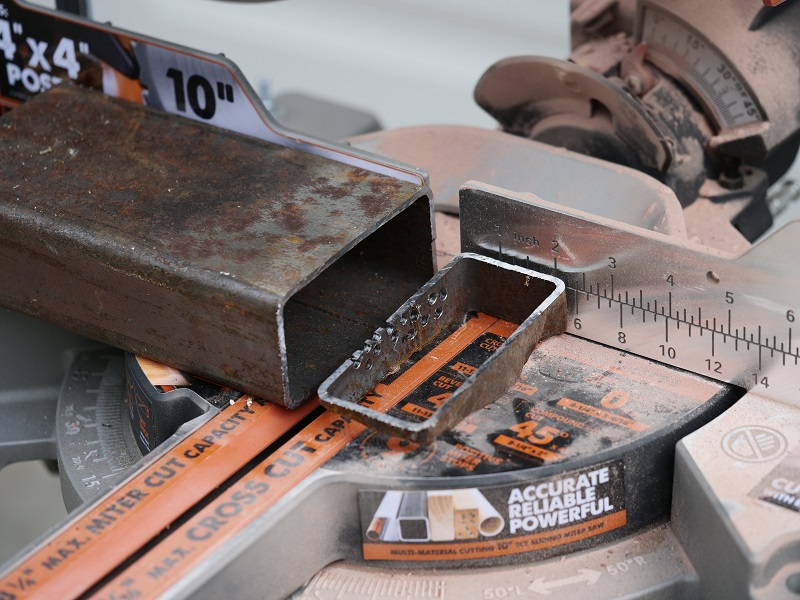 The Evolution Rage R255SMS 10″ TCT Multi Material Cutting Sliding Miter Saw is no ordinary miter saw as it can cut several types of material besides wood like metals, tile, stone, brick, pvc and others. While you can slap a metal cutting blade or a diamond blade on a regular miter saw, it just isn't the same as Evolution's miter saws because their miter saws are designed from the ground up for the added demands of metal cutting. Their motor's are specially designed for the tough demands of cutting metal most likely by adding additional torque and lowering RPM's to better suit the job at hand. That's why this Evolution miter saw has a slower than average no load speed of 2500 RPM which is better suited for metal cutting. This speed is good enough for other purposes such as cutting wood and it does this just fine for wood cutting applications. The motor isn't the only thing that's been designed from the ground up for the high demands of cutting metal as both blade guards have been beefed up for this application.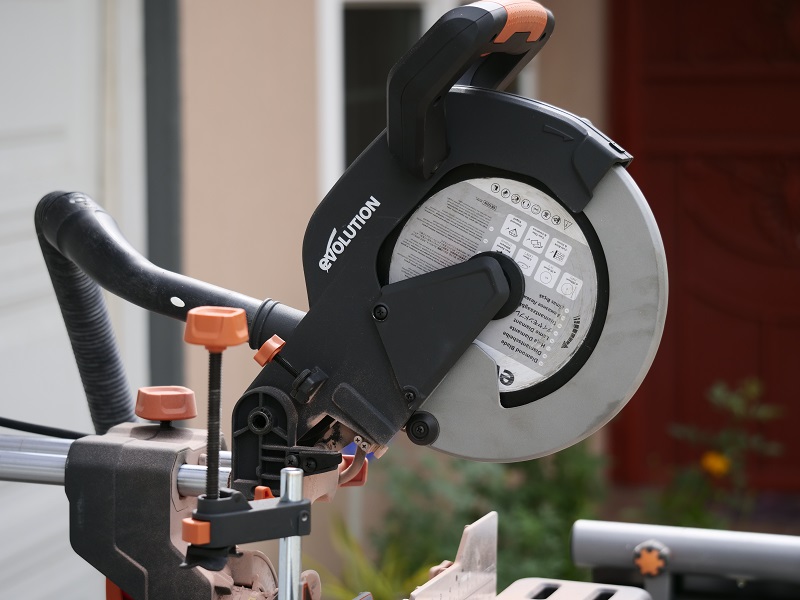 Other than the motor & gearbox and blade guards, this Evolution looks and feels like any other wood cutting miter saw. This isn't a bad thing since users will feel right at home with Evolution's multi material cutting miter saws.
As far as other features go, this model has many features or lack of features you'd find on an entry level miter saw such as single bevel capability, built in laser sight, up to 50 degree miter angle capacity to the left and right, table extensions, a single material clamp and miter twist lock knob.
Only the left fence can slide out while the right fence is in a fixed position. I noticed that the previous Rage 3 10″ sliding single bevel sliding miter saw from Evolution needed it's rubber feet and a block below the miter angle twist knob removed if you wanted to place that saw on a miter saw stand however that is no longer the case on this new Rage model. Out of the box it is ready for mounting on a stand as is with no modifications needed.
The saw's base uses thinner gauge metals, thick enough to hold it's shape just not as beefy as a base you'd find on a Dewalt, Bosch, Makita or Milwaukee miter saw. Because of the thinner gauge used on the Evolution saw, it's a lot lighter than a similar sized saw from a pro brand and it only weighs 34 lbs making it very easy to carry and go.
Cut capacities horizontal and vertical:
Being a sliding miter saw, it can slide and cut material up to 11-13/16″ of horizontal cut capacity meaning it can cut up to 2×12 lumber. It's vertical capacity is 3-9/16″ which is enough clearance to cut 4x lumber.
Assembly Required before use:
You will need to assemble the saw first before you can start using it. It's not hard and is very simple since the instructions help you each step of the way.
Performance:
Cutting Power:
Just like the previous Rage 3 model I reviewed a few years back, the new Rage 10″ model was very capable of cutting everything I threw at it from soft woods to hard woods, to metal, to brick and everything in between. Even with the most demanding of cuts, it didn't bog down and cut at a brisk pace. It does not lack in performance in any way.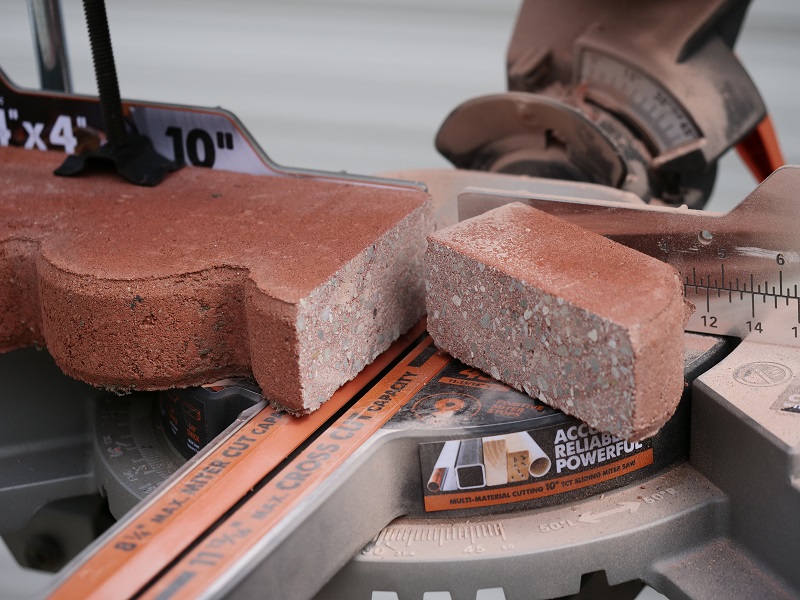 But there's more to performance than raw cutting power. There are other things to consider such as dust collection, vibration and accuracy which we'll consider below.
Another benefit of using a carbide tipped metal cutting blade for metal cutting is that there are no sparks when cutting and the cuts themselves are much cooler and don't heat up much. Metal cut ends can be handled soon after cutting and aren't hot enough to do any damage. Just make sure to wear long sleeves and a full face mask when cutting metal since hot metal chips will fly at you.
Vibration and quality of cut:
There were no problems with vibration when cutting softwoods and hardwood with very smooth cuts however the supplied multi material blade leaves a lot of splintering on the cut ends. This wasn't too big of a deal however on some projects I did such as when I made the wooden microphone holder I had to spend a little extra time sanding the splintered edges back to a smooth workable finish. For rough construction, the splintering would not pose a problem whatsoever. When cutting metal, it was the complete opposite with smoother edges but with lots of vibration throughout the cut. This is most likely due to a combination of slow RPM and the blades teeth being so spread out. Could also be due to the saw not being heavy enough. When it came to cutting a brick with the optional diamond blade, the cut was smooth with minimal vibration throughout the cut.
Dust Collection:
This miter saw is supplied with a dust collection bag and a vacuum hose port. Without a vacuum attached, it's dust collection was non-existent with saw dust and brick dust going everywhere. When a vacuum is attached there isn't much difference as dust goes everywhere. This is because there's no shroud directly behind the blade to funnel dust back up into the upper blade guard and out the vac port so most of the dust escapes behind the blade. The only time I noticed a vacuum making a difference was when cutting taller lumber like 4x lumber which has the upper blade guard at a closer distance to the top of the material which helps with some of that vacuum suction power. This worked well for most of the cut except for the last part of the cut. The final verdict, this saw isn't suitable for indoor use even when connected to a vacuum as you'll have a room full of dust in no time. This Evolution miter saw is better suited for outdoor use.
Out of the box accuracy:
Not all miter saws are accurate out of the box and require being calibrated in order to cut accurate angles. I tested the accuracy of this saw with a square to see if the blade was squared at a vertical 90 degree right angle (Bevel) and it was spot on and perfectly accurate for top down cuts and needs no calibration. As far as the blade being squared with the back fence (Miter blade front to back accuracy) it was excellent. It wasn't spot on perfect but so very close that unless you needed perfect precision, I'd just leave it alone. However you're mileage may vary so I'd suggest checking the saw's accuracy out of the box to see if it's squared up both ways. It's laser sight line was also properly calibrated out of the box and lines up exactly where the cut goes. It doesn't account for the blades thickness like an LED sight line system though. The laser line also isn't very visible when it's very bright outside.
Saw quirks:
This saw had a couple of quirks I wanted to mention. The first is that this saw is featured with a soft start which is so the saw doesn't jerk when starting up however the soft start is so slow it feels as if there's something up with the saw. However that's just the way the saw operates. No need to worry as this slower than normal soft start is normal for this Evolution miter saw and has the same unusually slow start like the Rage 3 model I reviewed a few years ago. Another quirk I noticed is that after the saw ramps up to full speed, the motor stops for a split second right before you make a cut. I also thought something was wrong with the saw when I first noticed this but it seems to be normal for this saw. I'm not sure why it does this but I wouldn't worry about it.
Room for improvement:
While it includes a material clamp that can be placed behind the left and right fences, you cannot place the clamp on the right side and operate the saw since the motor crashes into clamp preventing any cuts from being made. This seems like a terrible oversight in the design of the saw, basically making placement of the clamp on the right side pointless. The engineers should have placed the motor away from the axis of the blade and pushed further back so it's not in the way of the material clamp. They could have easily moved the motor further back with the use of a drive belt as seen on Dewalt miter saws.
The next issue is that sometimes when cutting 4x lumber the lower blade guard catches on the front top edge of the lumber. It doesn't happen all the time and sometimes it's worse than other times but was often enough to be spoken about.
The back of the saw has onboard storage for it's included hex key which is used to change out the blade however the rubber grommet that's used to grip the hex key in place can easily slip out. Not a major problem but a minor annoyance.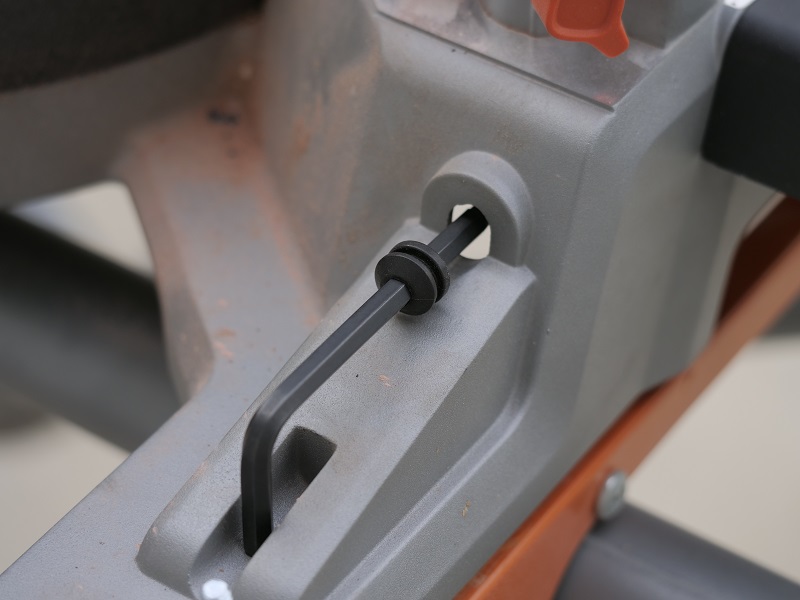 Final thoughts:
Overall this saw is a good choice for those that want a miter saw that can also cut metal. This is a better choice than simply placing a metal cutting blade on a regular miter saw since regular miter saws aren't designed for metal cutting. If anything you'd run the chance of prematurely burning out their motors from the added torque demands of metal cutting.
This saw is designed as a do-all saw however there are a few quirks and room for improvement mentioned above that keep in from being the "perfect" miter saw. It makes a pretty darn good entry-level saw for it's double and triple duty and I liked that it's out of the box accuracy is excellent meaning you won't need to calibrate it unless you need perfect precision. Priced at $229 it makes a great choice for an entry level 10 inch sliding miter saw plus has the added benefit of metal cutting and comes with special multi material blade included.

DISCLOSURE:
Tool Craze does not sell this product or any product on the Tool Craze website. Tool Craze does not handle the sale of any item in any way. If you purchase something through a post on the Tool Craze site, Tool Craze may get a small share of the sale. Please refer to the About section for more info.