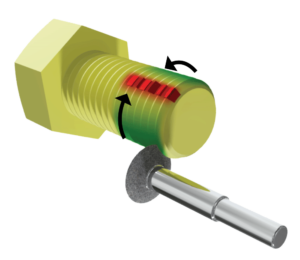 EZ Thread introduces an interesting way to tackled damaged screw/bolt threads with their EZ Thread Diamond Rotary Thread File.
Their tool to be used on a rotatary tool such as a Dremel or die grinder uses a unique shaped diamond wheel that fixes damaged threads.
Instead of removing the damaged section of the threads, the EZ Thread Diamond Rotary Thread File repairs them. It appears to work the threads and reshape them back to a proper shape. The EZ Thread Diamond Rotary Thread File has the proper "V" shaped tip to make a groove and fold over bent threads.
It takes 100% manual work to do the repair and the user must have a steady patient hand but the process can take a few seconds or a few minutes depending on the amount of threads that need to be repaired. You'll need to use lubricant on both the diamond wheel and the threads to prevent excess heat build up and extend the life of the diamond wheel.
The EZ Thread Diamond Rotary Thread File comes in various sizes for many types of threads.
STANDARD FEATURES (across all products):
4000 Series Chrome Plated Precise CNC Machined Steel
Proprietary Super Diamond Abrasive
Simple one tool operation for male and female thread repairs.
High RPM Recommendations make short work of repair. (5K – 30K RPM)
Reshapes profile versus other methods which remove entire profile.
Fits standard 1/8 inch & 1/4 inch die grinder and rotary tool chucks.
Pays for itself in one repair.

For more info, check out the official EZ Thread website http://ezthread.com/