Harbor Freight has added a new Hercules 20V brushless 1/2 inch high torque impact wrench with extended anvil. Let's check it out below.
Disclosure: This is tool news. Tool Craze cannot guarantee the accuracy of the information of any tool listed in this article. Manufacturer marketing claims may not always meet expectations. Tool Craze is not responsible if products do not live up to claimed expectations. Please do your full research before buying any products. Tool Craze is an Amazon Associate. Also an affiliate with the Home Depot, Acme Tools, Ohio Power Tool, Tool Nut. As well as an affiliate with Lowe's, Ebay, and Walmart and places affiliate links to these retailers. If you purchase through a link on this site, we may get a share of the sale.
Hercules 20V Brushless 1/2″ High Torque Impact Wrench With Extended Anvil – Features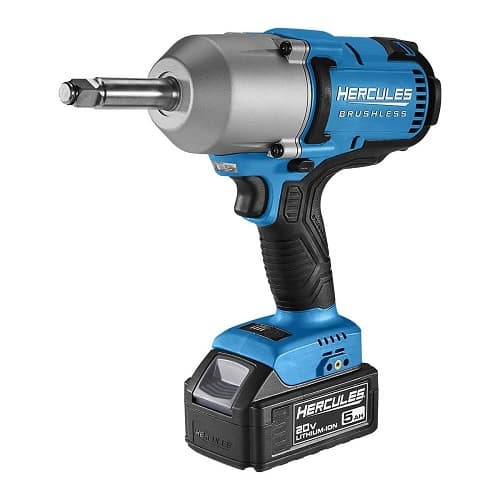 This is Harbor Freight's latest Hercules impact wrench. It's based on the original high torque impact wrench but now with an anvil that's been extended two inches. This helps with better reach in recessed fasteners.
It has many carry over features from the original model including a strong brushless motor that puts out 1200 ft-lbs of breakaway torque.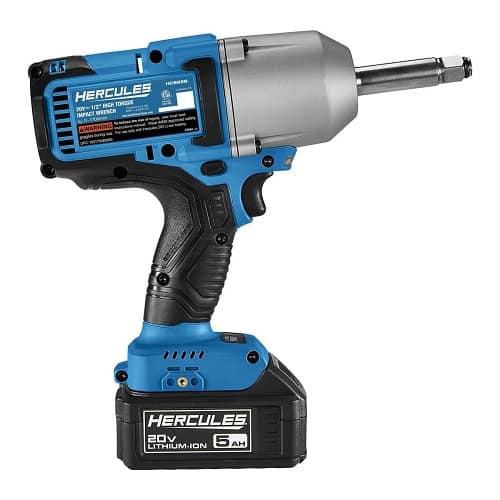 Harbor Freight says this new model gets better fastening torque numbers than the original. Now able to get up to 700 ft-lbs of torque at 10 seconds and 800 ft-lbs at 30 seconds. That makes it 100 ft-lbs more at 10 and 30 seconds than the original.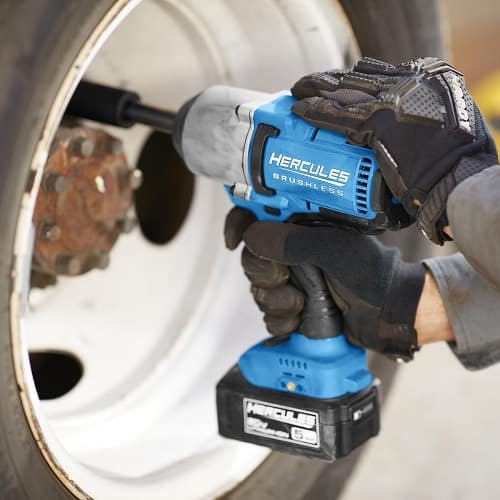 It features a 1/2″ friction ring anvil for easy socket changes. Max RPM and IPM are 1700 and 2400 respectively just as on the original. You'll find three speeds as well with variable speed trigger. All metal gear construction for longevity on the jobsite.
Hercules 20V Brushless 1/2″ High Torque Impact Wrench With Extended Anvil – Pricing & Availability
It's available now for $189.99 as a baretool. This makes it $10 more than the original.
Powerful brushless motor provides more torque, runtime, and durability
3-speed motor with Auto mode and variable-speed trigger for precise control in all applications
Auto mode prevents overtightening in forward and provides controlled bolt removal in reverse
Extended 2 in. anvil for reaching recessed fasteners
All-metal gear construction built to withstand jobsite abuse
Balanced ergonomic design fits comfortably in user's hands and reduces fatigue
Friction ring anvil design ensures socket retention and quick and easy changes


Free 2 day shipping – Try Amazon Prime 30-Day Free Trial

DISCLOSURE:
Tool Craze does not sell this product or any product on the Tool Craze website. We do not handle the sale of any item in any way. Please refer to the About section for more info.

You may also like:
Hercules 20V Brushless High Performance 4 Mode Impact Driver
Hercules 20V Brushless 1/2″ Right Angle Drill – Their Version of the M18 Hole Hawg