Harbor Freight has a new Hercules 20V Brushless 1/2″ Right Angle Drill. This is their version of the M18 Hole Hawg. Let's check it out below. A big thanks to Joshua B. for spotting!
Disclosure: This is tool news. Tool Craze cannot guarantee the accuracy of the information of any tool listed in this article. Manufacturer marketing claims may not always meet expectations. Tool Craze is not responsible if products do not live up to claimed expectations. Please do your full research before buying any products. Tool Craze is an Amazon Associate. Also an affiliate with the Home Depot, Acme Tools, Ohio Power Tool, Tool Nut. As well as an affiliate with Lowe's, Ebay, and Walmart and places affiliate links to these retailers. If you purchase through a link on this site, we may get a share of the sale.
Hercules 20V Brushless 1/2″ Right Angle Drill – Features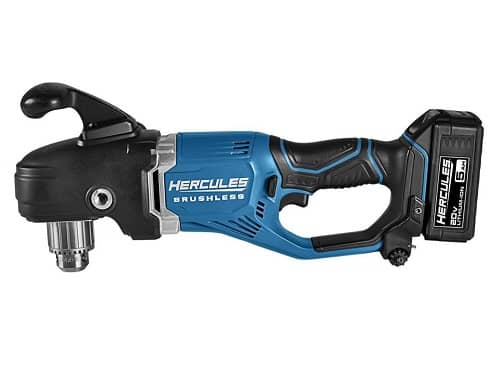 As you can see above, the Hercules 20V brushless 1/2″ right angle drill is not joke. It's a serious drill ready to get to work. If it looks familiar to you, that's because it replicates the look of another pro brand. Hercules started off as as a Dewalt look alike in appearance and specs. However this bad boy more copies the look of the original M18 Fuel Hole Hawg.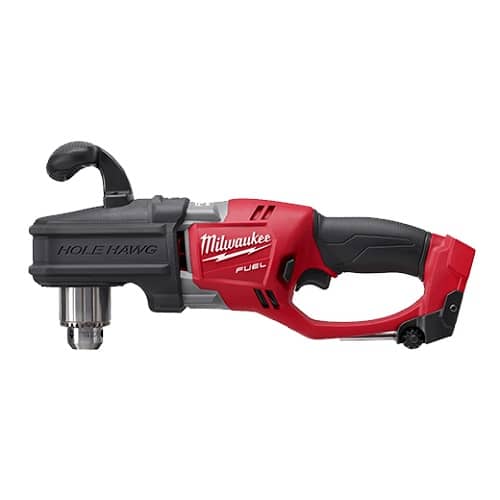 The original M18 hole hawg is shown above and it's hard to deny that the Hercules is trying hard to replicate its look. This isn't a bad thing. If it's a good design, then go for it. If it ain't broke, don't fix it.
The Hercules features a large brushless motor that goes up to 1,000 RPM. No max bit size is mentioned from Harbor Freight but the OG M18 Hole Hawg was rated at max 2″ self feed bit. The OG M18 also did 1,200 RPM. The new M18 Hole Hawg has 1,500 RPM and can do up to 2-9/16″ self feed bits. So my guess is that the Hercules should be able to at least go up to 2 inch self feed bits. With its lower gearing of 1000 RPM, it may even be able to do 2-9/16″ and beyond but in theory. That's just my guess so don't quote me on that.
Hercules 20V Brushless 1/2″ Right Angle Drill – Large Side Handle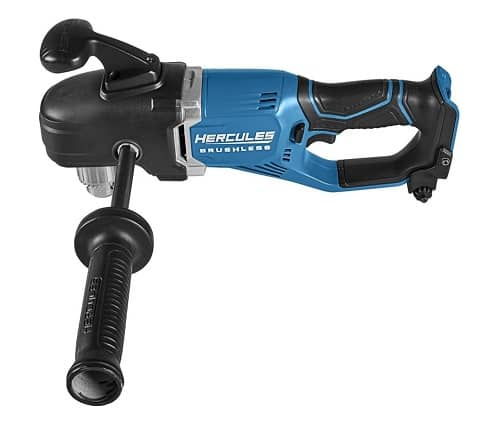 As far as features go, it has the large main grip up top. Unlike the M18 Fuel single speed Hole Hawgs, the Hercules has the ability to install a side handle. This allows for greater leverage for a firm grip when drilling. Also makes me wonder how powerful it actually is if it needs a side handle.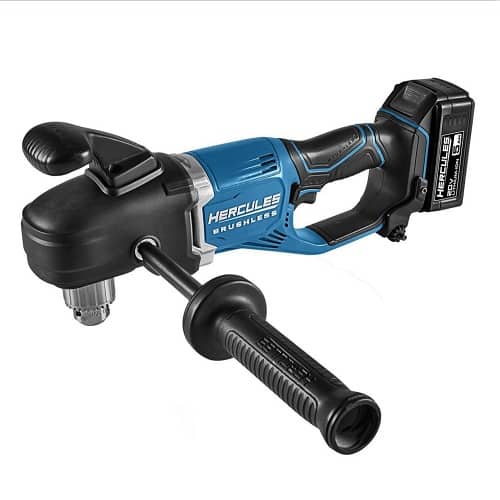 In the front we find a 1/2 inch Jacobs keyed chuck. Keyed chucks have almost gone the way of the Dodo however are still seen on larger heavier duty drills. The chuck and its key allow users to crank down hard for solid grip. On the back we see the storage spot for its included chuck key so you have it on hand. Just like the eM18 Hole Hawg, it has a knuckle guard below the trigger handle. There you'll find the variable speed trigger and front and reverse switch.
Unlike the Milwaukees, the Hercules only comes with one chuck variant. Milwaukee's models come in a 1/2″ keyed chuck as well as a QUIK-LOK 7/16″ hex chuck. This chuck is similar to the ones found in impact drivers but larger. It allows for easy drill bit install and removal without the need to tighten or fiddle with keys that can get lost. The only downside is that you need bits that are compatible with it. Regular round shank bits or anything else will not fit. I would have liked if Harbor Freight also made a QUIK-LOK style 7/16″ quick release hex chuck on their Hercules right angle drill. But their version with keyed chuck should suffice and is good for most if not all bits out there.
Other features include all metal gear construction and an LED light to help in low light.
Who Is This For?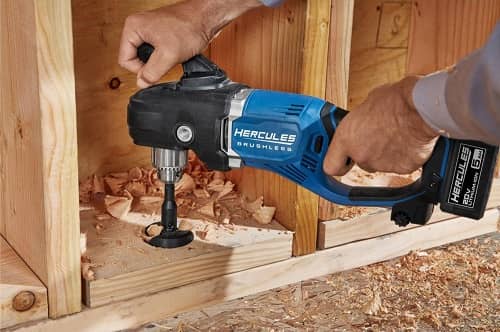 For most people, a regular drill/driver will do it all. However this right angle drill is a specialty tool. It's not designed to be a do it all drill. It wouldn't even make a good drill if all you need is to put down small screws. It's too big and bulky for that. It's a high power drill designed for heavy drilling into studs and joists all day long. This here is intended for running lots of holes in the 2 inch range with things such as self feed bits and is perfect for an electrician. A plumber might make good use of this as well for running smaller pipes but they might be better suited for a larger Hole Hawg style drill.
Hercules 20V Brushless 1/2″ Right Angle Drill – Pricing & Availability
This is available now at Harbor Freight for $119.99 as a baretool at time of writing.
Hercules 20V Brushless 1/2″ Right Angle Drill
High performance brushless motor delivers professional power when drilling into studs and joists
Variable speed trigger to adjust speed to application
All metal gear construction built to withstand jobsite abuse
Bright LED light illuminates work area for increased visibility
JACOBS 1/2 in. keyed chuck for ultimate bit retention
Powerful combination of torque and speed for faster rough-ins
0-1000 RPM


Free 2 day shipping – Try Amazon Prime 30-Day Free Trial

DISCLOSURE:
Tool Craze does not sell this product or any product on the Tool Craze website. Also Tool Craze does not handle the sale of any item in any way. Please refer to the About section for more info.
If you like learning about this new Hercules 20V right angle drill, you might be interested in learning more about other similar tools as shown below.
Milwaukee M18 Fuel Hole Hawg Right Angle Drill 2020 Gen 2 Model Update 2807-22 2808-22
Makita X2 18V 36V DDA460 Right Angle Drill – New Stud & Joist Drill
Klein Tools 20V 90 Degree Right Angle Impact Wrench BAT20LW Features 300 FT-LBS Torque!!
DEWALT Flexvolt 60V In-Line Stud & Joist Drill DCD470B DCD470X1