Harbor Freight has come out with a new Hercules 20V brushless 1/4 inch die grinder. Let's check it out below. A big thanks to Joshua B. for spotting!
Disclosure: This is tool news. Tool Craze cannot guarantee the accuracy of the information of any tool listed in this article. Manufacturer marketing claims may not always meet expectations. Tool Craze is not responsible if products do not live up to claimed expectations. Please do your full research before buying any products. Tool Craze is an Amazon Associate. Also an affiliate with the Home Depot, Acme Tools, Ohio Power Tool, Tool Nut. As well as an affiliate with Lowe's, Ebay, and Walmart and places affiliate links to these retailers. If you purchase through a link on this site, we may get a share of the sale.
Hercules 20V Brushless 1/4″ Die Grinder – Features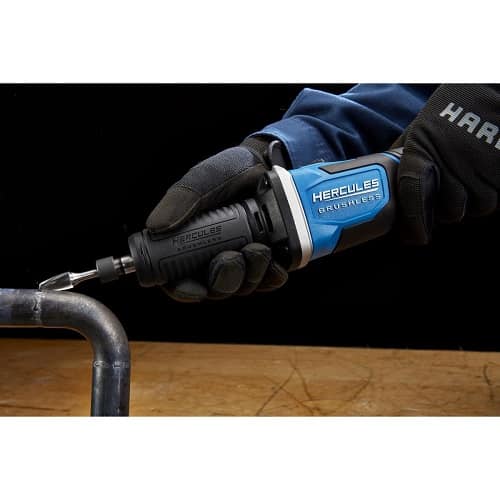 Die grinders are rotary tools used for sanding, grinding, honing, polishing, and machining material. Mostly for metalworking. The are popular as pneumatic powered however electric versions do exist as well as battery powered options. This model is Hercules cordless version as they already have an AC electric version prior to this one.
This cordless version is powered by any Hercules 20V battery.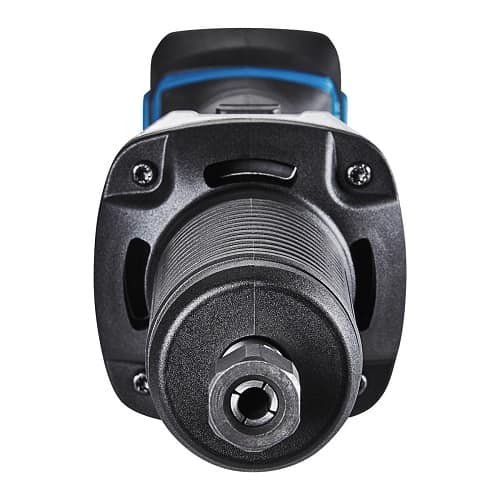 In front you'll find the machined 1/4″ collet to hold accessories. On top you'll find a slide power switch. This model features a brushless motor for strong performance yet more efficient than a brushed motor.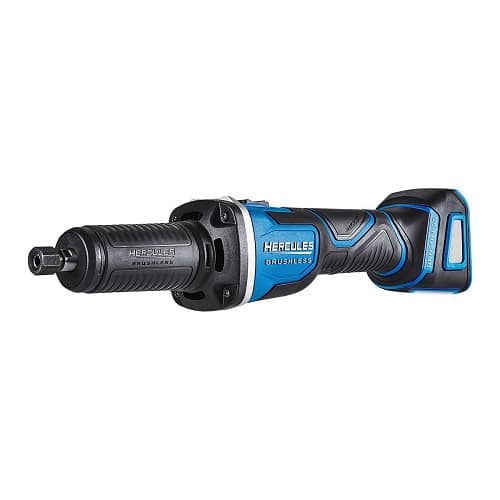 In the rear by the battery port, you'll find air intakes. These provide cool air to the motor and electronics inside and blow air towards the front. This helps direct debris away from the user. The intake ports have removable mesh screens to make cleaning them easier.
Runtime is said to be about up to 30 minutes when paired with a 5ah battery.
Hercules 20V Brushless 1/4″ Die Grinder – Pricing & Availability
This die grinder is available now for $79.99 as a baretool. This makes Hercules offering far lower in price than its competition. The cheapest pro brand cordless die grinder I could find as a baretool was the Metabo HPT model for $169. However most other pro brand offerings are priced above $200 and not all of them offer a brushless motor. Thus making the Hercules an excellent value option that's easy on the wallet.
Air venting exhaust blows debris away from the user
Compact slim barrel design with overmold grip for ultimate comfort and control
Precision machined 1/4 in. collet securely holds accessories
Delivers up to 30 minutes of runtime* with the 5 Ah HERCULES™ 20V battery
Tapered neck for reaching into tight spaces
Removable and cleanable air intake mesh screens


Free 2 day shipping – Try Amazon Prime 30-Day Free Trial

DISCLOSURE:
Tool Craze does not sell this product or any product on the Tool Craze website. We do not handle the sale of any item in any way. Please refer to the About section for more info.

You may also like:
Hercules 20V Brushless 1/2″ Right Angle Drill – Their Version of the M18 Hole Hawg
Hercules 20V Brushless High Performance 4 Mode Impact Driver