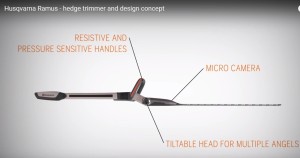 Video games are no longer the side scrolling platformers from the 8 bit 80's era, they are now a multi billion dollar industry with first person shooters making up a huge fraction of video games being produced today. I'm sure you're probably asking yourself – what do video games have to do with tools?
That brings us to Husqvarna's new Ramus hedge trimmer concept. A new mind blowing concept in which you have the cordless hedge trimmer, an augmented reality visor (a head mounted visor display), and hip belt battery (battery belt). Call them crazy or genius, this new concept will display a HUD viewed in first person with what they call augmented reality in which analyzes landscapes and bushes with striking resemblance to a video game. If it were a video game, I'd call it the "hedge trimmer simulator", but this concept may make its way to reality.
The hedge trimmer is powered by the belt worn battery system, and has a built in camera, pressure sensitive handles, and the blades themselves have sensors to monitor cutting pressure and rate all built into the hedge trimmer unit. The augmented reality visor which I'm guessing is connected wirelessly, and if I had to guess further I would say it could be connected via a bluetooth connection or possibly wifi. This visor will have a HUD display displaying time of day, and at the right bottom corner shows a 4G logo and phone icon with what seems to be cell signal strength indicator. This tells me it will either be connected directly with your phone or could possibly have a sim card slot for cell provider coverage, and can connect to incoming phone calls without having to reach for your cell phone. The hud also has what is labeled as "work plan" at the bottom which could possibly have a layout design of the homeowners landscape with plans of what needs to be done and in what manner. Also visible on the left side are weather data on the top and what seems to be GPS location data on the bottom. There's also a lock symbol on the top right which I have no clue what this could mean but I'm sure will be revealed soon.
I'm not sure what to make of this whether to be excited or if this is all some sort of April fools day joke, except we're no where near April as it's mid October. If you love first person shooter video games and landscaping, this could be right up your alley.
A big thanks to Tool Craze Facebook follower Joshua B. for bringing this to the attention of the Tool Craze universe!