Klein Tools has announced a new portable cordless rechargeable personal jobsite fan model number PJSFM1. In this article we'll go over the very short official Klein press release and Klein Tools was also kind enough to send over (at no cost) one of the new personal fans for review and my good friend Jim R. was able to review and test the fan and give us his thoughts on it. All images were taken by Jim. Neither Tool Craze, nor Jim were paid by Klein Tools for the review and we are not obligated to give a positive review. Jump to the bottom for the review.
Official Press Release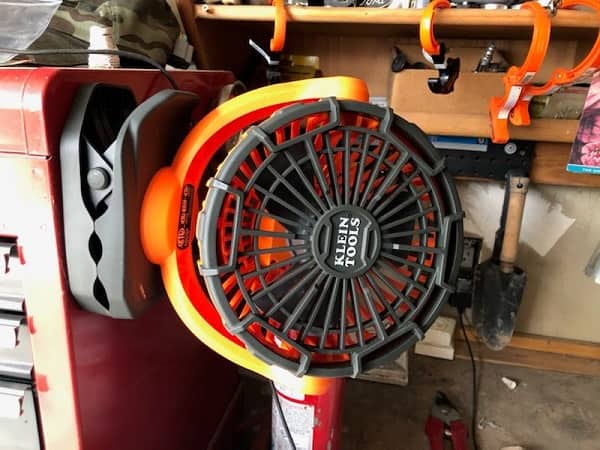 (Lincolnshire, Ill.) – Klein Tools (www.kleintools.com), for professionals since 1857, introduces the Rechargeable Personal Jobsite Fan, a portable fan with a wide range of motion and multiple mounting options, making it the ideal accessory to carry every day to help keep air moving on hot and stuffy jobsites.
Rechargeable Personal Jobsite Fan (Cat. No. PJSFM1)
Aim airflow in any direction; arm base rotates and cage spins 360 degrees
Mounting capabilities

Base forms a strong clamp for attaching to studs, conduit and nails
Two powerful magnets integrated into the base
Hang hole for nails or screws
Stand on the base

Features two fan modes: low for 9 hours, high for 5 hours
LED battery gauge indicates charge level
Charges via included USB-C charging cable
"Klein Tools' new Rechargeable Personal Jobsite Fan is built to go everywhere you need," says Laura Ranieri, senior product manager at Klein Tools. "With multiple mounting options and a fan cage that can be aimed in any direction, this fan is built to be moved wherever airflow is needed, combating hot and stuffy conditions without blowing around dust and debris on a jobsite floor like traditional fans."


Free 2 day shipping – Try Amazon Prime 30-Day Free Trial
Jim's Review:
The fan blades are made of a thick durable plastic. The cage is also made of a thick durable plastic made to last and the blades are concealed from any finger mishaps. Use of the fan by pressing the power button is an easy use function, and by pressing it once turns the fan on and then pressing it again a second time turns fan to low and then a third time turns fan. A simple and easy function.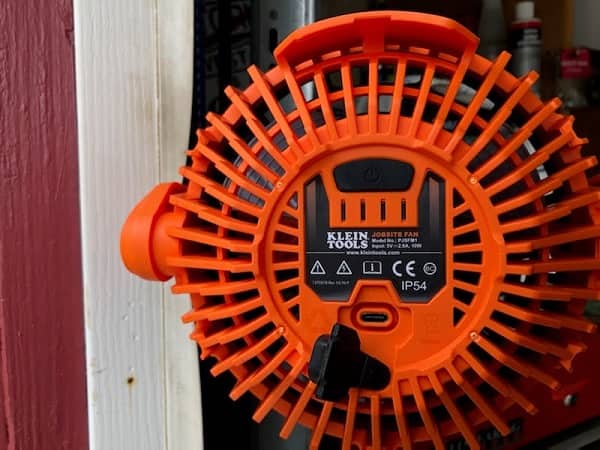 The power button is situated behind the motor and is nicely flush with the body of the fan so as not to break off if bumped against something. The battery indicator lights are easily visible, and the four status lights are easily readable. The charging port is nicely put behind the motor out of the way of any potential contact with water and has a rubber port flap/cover to keep debris from clogging the port hole.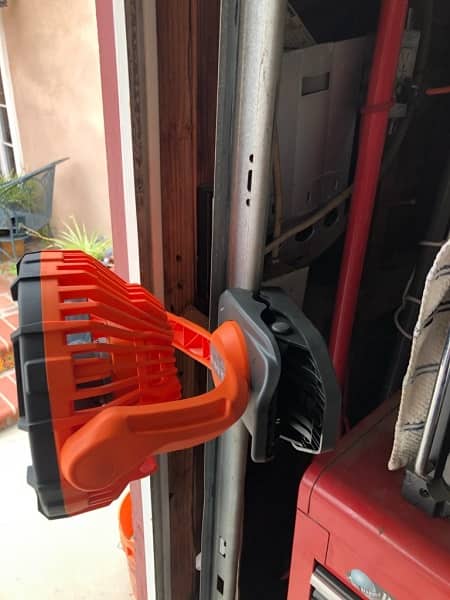 The fan cage arms are attached securely with just enough tension to allow fan to rotate in between arms. The clamp feature is also easy to use, simply by pressing on the clamp handle and then releasing as you mount it where necessary. The tension easily holds the fan onto any surface securely. Fingers fit nicely in the handle slot and is positioned at just the right place, on top of the fan cage.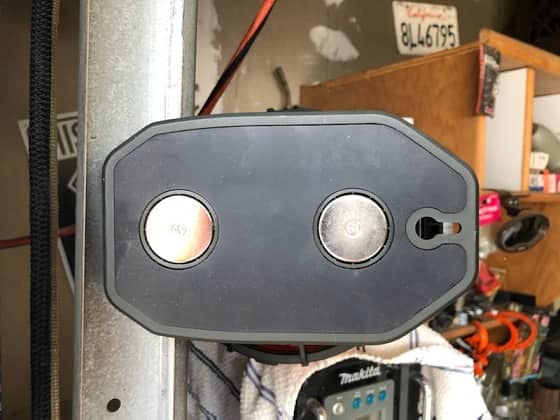 The fan comes with a ready to use nail hole located on the clamp handle. Also located at the bottom of the clamp assembly, are 2 strong magnets inset to the clamp. Makes mounting or positioning of the fan quick and easy.
Fan was tested on a fully charged battery and ran for approximately for 4 hours, at high speed. (Editors notes: Turned fan on and walked away and came back 4 hours later and it was off. Although not sure of exactly how long it ran before it ran out of juice.) It was not tested to run on low speed.
Performance for the high setting on the fan was adequate. But the low setting was some what too low. It barely reached 3 feet. All in all, the performance is top notch, along with the ability to rotate 360 degrees, both the fan and the on the arm supports.
This jobsite fan has 11 features:
Fan blades
Battery status indicator
Fan cage
Charging port flap
Fan cage arms clamps
Nail hole
Clamp
Magnets
Handle
Power button
USB-C cable connection


Free 2 day shipping – Try Amazon Prime 30-Day Free Trial

DISCLOSURE:
Tool Craze does not sell this product or any product on the Tool Craze website. Tool Craze does not handle the sale of any item in any way. If you purchase something through a link on the Tool Craze site, Tool Craze may get a small share of the sale. Please refer to the About section for more info.