Klein Tools was kind enough to send me a couple of their new hard hats that were introduced in July this year and in this article I will be reviewing them. As a full disclosure, they were sent at no cost to me and as always I will provide my honest unbiased feedback. I am not paid or swayed in any way to give a positive review.
Klein offers 10 new hard hat models in non vented class E for that conforms to electrical use and vented class C models that let air enter and circulate inside the hat for comfort but not for use where electrical protection is needed. You can get both models in cap style of full brim, in white or orange color and you can also get them with or without the LED headlamp accessory. I chose to receive two models that had both features, vented and non vented, full brim and cap style and in white and orange colors (both with the LED headlamp) so I could report on all available features and styles.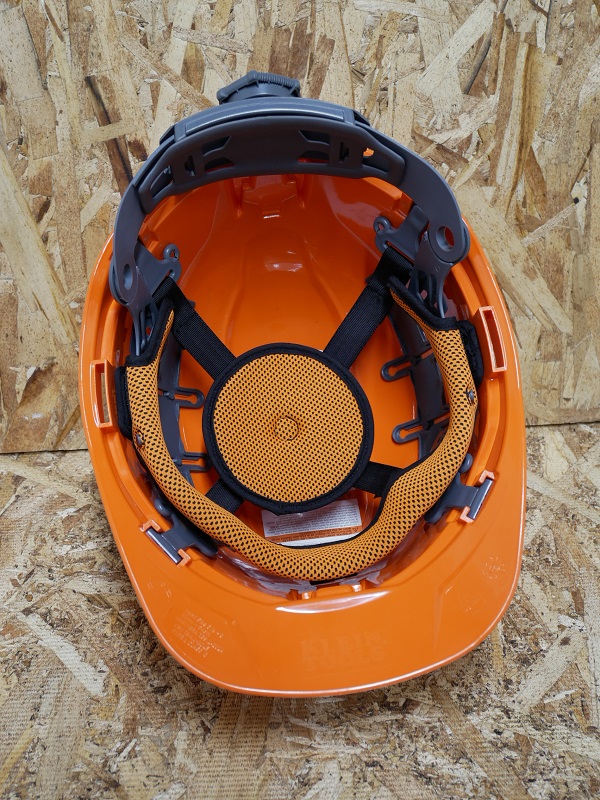 Above are the differences you can select from but after a closer look they all offer similar features on the interior such as a quality harness system with a breathable padded microfiber head band and top that are said to be sweat-wicking and have anti-microbial and odor control properties. They are nicely padded and provide good comfort and I liked that they are removable so that you can machine wash them when needed. In the rear you'll find the ratchet mechanism with a large easy to use knob and it also pivots to clear bandanas or pony tails.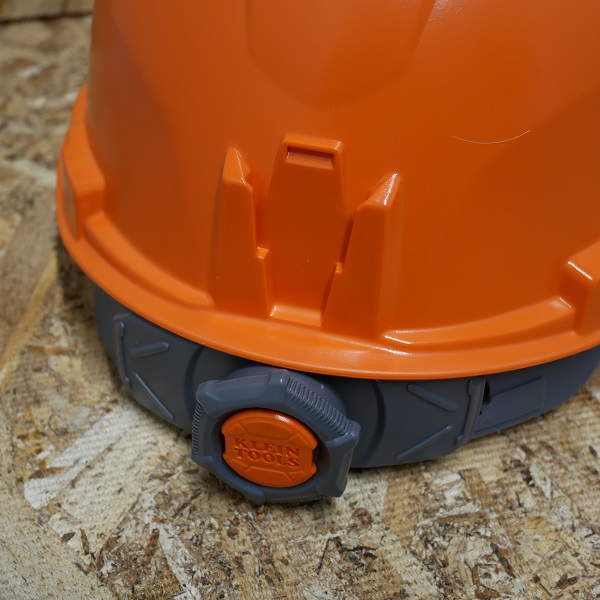 All the hard hat styles offer front and rear accessory mounts to attach the headlamp and auto off rechargeable headlamp even if you get these hats without the bundled LED headlamp, meaning you can always purchase the headlamps later down the road. The accessory mounts are located on the front and rear so the user can use any hard hat in front or rear orientation and still be able to have the headlamp in the front, even if the hat is facing backwards.
If you do get the models with the bundled headlamp, the headlamp offers good lighting and the ability to pivot the light for better viewing angles. It offers two lighting modes in direct spot light using the middle main LED and a wider area setting using the two side lights. Both modes are bright enough to get the job done but wont break any lighting records. The middle LED spot light mode is just a bit brighter than the wide area mode. One negative about the light is that the button to activate the light is very hard to press. While the rubbery button is of a good size, only the middle section is the switch and requires you to dig your nail into to activate making it a bit difficult to operate. The headlamp features a built in magnet for standalone use which I thought was a very good feature.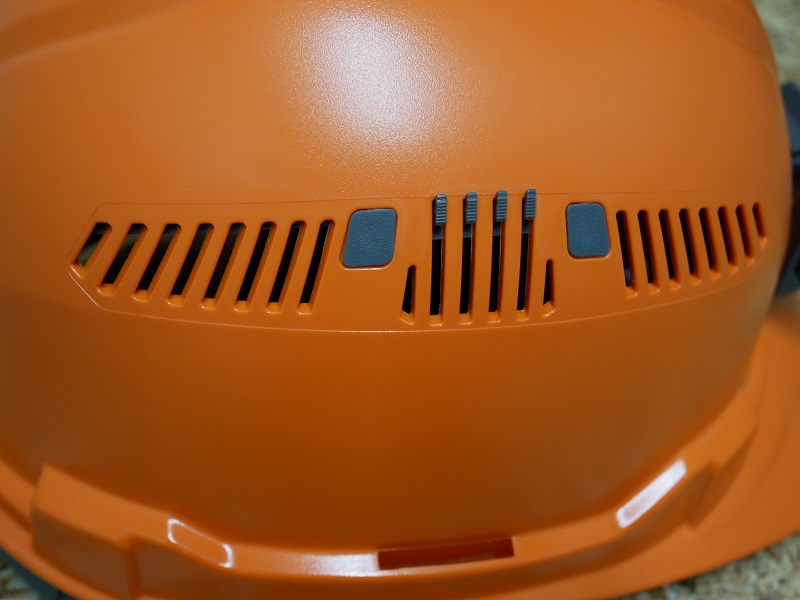 The vented model obviously is the only when with vents however what's neat about Klein Vented hard hats is that they offer the ability to close or open the vents. You do this by sliding a little tab on the exterior so you get a little of both worlds essentially making it a vented and a non vented cap. I will say that even when the vents are closed, it is still not a hard hat you'd choose if you need electrical protection, even if you close the vents. If electrical protection is needed, opt for the non vented model.
Both hard hats use a very solid type of plastic. I'm not an expert on plastics but it feels a lot more durable than a $20 hard hat I own and the Klein hard hats feel very similar to the plastics used on power tools.
Overall they are very nice hard hats with solid quality and features and not to mention comfort. I'd easily give them two thumbs up!
Meets ANSI Z89.1-2014, CSA Z94.1-15; EN397:2012+A1:2012-Lateral Deformation (LD) standards
Breathable, padded sweat-wicking band and top pad improve comfort; manufactured with anti-microbial and odor control materials
One-handed adjustment with large knob ratchet mechanism that pivots to clear bandanas or pony tails
Flexible, open-frame suspension provides improved air circulation
Rear neck pad hugs the head for a secure fit and added comfort
Tested for reverse donning to safely wear frontwards or backwards
Universal accessory slots on both sides designed to attach hearing protection, face shield and more
Patent-pending accessory mounts on front and back securely hold the Hardhat Headlamp (Cat. No. KHH56220) or Rechargeable Auto-Off Headlamp 

(Cat. No. 56034)

 without using straps or zip ties
Cap Style and Full Brim styles available; with and without headlamp*
Includes user guide and reflective stickers
Class E Hard Hats (Non-Vented)
Non-vented design built with electricians and line workers in mind
Tested up to 20kV; for use where electrical protection is required


Free 2 day shipping – Try Amazon Prime 30-Day Free Trial

DISCLOSURE:
Tool Craze does not sell this product or any product on the Tool Craze website. Tool Craze does not handle the sale of any item in any way. If you purchase something through a post on the Tool Craze site, Tool Craze may get a small share of the sale. Please refer to the About section for more info.