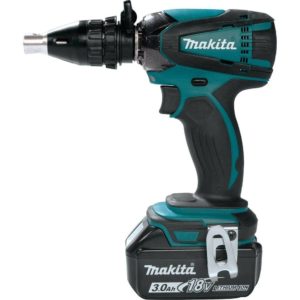 Here's a neat little adapter from Makita that fits over select Makita Impact Drivers to give them the functionality of a drywall screw gun.
Not too much info is given on it other than it fits on select Makita impact drivers (BTD141, BTD142HW and possible might work on others) but it's a great concept to give impact drivers double duty as drywall screwguns.

It's also priced right at around $22 making it an inexpensive adapter.
Personally I'd rather see this type of adapter used on a regular drill as drills drive screws faster than impact drivers and would this give the user a closer experience to a dedicated drywall screw gun.
Converts cordless impact driver to screwdriver
Easy depth adjustment
Use with magnetic insert bit holder and insert bits
Convenient design attaches quickly