A little while ago I found this pic online from an online retailer in Australia for a Makita miter saw, the model itself isn't important because it's not the model that it's trying to portray, NOT EVEN CLOSE. I called it the Makita Frankenstein miter saw because of how bizarre it was. There was something seriously wrong with the picture and I wanted to see if you guys also spotted the error in the picture.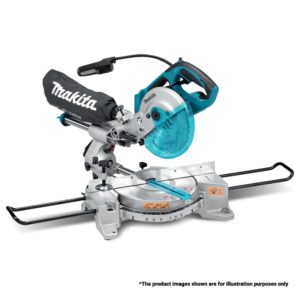 Many of you guys guessed and most got it right. Today I will reveal what's wrong with the picture. I also want to mention that not soon after I posted an article of the picture, the retailer I got the picture from quickly replaced it with the correct picture.
Ready for the answer? The main thing that's wrong with the picture is that the miter saw shown has sliding rails making it a sliding miter saw but if you look at the base, the base is incorrect and is not for a sliding miter saw.
Also, if you look closely, what initially seems like a good photoshop is actually a terrible hack job as whoever doctored this picture didn't include a miter angle locking knob, rendering this miter saw useless.
I did some digging around and the Makita Frankenstein miter saw is based on the Makita 18V XSL01Z 7-1/2″ dual slide miter saw. Whoever made the Makita Frankensten miter saw picture used the XSL01Z as the poor model to get hacked. But since they used that specific model to hack, they also added a flexible light on top which is also incorrect according to that specific model.
Below is the correct picture on the left (XSL01Z) and the frankenstein saw on the right
The 3 things wrong with the saw summary:
it has the wrong base (non slider)
no miter angle locking knob
light is incorrect to the model the picture is based from XSL01Z
And just for fun, I also promised to give make-believe points to those that got the answer right.
James C gets answers 1 & 2 correct, he gets 2 billion points plus an addition billion points for sarcasm 🙂 3 billion points total
HiggiML gets answers 2 & 3 correct, he gets a total of 2 billion points
Kevin gets answer 1 correct, he gets 1 billion points
Check out the original article by clicking here
DISCLOSURE:
1 Billion points prize is only fictional but you can pat yourself on your back if you figured it out. Tool Craze does not sell this product or any product on the Tool Craze website. Tool Craze does not handle the sale of any item in any way. If you purchase something through a post on the Tool Craze site, Tool Craze may get a small share of the sale. Please refer to the About section for more info.