Last month June was National Safety Month. While this occasion doesn't (necessarily) come with fireworks or parties, it's still a cause worth celebrating – and what better way to do so than by showcasing OLFA's family of safety products?
OLFA takes pride in offering products engineered to reduce injuries, and keep employees safe while still offering maximum functionality. The following safety solutions don't come with helmets and knee pads, but they do come with the high-quality materials and long lasting performance that OLFA customers can always expect.
Safety Level 1: Semi-Automatic Knives
The Self-Retracting Safety Knife (SK-4)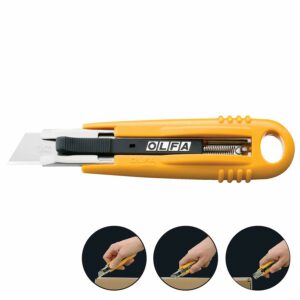 The SK-4 offers a slip-resistant, high-impact ABS handle for comfortable use, and the option to use three different blades for high functionality in a variety of use cases. This semi-automatic knife offers a spring-activated, self-retracting blade, – users need only take their thumb off the blade slide to allow for automatic retraction when no longer in contact with the cutting surface.

The Stainless Steel Self-Retracting Safety Knife (SK-14)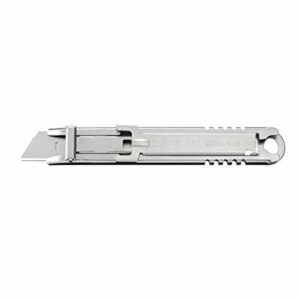 The NSF certified SK-14 is engineered to be the ideal safety knife for food production areas. The rounded-tip blade can cut through a variety of materials while reducing the chances of broken tip contamination, and is also semi-automatic self- retracting for user and product safety. The stainless steel handle and blade make this knife sanitary and easy to clean, as well as the only knife on the market to be both NSF certified and fully metal detectable.

Safety Level 2: Fully-Automatic Knives
The Fully-Automatic Self-Retracting Safety Knife (SK-8)

The SK-8 is equipped with a spring-activated blade that automatically retracts if it loses contact with the cutting surface. Even if the blade slide is extended, this safety feature cannot be overridden – ensuring the blade won't be unnecessarily exposed, which could lead to injury. This knife also comes with an anti-slip handle, and a large blade slide for easy and safe handling. The SK- 8 is also extremely heavy-duty, with metal armor protecting the front of the handle for extra durability.

Safety Level 3: Concealed Blades
The Concealed Blade Safety Knife (SK-10)

The SK-10's concealed blade allows for continual cutting, without having to manually extend the blade, which reduces the risk of injury to the user. The blade can easily cut through a variety of materials, such as nylon, plastic, leather, and more. Additionally, the handle features anti-slip grooves, and fits both left- and right-handed users for a variety of usages.

The Disposable Concealed Blade Safety Knife (SK-15)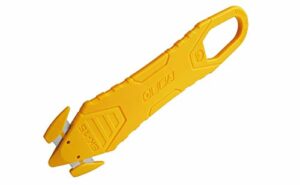 The SK-15 is a new durable, disposable and NSF certified safety knife that's perfect for food service use. The stainless steel blade is positioned in a protected blade channel for ultimate user safety, and requires 25 percent less pulling force per cut for improved blade longevity and reduced user fatigue. Workers never have to worry about handling a blade with the SK-15 – when the blade gets dull, users can simply throw it away and use a new knife.
With all these options and more, OLFA is sure to have a knife that fits your safety needs. To see the full safety lineup, click here. Celebrate National Safety Month by checking out everything these products have to offer and of course, stay safe!


Free 2 day shipping – Try Amazon Prime 30-Day Free Trial

DISCLOSURE:
Tool Craze does not sell this product or any product on the Tool Craze website. Tool Craze does not handle the sale of any item in any way. If you purchase something through a post on the Tool Craze site, Tool Craze may get a small share of the sale. Please refer to the About section for more info.