Metabo HPT has a new UC18YTSL 4 port charger that can charge their 18V and 36V Multivolt batteries.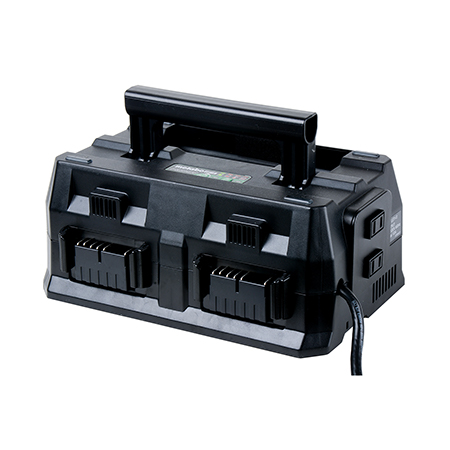 It wasn't enough that it can accept up to 4 batteries but they can all be charged at the same time if the user chooses or can choose to charge them one at a time. This new charger is deemed a fast charger with vent air cooling technology and can charge a compact 18V 3.0 ah battery in as little as 30 minutes. That's not class leading however still among the best.
Other features include 2 onboard 2 prong ungrounded (10 amp total) AC outlets on one side and 2 onboard USB ports (2 amp total) on the opposite side. It's available now at select retailers for $129.99.
A huge thanks to Cody Robertson for spotting!
4 Charging Ports – Conveniently charge more batteries to increase productivity and reduce jobsite downtime
Selectable Charging Modes – Provides users the flexibility to charge batteries simultaneously, or one-by-one
Rapid Charging Time – Charges 18V Compact 3.0Ah battery in just 30 mins
2 USB Ports (Total 2-Amp) – Charge more than just batteries – charge any USB port accessories
2 AC Outlets (Total 10-Amp, Ungrounded) – Conveniently have access to power additional electric devices
Charge Indicator Light – Alerts the user when charging is in process and then once the cycle is complete
Overcharge Protection System – Safety feature that optimizes battery life
Compatible with 18V & MultiVolt Li-Ion Slide Batteries – Users already invested in Metabo HPT cordless tool platform now have the freedom to charge multiple batteries


Free 2 day shipping – Try Amazon Prime 30-Day Free Trial

DISCLOSURE:
Tool Craze does not sell this product or any product on the Tool Craze website. Tool Craze does not handle the sale of any item in any way. If you purchase something through a post on the Tool Craze site, Tool Craze may get a small share of the sale. Please refer to the About section for more info.