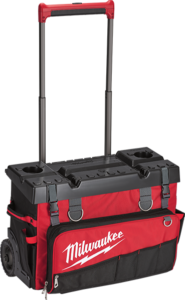 The Milwaukee 18″ & 24″ Rolling Bags introduced last year at the Milwaukee 2016 New Product Symposium and are finally here, almost! They'll be out soon in February 1st 2017 and are ready for pre order.
Key features to look for in these new rolling tool bags are 1680D ballistic material construction, durable 6 inch all terrain wheels, and a durable industrial-grade extension telescoping handle. Each model will have plenty of internal and external pockets with 66 pockets on the 18″ rolling bag and 53 on the 24″ rolling tool bag.
Both models are overall very similar in design and function although the 24″ rolling bag features a Hard Top designed to be able to stack other tools on top. Both are durable with the 24″ hard top rolling bag being able to withstand 250 lbs on the hard top and the 18″ rolling tool bag is able to carry 200 lbs and be able to fit in a job box.
Constructed of 1680D Ballistic Material
6″ metal-rimmed, all-terrain wheels
Metal through-axle secures wheel and provides longer life
Milwaukee designed its own industrial-grade extension handle for the Rolling Bags
Exclusive to 24″ HARDTOP Rolling Bag is a HARDTOP lid built for stacking
Available: February 2017
MSRP: 24″ HARDTOP Rolling Bag ($199); 18″ Jobsite Rolling Bag ($169.99)
Available next month February 2017 and pre orders are being accepted now. The 18″ Jobsite rolling bag will retail for $169.99 and the 24″ Hardtop rolling bag will retail for $199.99.