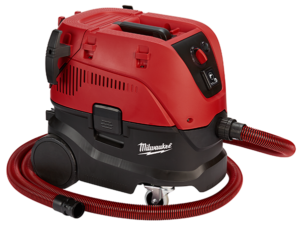 Milwaukee has just announced a brand new 8 gallon dust extractor and new accessories for hammer drilling and for grinding applications.
At the heart of the system is the Milwaukee 8 gallon dust extractor which is a corded model by the way, I know I spoke of a rumor of a possible cordless model coming out but that's still just a rumor at this point. The corded 8 gallon dust extractor features an automatic filter cleaning mechanism to allow for sustained airflow at 148 CFM in dust-producing applications. The Extractor's dual filtration system (complete with HEPA filter) captures 99.97% of all particles greater than 0.3 microns.
For SDS Max hammers, there is a new dust extraction attachment for drilling holes up to 2-3/4" in diameter and a chisel boot for chipping applications. Also available will be new cutting dust shrouds that work with the Extractor to maximize dust collection during concrete cutting with grinders.
According to Milwaukee, OSHA will have new regulations regarding dust control in the jobsite and with this new expansion to their Dust Extraction System, Milwaukee Tool's full lineup of rotary hammers and grinders will be completely compliant.
According to OSHA regulation, starting on Sept. 23, the Permissible Exposure Limit (PEL) to crystalline silica dust will be 50 µg/m3 over an 8-hour period. In order for companies to be in full compliance, they need to prove they are under the PEL by following Table 1 standards, demonstrating Objective Data, or conducting their own Self-Monitoring Programs, as laid out by OSHA(please see attachment or this link for simplified chart).