The best way to make larger holes into drywall quickly has been with hole saws. Based on the application and size of hole being needed they come in a variety of sizes. Many contractors rely on different sizes and carry an assortment of hole saws to fit their needs. When you carry around an assortment of hole saws, storage can be a problem as well as time spent swapping out hole saws and arbors. There have been "one size fits all" solutions to these problems with adjustable hole saws.
Milwaukee offers their own adjustable hole saw with the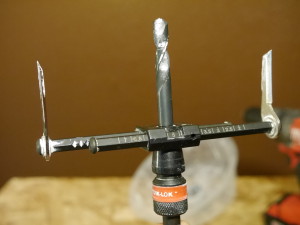 adjustable Hole Cutter model 49-56-0320. Designed for cutting into drywall and ceiling tiles for a variety of applications such as lighting, home theater, clearance holes, and fire & security system installations. And like the name suggests, it offers a variety of hole sizes ranging as small as 2 inches all the way up to 7 inches.
Milwaukee threw their own spin on it and gave it a fool proof way to set the sizes with detents to allow you to set sizes accurately with no guesswork and little effort in 1/4″ increments. An easy view window on both sides, one for each arm, makes it easy to set the correct size. Changing sizes is also easy and painless as there is no need to use any tools to adjust the the hole diameter.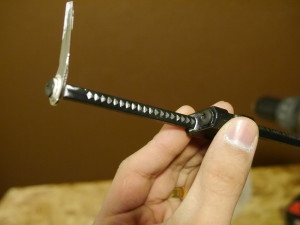 You simply remove the pilot bit by releasing it from the Quik-Lok arbor and move the 2 arms independently to adjust.
The hole cutters are tool less to adjust the hole diameter size although the replaceable blades require a hex key to remove and replace. If you purchase Milwaukee's replacement blades, a hex key is included along with a replacement pilot bit. This kit is the Adjustable Hole Cutter Replacement Blades and Pilot Bit kit 49-56-0290.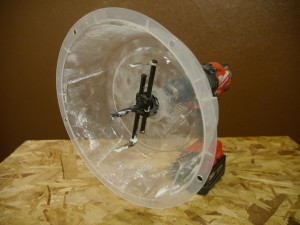 The Milwaukee adjustable hole cutter also includes a debris shield to contain dust and debris from making holes. The debris shield is very sturdy and wont crumble easily. It contains a spring collar to maintain good pressure on the wall at all times so it doesn't spin around freely as the hole is being made.
Holes are quick and easy as you would expect on drywall and the holes came out relatively clean without jagged edges as those seen on other holes made from using cut out tools and jab saws. I like the build quality as it feels solid and you can tell Milwaukee put a lot of effort into the design of the hole cutter assembly as seen from the sizing detents. I say this worth checking out if you are in need of a drywall hole saw.
Specifications:
Hole diameter: 2″ through 7″
Depth of cut: 1″
Durable debris shield with spring collar design
Black Oxide Coated with Laser Etched Size Indicators
Quik-Lok Arbor for Quick and Easy Tool-Free Adjustability
Replacement Parts available:
49-56-0290 Adjustable Hole Cutter Replacement Blades and Pilot Bit Set