March 1, 2018
Comments Off

on Milwaukee Dust Trap Drilling Shroud Helps Contain Dust Without A Vacuum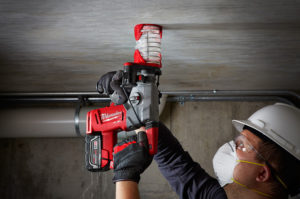 The Milwaukee Dust Trap is a drilling shroud that helps contain dust when hammer drilling overhead but what's neat about it is that you use it without a vacuum!
So simple in design but so effective at containing dust because it contains all dust created from overhead drilling and the dust falls into place by the mechanics of gravity. It's designed with a spring like ability to that it keeps contact with the surface at all times yet compresses in length as you drill deeper. It basically works the same as the dust shrouds that come with drywall hole saws when working overhead. The simple design is very effective for overhead work but not so much with horizontal drilling or drilling down. For that you would need a vacuum with adapter which Milwaukee also makes.


Full Press Release Below:
Milwaukee® Announces the DUST TRAP™ – OSHA® Compliance without a Vacuum
MILWAUKEE, WI- Dedicated to introducing productivity-focused dust collection solutions for compliance with the new Occupational Safety and Health Administration (OSHA®) regulation on respirable crystalline silica dust*, Milwaukee Tool is excited to announce the industry's first OSHA® compliance solution that doesn't require the use of a vacuum – the Milwaukee® SDS Plus DUST TRAP™ Drilling Shroud. Ideal for overhead drilling applications, and with a universal fit to work with all SDS Plus rotary hammers, the DUST TRAP™ is an OSHA® objective data compliance solution that doesn't require the use of a vacuum. The accessory is also OSHA® Table 1** compliant when used in conjunction with a proper dust extractor.
"As employers continue to equip themselves with the accessories needed to be compliant, it can be difficult to quickly and efficiently ensure full compliance amid the high costs of many solutions and the limited availability of cordless options that offer a universal fit," said Iris Horn, Product Manager for Milwaukee Tool. "The Milwaukee ® SDS Plus DUST TRAP™ Drilling Shroud is the answer to these frustrations. A cost-effective and completely universal accessory, the DUST TRAP™ offers an efficient and flexible way for users to adjust to the daily demands of the jobsite while remaining compliant."
The DUST TRAP™ is built with a clear sleeve which provides visibility when lining up the hole and during the drilling application. Once attached to the front of the rotary hammer, it keeps dust contained throughout the duration of the drilling process. Afterwards the sleeve can be emptied, and the entire unit easily collapses and locks for storage. The compact, collapsible design is ideal for hard-to-reach places, providing superior productivity to the user.
The universal fit of the DUST TRAP™ allows it to work with all SDS Plus rotary hammer brands and styles and all SDS Plus drill bits up to 8" in length, including stop bits and other anchor installation tools.
Milwaukee® is committed to improving productivity by providing performance-driven and trade-focused solutions so users can perform an entire day's work. As employers work to be compliant with the new OSHA® regulation, Milwaukee Tool is dedicated to continuing to expand its Dust Extraction System.
* Enforcement of the new OSHA regulation on respirable crystalline silica dust (29 CFR 1926.1153) for construction trades began on September 23, 2017. This regulation reduces the Permissible Exposure Limit (PEL) to 50 µg/m3 over an 8-hour period and affects jobsites nationwide.
** In order to be compliant with the new regulation* companies prove they are under the PEL by following Table 1 standards, demonstrating objective data, or conducting their own self-monitoring programs, as laid out by OSHA.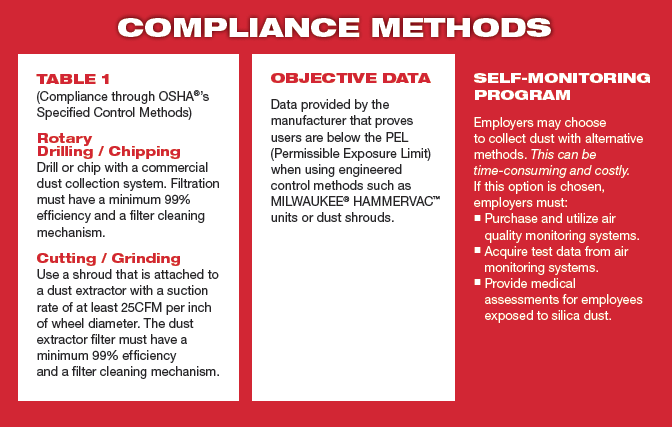 Available Models
SDS Plus DUST TRAP™ Drilling Shroud                              48-03-3035
*Replacement sleeves available
About Milwaukee Tool
Milwaukee Tool, founded in 1924, is a global leader in delivering innovative solutions to the professional construction trades that offer increased productivity and unmatched durability. Whether it is through their world-leading M12™ and M18™ cordless systems, the ground-breaking performance of their M12 and M18 FUEL™ products, time-saving accessories, or innovative hand tool products, Milwaukee is dedicated to delivering a steady stream of advanced, trade-specific solutions. Milwaukee Tool is a Brookfield, Wisconsin-based subsidiary of Techtronic Industries Co. Ltd. (TTI) (HKEx stock code: 669, ADR symbol: TTNDY). For more information on the full line of Milwaukee® products, please call 1-800-SAWDUST or visit www.milwaukeetool.com.
DISCLOSURE:
Tool Craze does not sell this product or any product on the Tool Craze website. Tool Craze does not handle the sale of any item in any way. If you purchase something through a post on the Tool Craze site, Tool Craze may get a small share of the sale. Please refer to the About section for more info.