Milwaukee has just announced a new headlamp designed for hazardous environments where a regular light might ignite hazardous materials. Their new safety headlamp is the Milwaukee Intrinsically Safe C I, II, III / D 1 Spot/Flood Headlamp 2004HZL.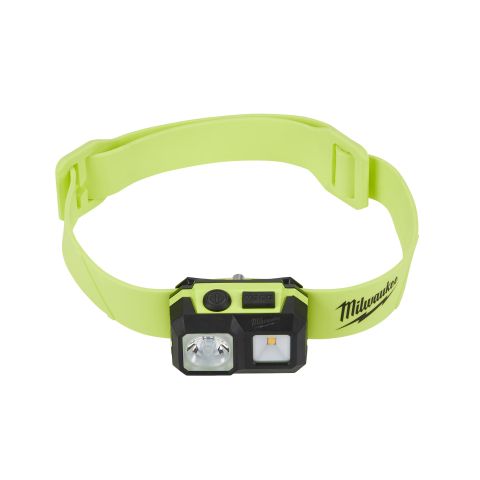 The problems users have had in the past is that lights that were safe for these hazardous environments were usually low powered however Milwaukee addressed this issue with their new headlamp by offering up to 310 lumens combined. It will be available in July 2020 for $79.97. Check out the full press release below for all the deets.
MILWAUKEE, WI – The leading jobsite lighting provider in the industry, Milwaukee Tool, continues to expand their rapidly-growing headlamp offering with a new solution for hazardous location personal lighting. The Milwaukee® Intrinsically Safe C I, II, III / D 1 Spot/Flood Headlamp sets a new standard for this type of critical jobsite lighting by delivering greater visibility and higher light output without compromise on overall size and weight.
"Intrinsically safe lighting is a requirement for companies that do any work in dimly-lit, flammable gas and dust situations.* Unfortunately, up until now, safety managers have had to opt for intrinsically safe headlamps that compromise on performance due to the limited capabilities of other products in the market," said Jason Isaacs, Group Product Manager for Milwaukee Tool. "By leveraging our leadership in jobsite lighting technology, we're able to finally provide these users with a hazardous location headlamp built for their needs. This new Class I, II, and III / Division 1 Groups A-G headlamp not only delivers 310 lumens of TRUEVIEW™ High Definition Output** and a beam distance of 100 meters, but it does so in a lightweight compact design."
Milwaukee's new headlamp is powered by 3 AAA batteries, delivering up to 40 hours of run-time. With 5 output modes to manage brightness, beam pattern, and run-time, its output can also be directed with the pivoting light head in seven adjustable positions. This headlamp is IP64 rated for dustproof and water-resistant.
To increase visibility and awareness of the wearer, the headlamp is designed with a hi-visibility color and a combination of on-strap and on-tool identifications. These features are lacking on all other hazardous location headlamps previously available in the market.
The headlamp also includes two straps so wearers can adapt it for their specific needs and comfort: a rubber strap for hard hat use and a nylon strap for bare head use. Additionally, users who wish to attach the light directly to their hard hat can do so with the included Dual Lock™ adhesive strip.
The Intrinsically Safe C I, II, III / D 1 Spot/Flood Headlamp joins Milwaukee's fast-growing Personal Lighting offering. All Milwaukee Personal Lighting is covered by a Limited Lifetime Warranty. Focused on the user and committed to investing in game-changing technology, Milwaukee will continue to design and develop lighting solutions with the ability to adapt, perform and survive the demands of professional use. For more information on Milwaukee's full line of Personal Lighting solutions, including headlamps, visit https://www.milwaukeetool.com/Products/Lighting/Personal-Lighting
5 Modes: Spot/Flood Hybrid, Spot, Flood High, Flood Medium, Flood Low
Lumens:

Spot/Flood Hybrid: 310
Spot: 155
Flood High: 235
Flood Medium: 155
Flood Low: 25

Run-time:

Spot/Flood Hybrid: 4 hrs
Spot: 8 hrs
Flood High: 6 hrs
Flood Medium: 10 hrs
Flood Low: 40 hrs

Intrinsically Safe Class I, II, III / Division 1 Groups A-G
Explicit Class I, II, III Division 1 On-Product Identification
Ingress Rating: IP64
Beam Distance: 100M
Weight w/ Battery: 3.0 oz.



DISCLOSURE:
Tool Craze does not sell this product or any product on the Tool Craze website. Tool Craze does not handle the sale of any item in any way. If you purchase something through a link on the Tool Craze site, Tool Craze may get a small share of the sale. Please refer to the About section for more info.