In a time long ago, Makita used to have a 12 volt chainsaw and I had hoped they would come out with another one in their new 12 volt CXT line. I even wrote a wishlist article on tools they should make today. Fast forward to 2020 and we finally have a new 12 volt chainsaw however it's not from Makita but instead from competing brand Milwaukee with their M12 Fuel Hatchet 6" Pruning Saw 2527-21 2527-20 .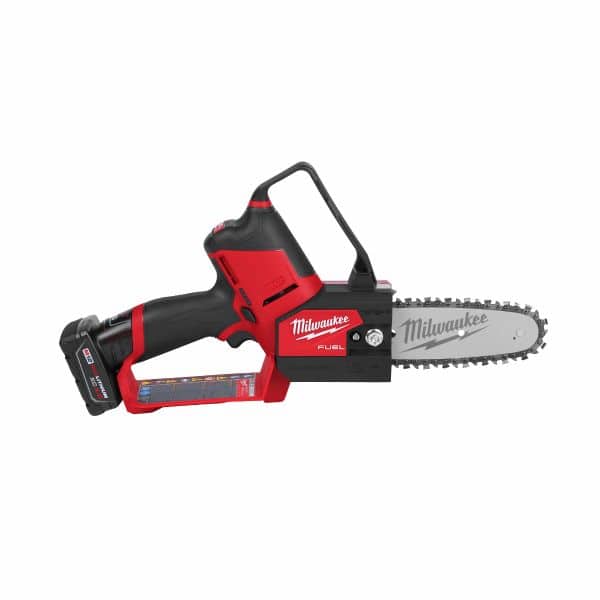 While Milwaukee gives it the title of "hatchet" and "pruning" saw, it very much is a chainsaw with it's 6″ bar and chain. What's interesting is that they give it the same body or shape as their Hackzall recip saws as it has the same body and motor configuration although it uses a bar and chain and has two knuckle/finger guards where the hand(s) rest when in use.
Makita has the claim on the first 12V cordless chainsaw with the UC120DWD model which is a 4.5″ bar and chain chainsaw and the Milwaukee improves upon the Makita model with a larger bar and chain and a brushless motor which no doubt gives it the ability to have a larger bar for 12 volt. Milwaukee specs this chainsaw to have the ability to cut up to 3″ hardwood.
The chain leverages a full-house design with a cutter on every drive link as opposed to every other drive link on a standard saw chain. This full-house design delivers cleaner cuts and less vibration. The tool also features an automatic oiler, easy access chain tensioner, metal bucking spikes, and onboard storage for the scrench.
Even though it's a puny little chainsaw, expect all the regular chainsaw amenities such as an automatic oiler, metal bucking spikes, chain tensioner although not tool-less but does have an included scrench tool to adjust and storage for the tool is built into the lower handle guard. I would've preferred a tool-less chain tensioner though. I do like that it has a variable speed trigger to control the speed of the cut. Runtime appears to be very good with a claimed runtime of up to 120 cuts in 2″ oak on with a 4ah battery.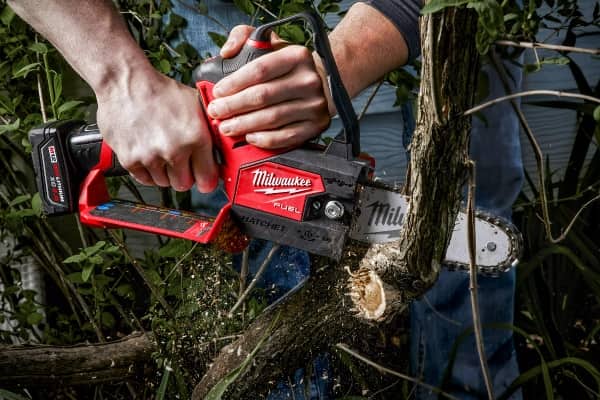 The Milwaukee M12 Fuel Hatchet 6" Pruning Saw is set to launch August 2020 for $179 as a bare tool and $249 as a kit with 4ah battery and charger.
6" Oregon® Bar & Chain
Full House Chain
Speed: 5 m/s
Chain Gauge: .043"
Chain Pitch: 3/8" Low Profile
Oiler: Automatic
Easy Access Chain Tensioner
Metal Bucking Spikes
Variable Speed Trigger
Onboard Scrench Storage
Length: 18.49"
Height: 9.12"
Width: 3.76"
Weight: 4.85 lbs w/battery
3-year warranty



DISCLOSURE:
Tool Craze does not sell this product or any product on the Tool Craze website. Tool Craze does not handle the sale of any item in any way. If you purchase something through a link on the Tool Craze site, Tool Craze may get a small share of the sale. Please refer to the About section for more info.