A new Milwaukee M18 100″ flexible pipeline inspection camera was announced this week. Let's check it out below.
Disclosure: This is tool news. Tool Craze cannot guarantee the accuracy of the information of any tool listed in this article. Manufacturer marketing claims may not always meet expectations. Tool Craze is not responsible if products do not live up to claimed expectations. So please do your full research before buying any products. Tool Craze is an Amazon Associate. Also an affiliate with the Home Depot, Acme Tools, Ohio Power Tool, Tool Nut. As well as an affiliate with Lowe's, Ebay, and Walmart and places affiliate links to these retailers. If you purchase through a link on this site, we may get a share of the sale.
Milwaukee M18 100 Foot Flexible Inspection Camera – Features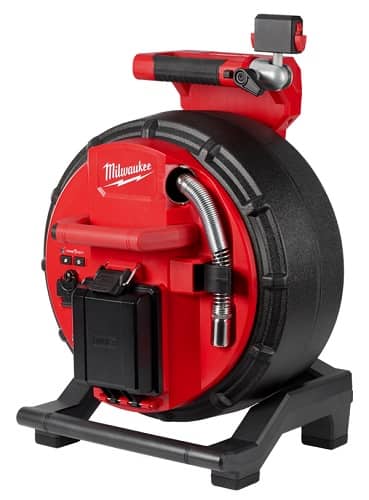 Milwaukee expands their modular pipeline inspection system with a new 100 foot flexible pipeline inspection reel. This is their first flexible reel to their system and is designed to navigate tight bends and traps. Just like the rest of the pipeline inspection reels, this 100 foot flexible model is powered by the M18 500GB control hub with ONE-KEY. This gives the system modular capabilities to pick and choose which reel sizes to swap and use to fit your needs.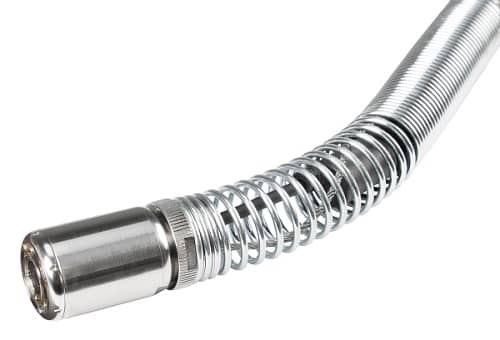 The camera is 25mm and offers 1080p self leveling video. It's on a flexible push cable which allows to fit through tight bends and traps in 1.5″-4″ lines up to 100 feet. The camera also allows up to 4x digital zoom.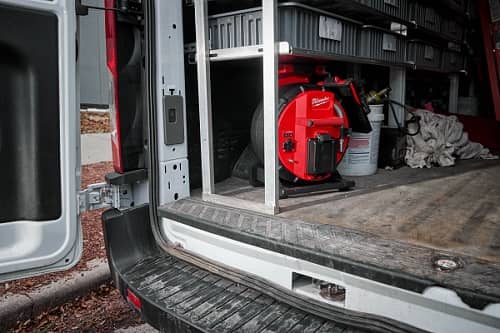 Being the smallest of the bunch makes it very portable and easy to store in small spaces.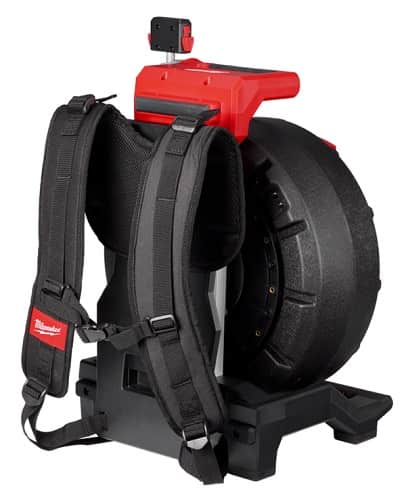 To make it easier to transport, the inspection camera reel is compatible with either their carry strap or backpack straps. The backpack straps are shown above.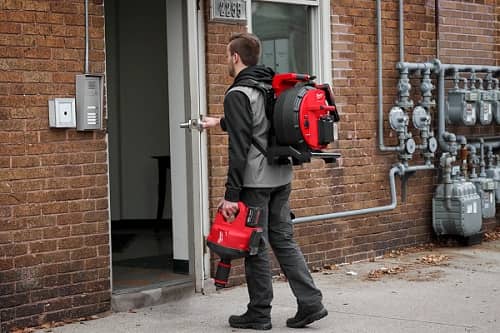 The backpack straps make it very easy to get to and from the job while carrying.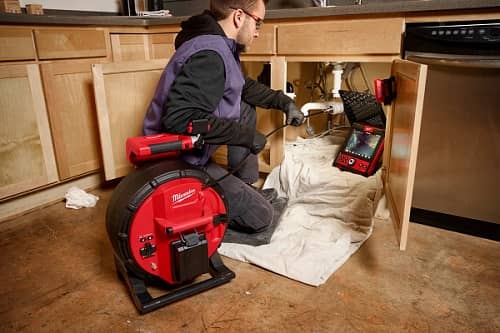 You can view the live camera feed on Milwaukee's M18 wireless monitor (sold separately).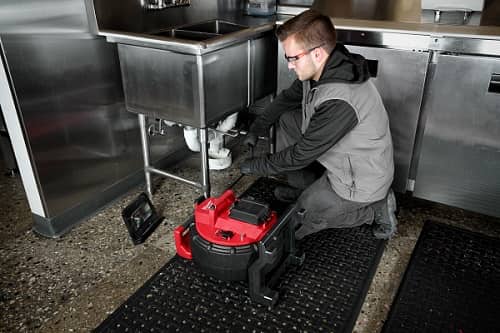 And you can use your mobile device now in case you don't have the M18 wireless monitor. Milwaukee's got you covered either way to take advantage of the inspection reels now.
This inspection reel also comes with ONE-KEY technology. This allows you to track, manage, and secure the inspection system with your mobile device. This is done via Bluetooth. And if your inspection reel is ever lost or stolen, you can remotely lock the tool.
Milwaukee M18 100 Foot Flexible Inspection Camera – Pricing & Availability
This new inspection reel is said to launch in 2023. It will be priced at $4,239 as a baretool and $6,624 as a kit.
Milwaukee M18 100 Foot Flexible Inspection Camera
Drain Line Capacity: 1.5" – 4"
Push Cable Diameter: 9mm
Cable Head Diameter: 25mm
Camera Resolution: 1080p
Camera Head Ingress Protection: IP67
Sonde Frequency: 512Hz, 640Hz
Line Trace Frequency: 33kHZ, 83kHz
Internal Storage: 500GB SSD
File Transfer: USB or Mobile Device
Connection to Viewing Device: Wireless up to 200', USB-C cable to M18™ Wireless Monitor
Width: 12.5in
Length: 15.5in
Height: 20.5in
Weight w/o Battery: 18.7lbs
Tool Warranty: 5 year tool, 1 year camera head, 3 year battery
Kit Includes: (1) 100' Flexible Reel (2972-20), (2) M18™ REDLITHIUM™ 5.0 Battery Packs (48-11-1850), (1) M18™ 500 GB Control Hub (2970-20), (1) Tablet Mount (48-53-2970), (1) Small Camera Skid, (1) Medium Camera Skid, (2) Barrel Skids, (1) Lead Clamps, (1) M18™ & M12™ Rapid Charger (48-59-1808)


DISCLOSURE:
Tool Craze does not sell this product or any product on the Tool Craze website. We do not handle the sale of any item in any way. Please refer to the About section for more info.
Check out these other articles featured on Tool Craze.
Milwaukee M18 Force Logic 6T Latched Linear Utility Crimper 2979-22
New Milwaukee M12 FUEL Extended Reach High Speed Ratchets In 1/4″ & 3/8″