November 24, 2017
Comments Off

on Milwaukee M18 Fuel Blower 2724-21HD 2nd Gen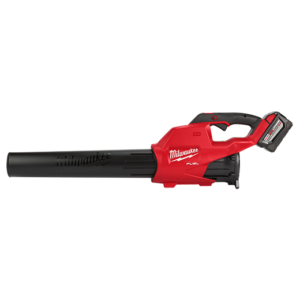 It hasn't even been a year since the original and still new Milwaukee 18V cordless outdoor power equipment came out and already they're making a second generation M18 Fuel Blower model 2724-21HD as a kit or 2724-20 as a bare tool.
Cody Robertson told me about it from an instagram post just a couple of days ago and yesterday while I was posting several great Black Friday deals (which are still up and available – take a look at my home page or click here to view them) when I came across a retailer listing (Acme Tools) that showed the new blower. You can actually pre order it using the link below and it is said to come out in January 2018.
Honestly I'm still shocked that they came out with a second generation model so soon as usually it takes years for updated models to come out but maybe the tool industry is moving faster than we think. If you look at the smartphone industry it used to be that phones would get updated every year now some are twice a year.
Under the hood there's not much different from the new model versus the still new but older model as they both have the same 450 CFM but the new model has 20 more MPH at 120 MPH. It's ever so slightly better specs in my opinion isn't really an upgrade as I doubt you'll feel any noticeable difference between the two in a real world scenario. However Milwaukee states that the new blower will reach full throttle in under a second. I currently am trying out the current M18 Fuel blower and I find no problems with reaching full power so I still don't get why they update?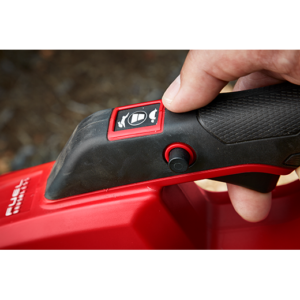 On the surface it gets a new cosmetic treatment with a more stylish design however I find nothing wrong with the plain design on the current model. Probably the biggest new feature on the new model is that it gets a two speed electronic selector switch just like the one found on the M18 Fuel String Trimmer with a picture of a bunny and a turtle. The variable speed trigger on the current model is just fine and the variable speed is easy to operate whatever speed you want but I can see the appeal of a two speed switch so you don't have to throttle low to mid speeds.
The last feature that Milwaukee claims is that the new blower is up to 4 lbs lighter. Lighter than what? They say it's up to 4 lbs lighter than competitors. That doesn't tell me anything and only makes it confusing. They do post a product weight of 7.3 lbs (with battery I assume) on the actual Milwaukee website. That only makes it 0.8 lbs lighter than the original model which is 8.1 lbs with battery. While not a complete pound, I am sure it's enough to make a noticeable difference when holding for long periods of time between the two models.
So to wrap it up, the new second gen Milwaukee M18 Fuel Blower gets (1) updated styling, (2) 20 more MPH over the original model (3) 2 speed electronic switch (carried over from the string trimmer), and (4) lower weight of 7.3 lbs vs 8.1 on the previous model.
450 CFM
120 MPH
2 speed selector
variable speed trigger
lock on button
7.3 lbs weight with battery
36.9″ length
The newer 2nd gen model is priced the same as the current model on Acme so based on that fact I would assume the current model will probably be phased out in favor of the new one. The model isn't a huge upgrade over the original but more of a slight incremental update however the lighter weight and two speed selector make it more desirable in my opinion. The updated styling and 10 more MPH on paper also help make it more interesting.
I also received word from Glenn saying that the new 2nd Gen Milwaukee M18 Fuel blower is also available or will be soon in Australia and is up on the Milwaukee Australia website under the model number M18FBL-0 .



DISCLOSURE:
Tool Craze does not sell this product or any product on the Tool Craze website. Tool Craze does not handle the sale of any item in any way. If you purchase something through a post on the Tool Craze site, Tool Craze may get a small share of the sale. Please refer to the About section for more info.