It's great that Milwaukee introduced their rapid chargers a few years back although with the release of new 15 celled high demand and high output battery packs, charge times are still too long in my opinion for these larger battery packs, especially when compared to the super fast charge times of high capacity higher voltage batteries. Luckily for all of us Milwaukee has now introduced a new charger that's faster than their current rapid chargers and it's called the Milwaukee M18 / M12 Super Charger 48-59-1811 .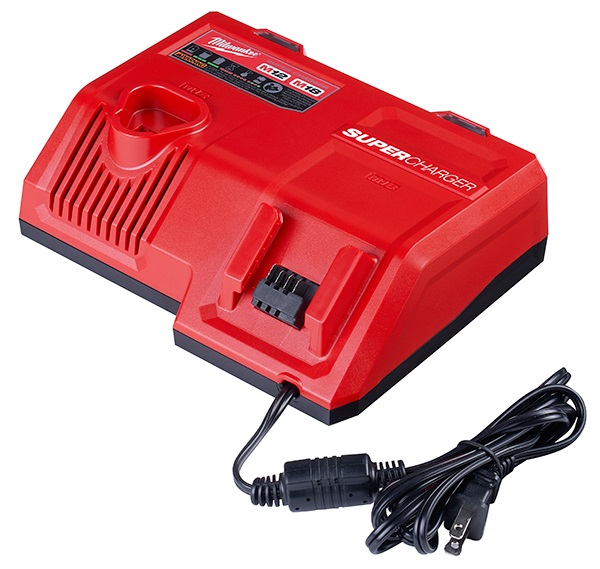 The Milwaukee rapid chargers claim to fame is that it can charge batteries up to 4 times as fast as before. However there's a catch, at the moment, the only batteries that take advantage of the new rapid charger are Milwaukee M18 High Output batteries. We'll actually all of the new high output batteries including the new 12.0, 6.0 and recently announced 8.0 batteries with the only exception to the rule being the high output compact 3.0 battery pack as it doesn't charge faster on the super charger. All other batteries in either M18 or M12 flavors max out at rapid charger speeds when used with the new super charger, meaning it offers no benefit above the rapid charger on non-high output batteries.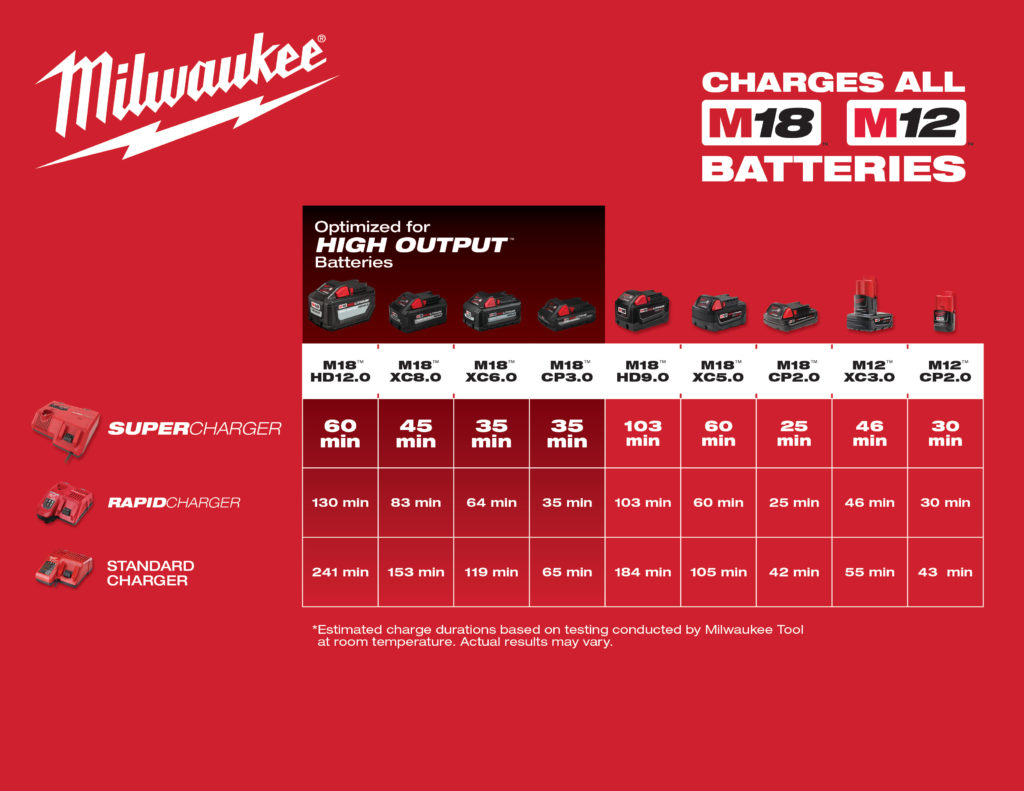 The Milwaukee super charger shares the same basic design as the original stock dual voltage charger as it can charge an M18 battery and M12 battery and it will charge the first one in and only one at a time. Although the super charger is larger and very squared in design. Surprisingly, there's no built in battery pack air cooling like you'll find on Makita's and Bosch's fast chargers but that has more to do with the fact that no Milwaukee batteries made today have slots for air cooling from their charger.
Just to see how fast the Milwaukee super charger is, it can charge a 12.0 battery in as little as 60 minutes! That's as fast as the stock charger can charge an XC 3.0 battery which confirms it can charge up to 4 times as fast as the stock charger. The super charger can charge an 8.0 battery in as little as 45 minutes and 6.0 in 35 minutes! This makes the Milwaukee super charger faster at charging than Makita's chargers and about as fast as Bosch's new GAL 18 V-160 C Professional Charger.
The fact that the new super charger only benefits high output batteries, means that it's optimized to super charge 21700 celled battery packs with the exception of the 3.0. I'm left wondering if future revisions of current battery packs will ever benefit from the super chargers faster charge speeds? Lets hope Milwaukee revises them to do so including M12 packs.
The Milwaukee M18 / M12 Super Charger 48-59-1811 will be available July 2019 for $159. Pre-order today using the buy now link below.



DISCLOSURE:
Tool Craze does not sell this product or any product on the Tool Craze website. Tool Craze does not handle the sale of any item in any way. If you purchase something through a post on the Tool Craze site, Tool Craze may get a small share of the sale. Please refer to the About section for more info.