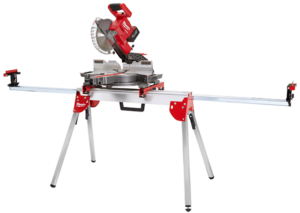 Milwaukee has a new miter saw stand coming out soon. Their stand doesn't have wheels so it can't roll while carrying your saw, but it's focus and main selling point is that it's light at only 31 lbs making it very portable.
It's 4 legs fold up and has a large handle for easy transport. Designed with portability in mind, Milwaukee will also offer an accessory carrying strap (sold separately for $14.99) for the stand to allow for hands-free transportation when collapsed.
It's also equipped with a bracket system that fits all brands of miter saws. Additional brackets can be purchased if you want to add brackets to multiple tools. 2 are supplied with the saw and an extra pair will run you $24.99. With a capacity of over 500 lbs, the stand can support large building materials when fully extended.
Because many tradesmen use their miter saw stands as work stations, an optional table top accessory surface (retails for $24.99) is available separately for the Milwaukee Miter Saw Stand. When attached, the accessory can hold blueprints, marking tools, tapes, nails, and more. A recessed storage tray also keeps items from falling off the stand.
The new Milwaukee Miter Saw Stand will be available soon in June 2017 for $199.


Availability: June 2017
MSRP: $199; (Table Top: $24.99)
(Carrying Strap: $14.99)
(Additional Brackets: $24.99)
*Table top accessory sold separately (48-08-0552)
*Carrying Strap sold separately (48-08-0553)
*Additional Brackets sold separately (48-08-0554)