July 18, 2019
Comments Off

on New Craftsman 10 Amp 6″ Variable Speed Bench Jointer Spotted – Porter Cable Clone?
Tool Craze reader Matthew Stisher was strolling down the isles of his local Lowe's the other day and spotted a new Craftsman branded 10 Amp 6″ Variable Speed Bench Jointer underneath the display of the nearly identical Porter Cable model.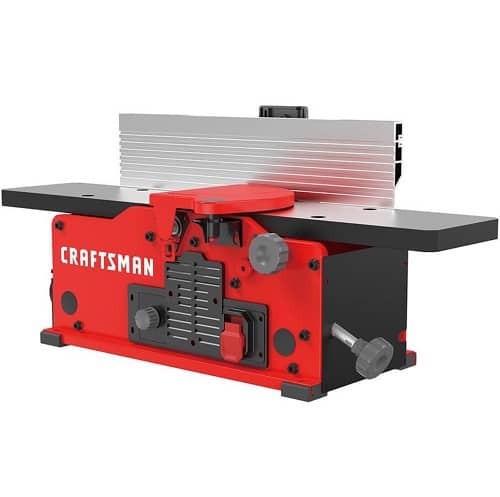 He sent in a couple of pictures (not shown however stock image is shown) to back up his claims and the new Craftsman 6″ benchtop jointer does look identical in almost every respect to the current Porter Cable model. Has the same 10 amp motor and using 6 inch knives with both being variable speed models. The picture of the Craftsman also looks identical to the Porter Cable except in a flashy red color scheme. The biggest difference between the two models I could spot based on the pics was that the Craftsman has an onboard vac port on the left side of the unit whereas the PC is not shown with one at all. I don't know if maybe the PC version does come with a vac port but is possibly not pictured, I don't know. But all I can tell you as a fellow woodworker myself, is that a jointer along with any woodworking power tool makes a ton of wood shavings and using a connected vacuum is vital. EDIT: I just found pictures of the Porter Cable model with a vac port installed on the left side so it appears the Craftsman is completely identical to the Porter Cable except for a new color scheme.
After Stanley Black and Decker purchased Craftsman, it only makes sense that new Craftsman tools would come from SBD's factories including rebranded tools. This Craftsman jointer is no doubt a rebranded Porter Cable model with a few cosmetic tweaks which mostly include a hot red color scheme to freshen up the older design.
I took a look at the Lowe's website to see if I could see the new Craftsman model but to no avail as it's not showing up yet but since it's in Matthew's local Lowe's store, we know it's real and we know it's only a matter of time before it's officially announced and on their retail site as well.
The current Porter Cable benchtop jointer is being sold at $322 at the time of writing so I think it's pretty safe to assume the Craftsman rebranded version will be priced similarly. They might round the number up or down since $322 is a sort of odd retail number to price anything and hopefully they round down instead of up.
My thoughts on the jointer:
My thoughts are the same as the Porter Cable model it's most likely replacing. This jointer has a good 6 inch working width and it's small size and price point is perfect for someone just starting out into woodworking and want to mill their own lumber or simply remove any cupping/bowing (warping) on current lumber. It's small size will be a good option for someone also cramped for working space and being a benchtop model means you don't need a stand and can live on your existing workbench area. The bad is that it's a very small unit with very short infeed and outfeed tables. This means you'll be limited to smoothing out short length boards. There is a workaround if you wan't to plane longer boards by making your own extensions however it will only work if your table extensions are perfectly parallel with the existing tables otherwise it won't work.
A big thanks to Matthew Stisher for spotting!


Free 2 day shipping – Try Amazon Prime 30-Day Free Trial

DISCLOSURE:
Tool Craze does not sell this product or any product on the Tool Craze website. Tool Craze does not handle the sale of any item in any way. If you purchase something through a post on the Tool Craze site, Tool Craze may get a small share of the sale. Please refer to the About section for more info.