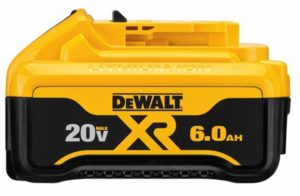 Dewalt is coming out with new 20V 6.0 ah battery packs soon. These are similar to the new Flexvolt 6.0 battery packs except that they are only 20V Max batteries and are not dual voltage. This means they wont power the new 60V and 120V Flexvolt power tools.
The  new Dewalt 20V XR 6.0 ah battery packs will offer more runtime than 5.0 ah batteries or smaller and will offer the same runtime as the current Flexvolt 6.0 batteries.
But they don't just offer more runtime compared to previous batteries, they also have new technology inside. These new battery packs are sporting the newer and better 20700 lithium ion battery cells which offer some pretty sweet benefits such as claimed lower operating temperatures and the potential for more power output and in same cases longer runtimes compared to the current 18650 cells.
Although a quick look at Dewalt's official page for these new batteries, Dewalt doesn't make any special claims other than increased runtime because of the higher capacity. They claim 2x the runtime compared to the 3.0ah battery and 3x the runtime compared to the compact 2.0ah batteries. Pretty standard claims and I don't doubt them. I do appreciate they didn't make any wild claims.
20700 battery cells are larger than the usual 18650 cells and as a side effect, these new Dewalt 20V XR 6.0 ah Battery Packs will also be noticeably larger than current packs. They will be taller and wider than the regular fat packs, they might even be heavier as well but I can't back that up with any concrete evidence.
They are available now at about $139 for a single battery or $189 for a two pack.