Harbor Freight – 40V – Brushless! I never thought I'd hear two of those in the same sentence, and even much less all three. But here we are and Harbor Freight has come out with a new cordless line of outdoor power equipment called LYNXX running on 40V lithium ion batteries with a blower, chainsaw, string trimmer, hedge trimmer, and pole saw. Although not all of them are brushless tools as only the blower and chainsaw feature brushless motors but this is still impressive for the budget tool store giant. A big thanks to Tool Craze Facebook follower Joshua B. for spotting this great news!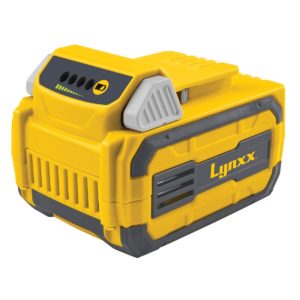 The battery itself is a 40V lithium ion slide pack battery rated at 2.5ah (amp hours) and with a fuel gauge! All of Harbor Freights 18V battery powered tools are all powered by ni-cad batteries which is old battery tech, but these are not Harbor Freights first lithium ion batteries as their 12V tools with interchangeable batteries also use lithium ion batteries. What I find very appealing about these HF 40V lithium batteries is that they can be bought separately and are very inexpensive as you would expect from anything sold at Harbor Freight as they retail for only $59.99. These batteries are supposed to charge in a relatively short time at only 6o minutes with the "fast" charger that is included with the tools. I say 60 minute charge time is good since there are other manufacturers including Harbor Freight in house brands that charge their tools for several hours so 60 minutes is good, but there are other brands that charge 2.5 ah batteries in half the time. And yes all the Lynxx tools and batteries are interchangeable and fully compatible with each other.
One thing I find strange is that all the tools including the battery describe the battery as a 2.5ah battery although the hedge trimmer is said to come with a 4.0 battery which I am leaning on the belief that this might be a typo. Actually it is a typo as I looked at the manual for the hedge trimmer and it does in fact come with a 2.5ah battery.
All the tools are priced similarly to Ryobi 40V OPE pricing and range from $139-169 which is mid-range pricing for cordless power outdoor power equipment and in line with similar 40V tools. Although one would expect lower prices from HF including myself, we have to realize that Harbor Freight is stepping up their game with these new cordless Harbor Freight 40V Lynxx Outdoor Power Equipment . The prices include the tool itself, the 2.5ah 40V lithium battery, and "fast" charger.
The LYNXX team colors are yellow and gray but the main color seems to be grey with yellow being the accent so as to not be confused with Dewalt tools.
These five new 40V tools makes for a great cordless outdoor power tool line to start off with. I do like that they include a pole saw which is something not all cordless lines have and is a very useful tool if you have trees and you prune them yourself. One thing that is missing that I'd like to see included in the Lynxx line is a cordless lawn mower. That would make it a more complete system and would in my opinion motivate more potential buyers to jump on board the new Lynxx system as a mower would make it a complete system.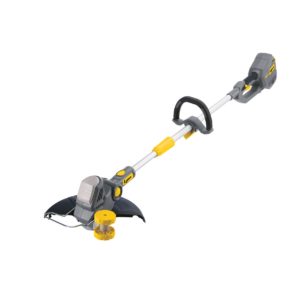 String Trimmer:
Has a 13 inch cutting swath and uses 0.65″ line which is thinner than the basic 0.80″ line most budget string trimmers use. No word on if it's a dual line trimmer as the webpage and the manual say nothing in this regard. But I would assume that if it was a dual line trimmer it would be listed as a feature so my guess is that it isn't. New to string trimmer users will enjoy the built in edge guide metal guard and edger wheel so that the user can easily use the string trimmer as an edger without any previous experience.
40V
13 inch cutting swath
No Load Speed 8,500 RPM
Replacement Line Type 0.065″ Nylon
weight 8.36 lbs
$139.99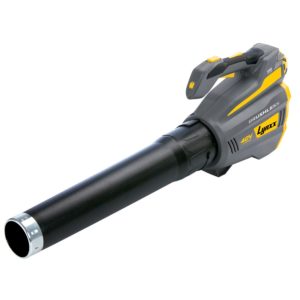 Blower:
The HF 40V blower is the star of the 40V line in my opinion as it has very good stats for 40V with 480 CFM's at 150 mph. This is as good or better than some higher voltage blowers as it has the same CFM's as Ego's original 56V blower but the Lynxx blower has higher MPH at 150 versus the egos 92 mph. The blower is one of the two tools in the line that is equipped with a brushless motor which is a standout feature as it helps bring more power and runtime than brushed motor designs. HF also claims this to be a quieter blower at only 65 decibels.
40V
brushless motor
480 CFM
150 MPH
65 decibels
7.1 lbs
$139.99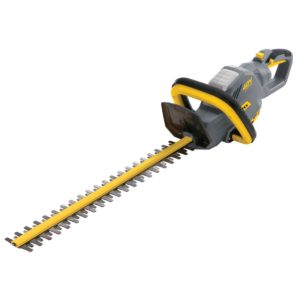 Hedge Trimmer:
The hedge trimmer has good stats with a 24 inch double sided blade and can cut up to 3/4 inch branches. Nothing out of the ordinary here for 40V OPE.
40V
24 inch blade length
No Load Speed 2,500 SPM (Strokes Per Minute)
Branch Capacity 3/4″ diameter
weight 8 lbs
$139.99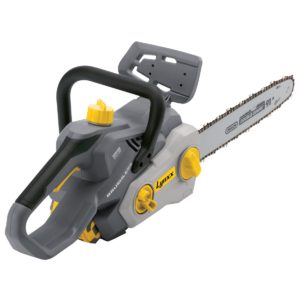 Chain Saw:
Here's the other tool in the group that's brushless and it needs to be to power a 14 inch bar and chain. Just like the blower, it's also in the high end of 40V performance as most 40V chain saws fall in the 12 inch realm (very few 40V chainsaws have anything larger than a 12 inch bar and chain although a few others have 14 and 16 inch bar and chains on 40V chainsaws). It has an Oregon bar and chain and has an automatic chain oiler. This bad boy is also the most expensive in the group at $169.99 but at this price it includes the battery and charger as all the other tools do also and at $169.99 it's priced less than most 40V chainsaws out there as kits with battery and charger.
40V
brushless motor
14 inch Oregon bar and chain
Automatic chain oiler
low kickback design
cuts branches up to 14 inch diameter
$169.99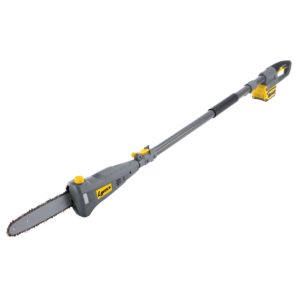 Pole Saw:
The pole saw is the second chain saw of the group and is the second most expensive at $149.99. It features an Oregon 10 inch bar and chain and telescopes from 6 feet all the way up to 8 feet and 10 inches to be able to reach branches up to 15 feet high.
40V
10 inch Oregon bar and chain
Automatic chain oiler
Extends from 6 ft. to 8 ft. 10 in.
$149.99