May 23, 2015
Comments Off

on New Makita 18V LXT Brushless Jigsaw XVJ02Z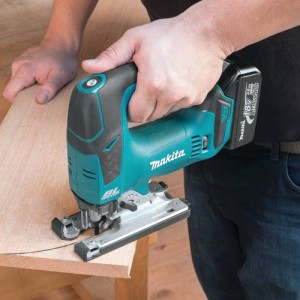 Makita just announced out of no where a new jigsaw for USA release, the Makita 18V LXT Brushless Jigsaw XVJ02Z. I had seen a previously announced brushless jigsaw that made was coming out overseas, but that was a barrel grip jigsaw. This new USA model is fashioned just like its predecessor the XVJ03 with a more traditional top handle. It even looks very similar to the previous XJV03 model at a quick glance but a much closer look reveals a few updates.
The new brushless model ditches the variable speed trigger for a on/off trigger switch and variable speed dial for precise control. To me a variable speed dial and on off switch works better as you can dial down the speed setting to your liking and maintain that speed without having to worry about making sure your pressing hard enough if you need a specific speed for cut. That and other than a few cosmetic updates, most differences are under the hood with the most obvious being a new brushless motor. According to Makita's claims, the new brushless motor is said to get up to 50% longer runtime than the previous XVJ03 model.
At the top front of the tool is a new button and is called a "lock switch". This is not to be confused with the lock on switch that locks the on off trigger for continuous use. This new button is a bit hard to explain but to make things easy to understand, imagine the tool is "asleep" at all times. While asleep, even pressing the on off trigger wont activate the motor. To "wake up" the tool, you have to press the "lock switch" which puts the jigsaw into standby mode and the LED's light up letting you know the tool is ready for use. The tool stays in standby mode for 10 seconds and can be used as normal while in standby mode. If you do nothing within the 10 second window, the jigsaw falls back to "sleep". Another way to look at it is you can view the "lock switch" as a safety switch so the tool doesn't accidentally turn on. This seems like a neat idea but it adds another step before you can use the jigsaw.
The stroke length stays the same at 1″ but the cutting speed goes up by 900 spm at a total 3,500 strokes per minute. I would assume it can cut much faster based on paper stats alone but power seems to be the same when comparing previous and the brushless models cut capacities in various materials side by side are the same.
It also includes a built in dust blower for keeping the cut line free and clear, although dust extraction is not built into the jigsaw. You need to purchase the optional dust extractor accessory if you want dust free cutting. This new model includes dual LED lights which seems to be Makita's trademark as many of their new brushless tools offer dual LED's and underneath the base is a removable non-marring shoe to prevent scuff marks on the work surface. Just like the previous model it includes 3 orbital settings plus off for straight cuts.
I have spotted this new brushless jigsaw at a few online retailers for $279 baretool but although listed, it's not available for sale yet. Below I included the link for Amazon, just keep your eyes peeled to see when its in stock.
length of stroke: 1″
800-3,500 spm
uses t-shank blades
overall length 10-1/2″
5.8 lbs weight with battery
Max. Cutting Capacity (wood at 90°) 5-5/16″
Max Cutting Capacity at 90° (mild steel) 3/8″
Max Cutting Capacity at 90° (aluminum) 25/32″