Every year in June Milwaukee tool hosts a special event called the New Product Symposium in which they showcase new Milwaukee products. I wasn't able to make it this year but fortunately Milwaukee shared some of the news of their new products with me – and this year is a great one!
In the last two posts we took a look at their cordless M18 and M12 power tools and lighting products. In this article we'll take a brief look at their newest Storage solutions. Storage is extremely important whether on the jobsite or in the garage, we need a place to store out tools for the next job.
Just keep in mind I don't have pics of each item yet, but I do have a short description. I will update with new pics as they come in.
PACKOUT™ Modular Storage System – 48-22-8400 – Launch September 2017
Milwaukee Tool revolutionizes tool transportation, organization, and storage for the trades with the announcement of the new PACKOUT™ Modular Storage System. Featuring Mod-Lock™, a new-to world attachment system that allows boxes, organizers, and totes of multiple sizes and configurations to easily stack and lock together, PACKOUT™ is the most versatile and durable modular storage system in the industry.
My take: Over recent years Milwaukee has been pushing their efforts into storage solutions and now their expanding into modular storage. Modular storage isn't new and the biggest names in modular have been Bosch, Dewalt, and recently Ridgid and a lesser extent Makita. Milwaukee came out with somewhat modular storage with their their jobsite organizers as they could connect together if you had 2 or more, but as a system, wasn't much beyond that. This year they pushed modular and created a complete system to take on the other companies. They have a 3 part plastic tool box system very similar to Ridgid's which was based on Dewalt's with a large cart with wheels and telescoping handle, a medium sized tool box, and an organizer/small tool box. All stackable and connectable. Beyond that they also include small organizers which appear to be half the size of the current jobsite organizer and also have soft tool bags that all stack and connect to the rest of the Packout modular components. Pretty cool stuff.
Update: I've written about the new Packout Storage System, click here to read more.
46″ High Capacity Steel Storage Chest and Cabinet – Launch November 2017
The new Milwaukee 46" High Capacity Steel Storage Chest and Cabinet is designed to be the most durable and best equipped steel storage combo in its class.  Constructed with 19ga steel, an angle iron reinforced frame, 6" industrial grade casters, and metal edge protectors, the new steel storage combo is designed from the ground up to survive the harsh conditions of the jobsite.  Featuring (18) 22" deep soft close drawers, two built-in power centers with USB ports, and much more, the new 46" High Capacity Steel Storage Chest and Cabinet is designed to serve the needs of the modern tradesman.
My take: How do you make the Milwaukee 46″ steel storage chest and cabinet better? Make it deeper and give it the ability to hold drawers that are 22 inches deep and give it two built-in power centers with USB ports.
Jobsite Cooler – Launch October 2017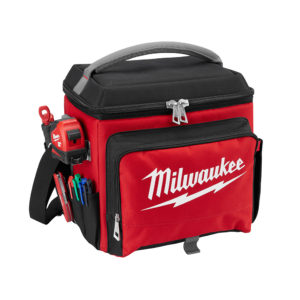 Milwaukee Tool's new Jobsite Cooler is specifically designed to provide all users a durable cooler that can withstand harsh jobsite conditions. The cooler utilizes double insulation and a food-grade leak-proof liner to keep ice cold for 24 hours. Additionally, Milwaukee constructed the cooler with a 1680D ballistic material base and heavy duty metal zippers for longer life. A tape measure clip with a bottle opener provides ultimate versatility. A tech pocket and sandwich pocket add extra storage options.
My take: 2017 is the year of the jobsite coolers. Milwaukee joins the group with a soft lunchbox cooler with added storage.
Update: I've written about the new Jobsite Cooler, click here to read more.
But wait there's More – More Tools announced
This list is not it folks, these are only the cordless power tools that were announced at the new product symposium. This doesn't even include their upcoming lighting, storage, hand tools, and accessories products. I will write about those soon so stay tuned.
Click here to check out the latest cordless power tools from Milwaukee
Click here check out the newest lighting solutions from Milwaukee.
Click here to check out the latest hand tools & gear from Milwaukee.
Click here to check out the latest accessories from Milwaukee.