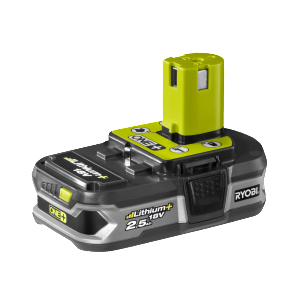 Currently here in the USA the best compact lithium ion Ryobi battery money can buy is the P107 battery. This battery is compact and has a 1.5 amp hour battery capacity. Its a good battery and offers a good balance of compact size and low weight along with respectable runtime. If you need maximum runtime you could step up to the P108 which offers more than twice the runtime with a 4.0 amp hour capacity. You get more runtime but you have to sacrifice size and weight as it's bulkier and heavier. This can and will add bulk and more weight to your existing power tools. But wouldn't it be nice if there was a compact battery such as the 1.5 ah P107 but with longer runtime? There's good news as a new larger capacity but yet compact battery has been spotted in the UK. The new battery model RB18L25 has the same compact size and looks identical to the P107 but yet has a larger capacity of 2.5 amp hour. You get roughly 66% more runtime in the same compact size. The new model also features the same look and design as the P107 with a front facing fuel gauge.
Tool Craze is an Amazon Associate and places paid links including those from other retailers that Tool Craze is an affiliate partner with. If you purchase something through a link on the Tool Craze site, Tool Craze may get a small share of the sale.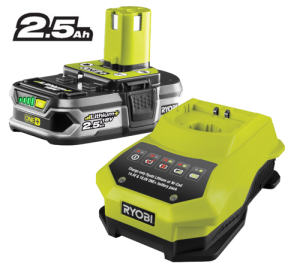 What I find interesting is that with new 2.5ah cells that power these new batteries, Ryobi went straight with a 2.5ah 18v compact battery as opposed to other manufacturer's came out with 5.0ah batteries which essentially also use 2.5ah cells but double the cells in parallel to achieve a higher capacity pack. Also with the availability of new 2.5ah compact batteries means that new 5.0ah 18v Ryobi batteries could soon follow, but don't get too excited as that's just my educated guess. Us here in the USA can only drool at the new 2.5ah batteries at the moment and hope they make their way here at some point but no word is known when these new 2.5ah batteries will make their way stateside or if they will ever make it here at all.