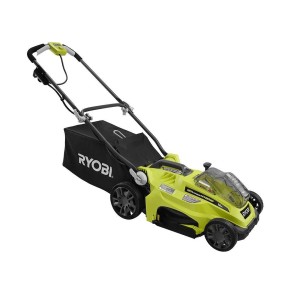 Just spotted on the Home Depot website are 2 cordless 18V lawn mowers. They both run on Ryobi's 18V One+ batteries with 16″ decks. Also both offer 5 adjustable height positions to cut your grass, mulching or bagging system, easy push button start system, and foldable handles for easy storage.
As for the differences, while they both run on 18V batteries, one comes as a hybrid model P1120 kit with 4.0ah battery and charger, or P1102A baretool, and this hybrid model can also run on corded power using an extension cord for unlimited runtime. This hybrid model is good because you can choose to run on battery power alone so you're not tethered to a cord, and you can switch over to the cord when the battery runs out for increased runtime.
One thing that gets confusing is that the cordless only model P1100A baretool or P1111 kit with two 4.0ah batteries and charger, says that it runs on two batteries-
Cordless only model as a kit states: "Powered by two ONE+ 4.0 Ah 18-Volt Lithium-ion batteries"
Cordless only model baretool states: "for optimal performance and run time, use two Ryobi 4.0 ah lithium+ high capacity batteries"
yet the nearly identical hybrid model runs on only one battery. Both models (cordless only and hybrid) have 2 built in slots to install 2 18V batteries at a time making things more complicated.
Hybrid model states: "This mower has two battery ports, giving you the option of using a second ONE+ battery to increase the cordless run time"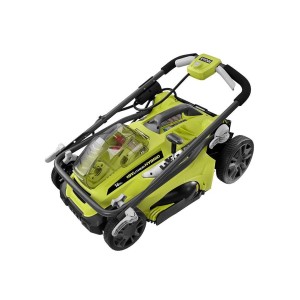 The cordless only model says it runs on two 4.0ah batteries yet doesn't mention that it uses both batteries AT THE SAME TIME to produce 36V like the X2 cordless 18V power tools from Makita do in which they use two 18V batteries to produce 36 volts – in essence giving you a 36V tool powered by two 18V batteries. But because both the cordless only mower and the hybrid mower are so darn identical, except for the additional extension cord port on the hybrid model, I'm going to safely assume that the cordless only model is also a true 18V mower that can accept 2 batteries at a time for increased runtime, while only utilizing one battery at a time – like how the hybrid model states.
It is unclear when two batteries are installed if these mowers will automatically switch over to the second battery when the first one runs out of juice, or if the user has to manually engage the second battery.
Both models are very similarly priced, $199 for the cordless only baretool and $249 for the hybrid mower baretool and $299 for both models as kit form, although the cordless only mower kit comes with a couple of 4.0ah batteries while the hybrid mower in kit form comes with only one 4.0ah battery included. Ofcourse both models as kit form come with chargers.
Right now both mowers are up on the Home Depot website although they are currently marked as "out of stock" which means that they will be available for sale soon.
For more info check out the Home Depot website