A company called PneuHook offers a Hook designed for use with pneumatic nailers. This is so you may hook your nail gun on a nearby location such as on a hammer loop, 2X stock, nail, tool belt, leading edge plywood, etc. to free up your hand or hands for other things.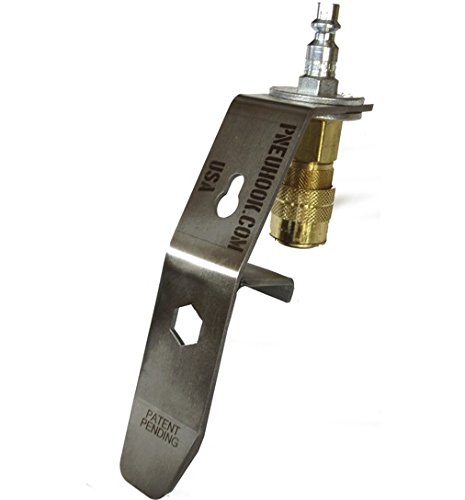 Great idea if you ask me because I highly value belt clips on my cordless drills. Sure I once in a while get those nay-sayers saying that you can always get a drill holster along with a belt clip, but then that means I need additional items to hang my drill gun, so in my opinion it's best that the tool come with it's own built in hook.
Not only do drills and impacts have built in hooks but other portable tools have been getting hooks like rafter hooks on portable saws such as cordless reciprocating saws and circular saws. I think you know what brand and models I'm talking about. I also saw Dewalt offer a large rafter hook on their cordless 20V Framing Nailer which was a fantastic idea. So it makes sense they'd come out with one for universal use on pneumatic guns that don't offer built in hooks.
Pneuhooks solution offers a large hook that hooks up between your pneumatic tool and the hose and even integrates the coupler and plug for the air hose connections.
The hook itself is large and can accommodate 2x lumber to be hanged onto, and also has an integrated 1/2″ socket wrench for use with your circular saw to change out blades, and also integrates a built in nail slot to hang the hook onto a nail. Both great ideas.
The hook itself looks to be made of thick gauge metal so it appears to be robust. It's also equipped with high quality MILTON couplers and plugs and has a built in hook stop to prevent accidental disconnect from the air hose.
It's available now for a retail price of around $30.

Quick change universal hook for pneumatic tools (air tools)

Equipped with high quality MILTON couplers and plugs

Patented design with "Hook Stop" to prevent accidental disconnect

Built in 1/2″ skill saw blade wrench and Nail hanging hole

Hangs on hammer loop, 2X stock, nail, tool belt, leading edge plywood, etc.